Happy Labor Day, friends! Hope y'all are getting into some good stuff today :) I will be too shortly, but first had to run the ol' net worth numbers of course and see how the month ended. And boy did those markets rally! A $13k gain for us without lifting a finger. Talk about the power of investing!
I've also got a call set up today for my 4th (possibly) new money coaching client too. I've been having a blast since starting this the other month, and I'm learning a ton about human behavior and how we all think and deal with our own money in the process. It's incredible how different we all are, yet our wants and goals in the end are relatively the same. Some of just just go about it in realllllly weird ways, haha… the "detours of life," if you will :)
And true to what the vets told me when asking for advice, you never know what you're gonna get on the end of some of these calls! My last one (client #3) was taken in a tattoo parlor by the guy – and not because he worked there or owned it. HE WAS GETTING A TATTOO! While literally on the phone with me talking about debt! Haha… I could hear the needle humming the entire time in the background, what a riot :) And before you ask, the tattoo was a gift.
But enough about me (for now). Let's talk about another guy who randomly left his pay stub on the street for passerbys like me to find and look at (who wouldn't?). I'm always on the hunt for fun cool stuff on my daily walks (last year I found a letter from a convict in jail to his "boo" crumpled up on the sidewalk), and this time we came across some fiscally sexy stuff – check it out:
Any guesses as to what this guy does? His taxes are low! I cropped out all the personal stuff like his name and partial social security number (!!!!) but I'm always fascinated by the income of others so thought you guys would like this too. The interesting part was that this guy got paid *daily* which leads me to believe it's some sort of temp work going on.  Though the yearly "to date" is quite high for that to be the case? Some months I feel like I only get paid $8.00 an hour to be blogging myself, haha…
Another reminder to KEEP YOUR PAPERWORK SAFE though! You don't want randos like me picking your stuff up and doing who knows what with (blogging it to the world, perhaps? :)). If you don't want to file it away, at least *shred* them so they don't walk away into the wrong hands… The sad part is that I found another pay stub a mere 8 blocks away from the first one, and when I looked at that one too IT WAS FROM THE SAME PERSON! So either this guy really throws caution to the wind, or the wind literally decided to have some fun that morning… Either way, it's not meant to be on the streets.
Okay, now to the numbers… Here's how August broke down:
CASH SAVINGS (-$3,763.02): Another month of negative cash flow. Now weakened even more with baby #2 now going to daycare, ugh… That tacks on an additional $1,000/mo meaning we now pay more for day care ($2k/mo)  than we do our own roofs over our heads! How crazy is that? Of course we knew it coming into the month so it's not like it was a shock or anything, but still. Stings just as hard. On the plus side, this means the Mrs. now has her days back which means dissertation time and then soon another full-time income in the mix! WOOHOO! Sound the alarms!!! haha… Saying I cannot wait is an understatement ;)
529 College Savings (+$130.30): The rest of the net worth here is looking mighty tasty. Starting with our 529 college accounts that went up due to the market rising this month (we didn't put any extra in, at least yet). We'll be hearing soon about that inheritance on my wife's side as well, so if that comes through we'll be dumping it straight into here per the wishes of the relative who passed.
IRA: ROTH(s) (+$3,164.33): Our Roths also went up without any new money injected. We wait until the end of every tax year to dump in our maxes (since our income is so sporadic over the year), so we won't have any extra contributions for quite some time.
IRA: SEP (+$13,109.38): BAM! That's nice! If only we had tons of money to put in it last month while it was lower ;) But similar to our Roths above, we don't inject any money here until the end of the tax year as well – even more so because it's tied to business profit (which is lower than normal this year). I always set some aside to max out what we're allowed to put into my SEP though, so regardless of the income at least it feels good to be able to invest into our future for many years to come. And I purposely put our $$ into accounts that penalize you for pulling it out early so it forces me to keep my fingers off it! You should consider it too if you have a problem letting stuff sit and grow over time…
Here's the total return we've gotten so far since moving to Vanguard:
AUTOS WORTH (kbb) (-$329.00): Another month of doing what cars are supposed to do – lose value every month… And for once Franken-Car hasn't gotten into any accidents – a new record! ;) Here are the values of both our cars:
Pimp Daddy Caddy: $1,000.00
Gas Ticklin' Toyota: $6,362.00
HOME VALUE (Realtor) ($0.00): Still set at the $300k our realtor advised us it's around when asked the other month. We don't have plans on selling it anytime soon, but we'll probably reconsider once it's time to renew our tenant's lease again come next year. I know real estate is primo importante when it comes to building wealth, but man. I just don't like having something "out there" that can go wrong at any time, ya know? Feels like it goes against my wannabe minimalism ways too. I wonder how many true minimalists own multiple homes? Even as investments? Would be an interesting study to research!
MORTGAGES (-$678.33): Our equity is finally building again with each and every month! Two months ago we finally crossed that milestone of no longer being underwater anymore, and I can't tell you how AWESOME that feels. It sucks that the $60k we've dumped into it over the years is probably gone forever, but at least we never have to pay it back again!
That's the crazy part about homes/investments – the values can change all over the place even though it's the EXACT SAME THING. Nothing happened to our house (except for upgrades!) to warrant it being worth more or less, but as the market and economy changes so does values slapped upon it. So even though you paid $XX for a house doesn't mean it's worth that anymore. Hopefully y'all were a lot smarter than we were though having bought it on a whim right before the crash – d'oh.
Here are the balances on both our mortgages:
Here's how the last year's been going…
And that wraps up another month! I believe we're now moving onto month #80 since first tracking this over 6 and 1/2 years ago – pretty wild huh? You can find every single one of our net worth updates here: J's Million Dollar Journey
Hope this helps you guys! It's my favorite thing to blog about here. Nothing's more real than numbers in your account! :) And it's great to be able to go back in time and track your progress (or lack there of) too. So hopefully you guys are tracking your worth as well.
If you are, how did you do last month? Better? Worse? Even Steven?
Here's to a fantastic September everybody – keep putting those dollars to work!
PS: As always, feel free to check out our Blogger Net Worth Tracker too. 90 other bloggers share their net worths as well! From the negatives all the way up into multi-millions. It's quite fascinating.
(Visited 45 times, 1 visits today)
**********
PS:
If you're just getting started in your journey, here are a few good resources to help track your money. Doesn't matter which route you go, just that it ends up sticking!
If you're not a spreadsheet guy like me and prefer something more automated (which is fine, whatever gets you to take action!), you can try your hand with a free Personal Capital account instead.
Personal Capital is a cool tool that connects with your bank & investment accounts to give you an automated way to track your net worth. You'll get a crystal clear picture of how your spending and investments affect your financial goals (early retirement?), and it's super easy to use.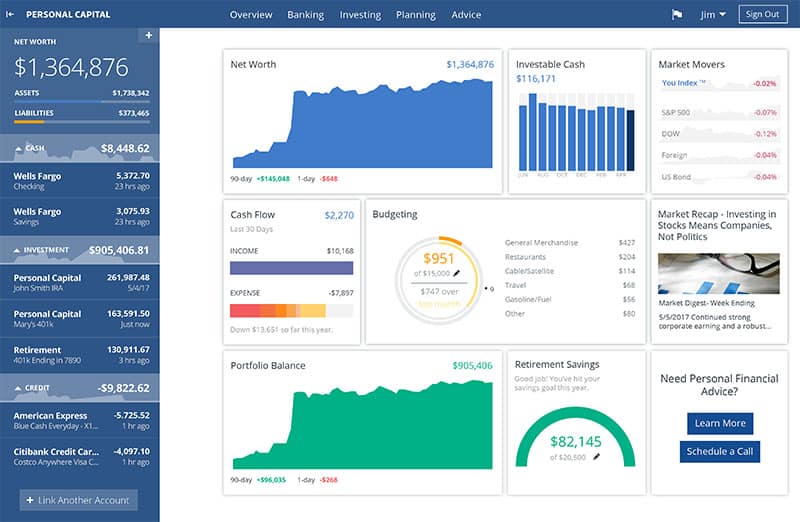 It only takes a couple minutes to set up and you can grab your free account here. They also do a lot of other cool stuff as well which my early retired friend Justin covers in our full review of Personal Capital - check it out here: Why I Use Personal Capital Almost Every Single Day.
(There's also Mint.com too btw which is also free and automated, but its more focused on day-to-day budgeting rather than long-term net worth building)
Get blog posts automatically emailed to you!