Wow this month flew by.
I swear it feels like yesterday that I just updated this. Yet another reason why putting a game plan into motion is key!
Time will continue to go on and on no matter what we do, so you start saving that money and cutting that debt week by week and eventually you'll be wealthy without even realizing it :)
That is if these stock markets don't crash to oblivion.  But we'd have much larger problems than our finances if that were to happen.  I just watched the movie 2012 and THAT would be scary!  All the global warming and nature stuff is what freaks me out – no money in the world can stop a world-wide tsunami from hitting you!  (*shiver*)
For now though, we just keep doing our best to manage our money and pump up the stuff that works, and cut out the stuff that doesn't. Here's what August ended up looking like…
Net Worth break down: August, 2010
CASH SAVINGS (+$9,120.28): Still stashing as much cash as I possibly can!  This includes anything extra from my biweekly paychecks, side projects, and anything else I can get my hands on too.  I won't stop until I reach my goal of $50,000! (which is currently at $30,000 right now – the other $20k in this "cash savings" number includes this "going solo" goal among other funds from other places.)
EMERGENCY FUND ($0.00): Nothing added or subtracted – Only for TRUE emergencies!
ROTH IRAs (-$1,111.62): Nothing much going on here – all maxed out for the year so it's totally in the hands of the markets. (Not even Buffett is helping me! ;))
401(k)s (-$4,869.10): Same with this bad boy. All maxed out and just chillin' now until the next year's fresh start (although I have a horrible feeling all my matches are out the window…at this point just hoping our company KEEPS the 401k plan! It's getting rough over here….)
AUTOS WORTH (kbb) (+$265.00): Don't ask.  Every other month these numbers fluctuate, but it's what KBB is reporting.
Pimp Daddy Caddy: $2,735.00
Gas Ticklin' Toyota: $9,800.00
HOME VALUE (Realtor) ($0.00): Still @ $300k as our realtor set it at a while back. Our neighbor's house had an offer of $297k a few months ago on their house, so I'm thinking this is a reasonable estimate.
CREDIT CARDS (-$200.00): I'm gonna admit this is taking longer than I like. I know I could xfer over cash from my $50k goal, but in this point of the game the "going solo" part is just more important to me right now.  I don't  mind paying a few bucks interest every month until it's all wiped away, go ahead and make fun of me if you want ;)
MORTGAGES (-$4.78): Nothing new to report here.  Just like our credit card, this is currently taking a back seat.
Mortgage #1: $286,818.64 – 30 year fixed, interest-only @ 6.875%.
Mortgage #2: $62,554.19 – Maxed out HELOC w/ 2.8% interest.
And that wraps up August! I don't foresee anything crazy happening in September, but you never can tell in this beautiful life of ours.  I'll be taking a trip out to Poland soon, but as long as I watch my conversion rates and stay away from the bars I should be fine ;) Here's to success!
—————–
PS: My personal budget has also been updated, and you can download it (and others) here.
PPS: I finally watched Inception!  And now I keep trying to plant things in my wife's dreams… I don't think it's working.
(Visited 9 times, 1 visits today)
**********
PS:
If you're just getting started in your journey, here are a few good resources to help track your money. Doesn't matter which route you go, just that it ends up sticking!
If you're not a spreadsheet guy like me and prefer something more automated (which is fine, whatever gets you to take action!), you can try your hand with a free Personal Capital account instead.
Personal Capital is a cool tool that connects with your bank & investment accounts to give you an automated way to track your net worth. You'll get a crystal clear picture of how your spending and investments affect your financial goals (early retirement?), and it's super easy to use.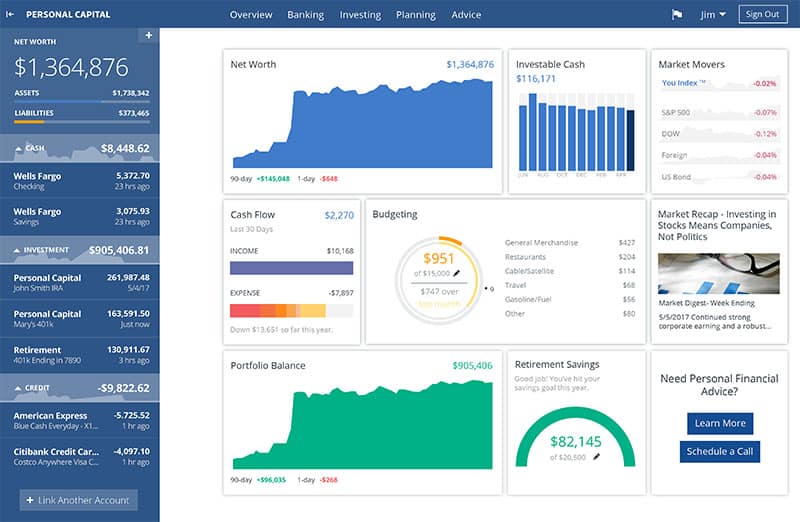 It only takes a couple minutes to set up and you can grab your free account here. They also do a lot of other cool stuff as well which my early retired friend Justin covers in our full review of Personal Capital - check it out here: Why I Use Personal Capital Almost Every Single Day.
(There's also Mint.com too btw which is also free and automated, but its more focused on day-to-day budgeting rather than long-term net worth building)
Get blog posts automatically emailed to you!