A new month, a new net worth! One of the 12 best times of the year ;) And this will mark month #88 of tracking it so far too, whew. One of the biggest game changers of my finances, I'll tell you what.
You can think all you want about your money and where you believe it to be (or not), and how good (or not) you are with it, but until the numbers are down on paper somewhere staring you back in the face, it's a whole other story. We're so good at convincing ourselves that we have stuff on track (or not), but letting the numbers speak for themselves is where it's at! The numbers never lie!
But of course every month I try convincing y'all to start doing it if you haven't already, so this time I'll end my spiel there… And instead, let you hear from my new friend John Feldmann who just found out how powerful it can be! Haha…
Check out how motivated he is ;)
J. Money!!!

I have been following your blogs/articles for a little while now and started tracking my net worth at the beginning of the year. I just logged my Q1 results and wanted to share with you.

Net worth @ 1/1/15 = $51,464.61
Net worth @ 4/1/15 = $60,707.87

That's a whopping 18%! In just 3 months!! Ya dig?!?!??!

I've done this mostly by upping my 401k contributions, set up monthly payments to max out my Roth IRA and starting a brokerage account. Every dollar I used to spend (throw away) on random crap I now analyze how much it would be worth in 40 years.

I still have a ways to go. I spend WAY too much money eating/drinking out. I am getting married this October and will be merging accounts with the Mrs. pretty soon so that will present some road bumps…

[that was part of his first comment he left on my site, and then this was part of the 2nd one he dropped just the other day… giving me an update]

Net Worth @ 5/1/2015 = $63,234.44

That's up 22.87% since the beginning of the year!!! I am still pumped, but I know I could have saved more. I went to Vegas this month and definitely spent more than I should have.

This month is going to get tough as I am currently locking a mortgage and will need to come up with closing costs/ appraisal fees/ etc. On a more solid note, most of my stocks in the brokerage account killed it on earnings this quarter and that portfolio is up ~12% year to date.
As you can see, this guy's excited. And as he should be! Of course not every month will go in his favor like this (the more you have in investments the more its reliant on the markets), but the more you control what you can – like your savings rate and investments/debt pay offs/etc – the faster it'll grow.
And then one day you don't have to even worry/think about your money any more cuz it'll all be working magically behind the scene! Woop woop!
Anywho, here's how the month of April went down:
CASH SAVINGS (-$3,021.02): Down some G's but up $5,500 in our maxed out Roth IRA – woot! With a little encouragement from you guys (thanks!). I'd been going back and forth on whether it's worth taking out even more cash, but now that we're not spending $2,000/mo on childcare and biz is starting to pick up, I decided it was a safe risk :) Plus as I mentioned $4,000 of it is already banked in our Challenge Everything Account! So it's like free money!
BROKERAGE (+$58.04): Nothing too major going on here, just the markets doing its thing with our Motif experiment, as well as a handful of more dollars being automatically invested by rounding up all our transactions w/ Acorns. It feels good knowing a few pennies are going towards this every time we swipe our card or pay a bill!
IRA: ROTH(s) (+$5,263.22): Boom! $5,500 thrown in and up almost that same amount this month but not – wha wha. Good thing we're in it for the long haul ;)
IRA: SEP (-$1,283.70): Nothing too exciting going on here… didn't add anything this month, as I probably won't for the next 11 months either until it's time to drop in another load at the end of the tax year. I'm still feeling that $10,000 deposit last month!
Here's a screenshot of the growth since switching to Vanguard last year (IRA + SEP):
AUTOS WORTH (kbb) (-$430.00): Another drop in my wife's Toyota, and wondering if it's due to a new change I saw on KBB.com when I went to run its calculations. There's now an "exterior color" option to click, which actually makes sense because cars that are bright yellow or pink or something I'd imagine would sell less than a boring average color, yeah? I know when I sold my hot yellow mustang years ago I didn't have as many enthused customers, haha…
Here's a screen shot of the new addition I saw over there (w/ my Caddy's color picked):
And here are the values of both our cars:
Frankencaddy: $1,000.00 (KBB shows $1,717, but I'm chopping off more due to its "character" :))
Plain Jane Toyota: $4,968.00
HOME VALUE (Realtor) ($0.00): This remains the $300,000 its been for a while now, but I did reach out to my realtor again (who is what I base this # on) to get an update. I typically don't like using Zillow or the other home sites just 'cuz it fluctuates so much, but I know others love 'em so do check them out when you're running your own reports and see if they're more accurate for ya.
Anyways, our rental property is up for renewal again (so fast!!), so I pinged our realtor just to see if it's worth considering selling again, but unfortunately we're at the same stagnant value of about $300,000-$310,000 so we'll try and get our tenants to renew for one more year and then hopefully offload it on the next round. If they dip out though, we may just bite the bullet once and for all and be free once again! I can't wait!!! (Can you tell I'm not a huge fan of real estate? :))
MORTGAGES (-$696.48): Another $700 chipped away! All from paying a little extra every month and rounding up to the nearest $100th or two… We've been doing it for so long that I don't even notice the difference anymore – which is the position you want to be in!
Here are the balances left on our stupid mortgages ;)
And no, we can't refinance… Unless we want to pony up $80,000+ (vomit).
That wraps up another net worth!
Here's how the last year has gone… ups and downs and all arounds:
And here's how our boys did :) Baby Nickel got a little 529 action from baptism money last month…

How'd you guys do? Anyone hit any major milestones? Anyone just started out tracking and want to say how awesome it is so we can all congratulate you? :)
As always, you can see my full list of net worth updates over the years (all 87 of them) here, and if that doesn't quench your voyeuristic thirst, you can check out how much 150+ other bloggers are worth here:  The Ultimate Blogger Net Worth Tracker. We track that over on my other site, Rockstar Finance, which pimps out my favorite articles on $$$ I see every day. And shockingly they're not all mine ;)
Here's to a new month, everyone.
——–
PS: As always, my favorite ways to track this stuff:
(Visited 103 times, 1 visits today)
**********
PS:
If you're just getting started in your journey, here are a few good resources to help track your money. Doesn't matter which route you go, just that it ends up sticking!
If you're not a spreadsheet guy like me and prefer something more automated (which is fine, whatever gets you to take action!), you can try your hand with a free Personal Capital account instead.
Personal Capital is a cool tool that connects with your bank & investment accounts to give you an automated way to track your net worth. You'll get a crystal clear picture of how your spending and investments affect your financial goals (early retirement?), and it's super easy to use.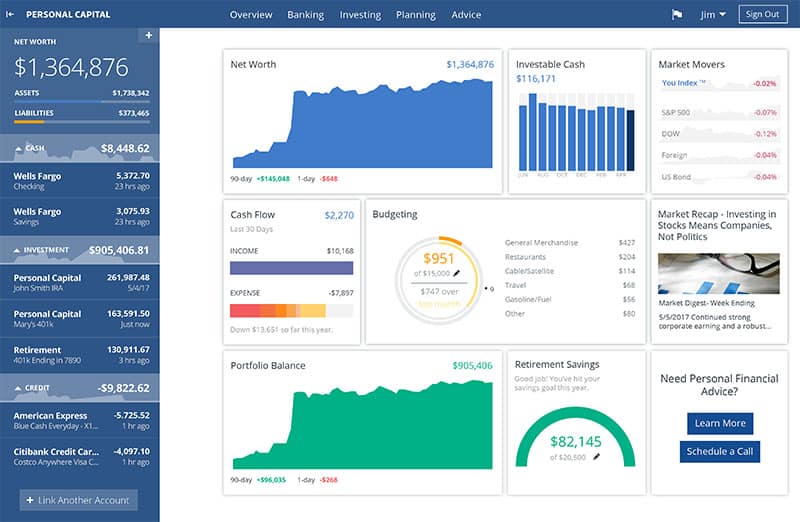 It only takes a couple minutes to set up and you can grab your free account here. They also do a lot of other cool stuff as well which my early retired friend Justin covers in our full review of Personal Capital - check it out here: Why I Use Personal Capital Almost Every Single Day.
(There's also Mint.com too btw which is also free and automated, but its more focused on day-to-day budgeting rather than long-term net worth building)
Get blog posts automatically emailed to you!