Now that I'm back in action from babyville, I suppose we should go over some numbers, eh? :)
You can probably guess what's going on with it all this month, but in a nutshell we pulled money from our nice pot o' cash and used it to max out my SEP IRA for the 2013 tax year. Which had been the plan for that allotted cash all year long (and especially when I found out we'd be getting $11,000 back from taxes!). So that was $16,034 from our cash savings off the bat.
Next, we maxed out my Roth IRA which took another $5,500 from the pot. I had been going back and forth on this for a while, but ultimately just pulled the trigger figuring it's better to make the "mistake" of investing a chunk now and dealing with it later, than having it disappear on Lord knows what over time and regretting it. Plus, I didn't want to break my record of maxing it out over the past 5 or 6 years now :) We're sitting on over $50,000 from all these yearly maxings now! It adds up! (The other $20k+ in that overall number you see up there, btw, is my wife's Roth. I max hers out as well on and off when times are good)
Lastly, which you can't really tell from that snapshot up there, we finally got rid of all those crazy Traditional IRA accounts and merged them into just ONE with Vanguard :) And as soon as the dust settles, I'll then be moving that account into our SEP too for further minimalism! I had no idea you could do such a thing, but I love it!
I'll also be cashing out of all stocks, funds, and everything else currently being held in my accounts real soon too. I just did a "transfer" to get everything moved over to Vanguard – Step 1 – which was also something I didn't know you could do so easily (I thought you had to cash out first, then move, then invest it all over again?), and then Step 2 is re-investing into the new game plan. So look for that article soon here too, once we get that squared away this month.
Other than that ("other than" – hah!), everything else hummed along normally as with other months, and most of our net worth increase came directly from the markets performing okay. We're still losing money every month as we've come to terms with, but I'm feeling really optimistic these days and have some other business changes in the works that I'll be sharing with you guys pretty soon as well. I'm basically shedding even more stuff to free up time and re-focus on what's important. I'm pretty excited about it!
For now though, here's how Aprils' numbers broke down:
CASH SAVINGS (-$17,906.52): As mentioned above, we took out over $22,000 to max out both my SEP and my ROTH Ira for the 2013 tax year. This should be the only major cash dipping we do all year long (fingers crossed anyways!).
529 College Savings (+$62.84): Nothing to report here really, other than we'll be adding some extra $$ here towards Baby Nickel's future eduction when the timing's right. I read from a financial planner friend that a lot of her clients just pour in all their kids' college $$ into the same account, and then disperse/tweak it later once/if it's time to start pulling from it. Which I had never thought about before as I always assumed you just had to keep creating new ones for each child? Another win for minimalism :)
[Update: Fellow blogger Matt brought up a good point to think about with this 529 merging idea: You may lose the opportunity to deduct more off your state taxes if you're trying to max out contributions into your own state's 529 plan (if that's where you want to invest, of course). For example, in Virginia you can get $4,000 worth of tax deductions if you contribute that amount into their 529 plan (details here), which is fine if that's all you're planning on doing in the tax year, or less. If, however, say you're looking to invest $8,000 into it ($4,000 for kid #1 and $4,000 for kid #2), then it makes more sense to open up that 2nd account so you can get BOTH $4,000 deductions okay. If you threw that $8,000 into the "mixed" account as mentioned above, you'd only benefit from $4,000 worth of deductions and lose out with the other $4k. So, something to think about…. And big thanks to Matt for pointing it out!]

IRA: SEP (+$15,747.76): Mmm mmm this looks good! Over $80,000 now in this puppy, all from yearly maxings over the years of self-employment… Which now crosses over the 3 year mark – pretty crazy.
IRA: ROTH(s) (+$5,802.89): Double nom nom nom!! (Or is that triple?). Maxing out this bad boy again also feels pretty damn sexy… I've gotta soak it all in too now since this only occurs once every year! Haha…. I can never max out any of my accounts regularly through the year since my business income fluctuates so freakin' much (as does my life now, apparently). So I leave it all 'till the end of the year once all the facts are here, and then decide from there. All the while hoarding cash on the side if I'm so lucky to be able to have any.
IRA: TRADITIONAL(s) (+$1,908.69): Say goodbye to our old IRA test! No more comparing the three accounts I dumped an equal amount of money in to see how they'd perform over time :) One that was totally un-managed, one that was managed totally by USAA, and the other that was also totally manged by USAA, but only had THEIR funds in it only – no one elses. For shits and giggles we'll leave last month's numbers here one more time just to show which account ended up doing better the *entire* three years. You can probably guess before looking ;)
IRA #1 (NOT Managed): $79,141.43 **Leader for two years running

IRA #2 (Managed, USAA funds only): $73,199.26
IRA #3 (Managed, ALL different funds): $74,024.92

AUTOS WORTH (kbb) (+$446.00): This is the only weird area of the numbers this month, but I've given up trying to figure out who KBB decides to increase value every now and then… Perhaps some famous rappers started pimping out Toyotas and now everyone wants them ;) According to my boy Deacon from WellKeptWallet.com, Ludacris still rolls around in his '93 Acura with over 250,000 miles (it's where he used to – and still does! – write his slick lyrics). So you never know!
Regardless, here's the value on both our cars which we're confident we could get close to if we decided to sell either of them anytime (in case you're about to ask why it's included in our net worth – I know you guys by now! ;)):
Pimp Daddy Caddy: $1,500.00
Gas Ticklin' Toyota: $6,964.00
HOME VALUE (Realtor) ($0.00): Nothing new on this end either, other than being BEYOND ecstatic that our renter living in this dang house of ours just renewed for another year! Woohoo!!!! We'll have to re-check this when it gets closer to another renewal time too, just to see if it's finally worth selling again… perhaps by then we'll FINALLY be over water. (Is that the correct turn for being the opposite of under-water?). This value, btw, comes from our realtor who ran the numbers months ago which is our preferred method of finding out what houses are close to being at. Since it's their job 24/7 to sell them!
MORTGAGES (-$658.73): We're getting closer!!! Now only $1,364.01 away from being even!!! I'm gonna party like it's 1999 2009 2019 once we're no longer underwater– woohoo!! Can nobody stop me, baby! Only took me 6 years to get here! Haha…. #LAME
Here's how our two dumb mortgage break down:
And then here's how our net worth progressed over the past 12 months:
I also finally put together a page where you can see ALL my past net worths all in one killer place: My Net Worth Tracker. I'm still in the process of digging through the archives an adding them up (I've tracked this for over 70 months!!), but I think you'll enjoy seeing how it looks so far :) I threw up a huge ass graph up top that tracks my worth since starting it over 6 years ago, and it really paints a good picture of what happens when you stick to it and KEEP HUSTLING. We're no where near the holy grail of hitting a million, but we're inching closer with each year!
And you guys can too. Especially if you're tracking your money like the good little boys and girls that you are. RIGHT??? :) If you need help figuring out what belongs in there, or what type of platform to use to track things, check out my new page here as I list a couple of ways to do things. Along with the route I personally take (spoiler alert: I use a spreadsheet!).
Also, don't forget about that Blogger Net Worth page I started too, if you want to see what OTHERS are doing with their worth! Not only does everyone track things differently (helping you to determine the best route you think is best to go), but it also serves for some powerful motivation to see just how far some have been able to take it.

So. That's what was brewing here in April for the Money Clan. I hope your numbers are looking good with every month too! You need anything at all, or have any questions, just leave 'em in the comments below and we'll hook you up :)
To a million dollars!
PS: Screw it – here's the graph of my net worth over the past 6 years. I can't hold it in! :)
(Visited 24 times, 1 visits today)
**********
PS:
If you're just getting started in your journey, here are a few good resources to help track your money. Doesn't matter which route you go, just that it ends up sticking!
If you're not a spreadsheet guy like me and prefer something more automated (which is fine, whatever gets you to take action!), you can try your hand with a free Personal Capital account instead.
Personal Capital is a cool tool that connects with your bank & investment accounts to give you an automated way to track your net worth. You'll get a crystal clear picture of how your spending and investments affect your financial goals (early retirement?), and it's super easy to use.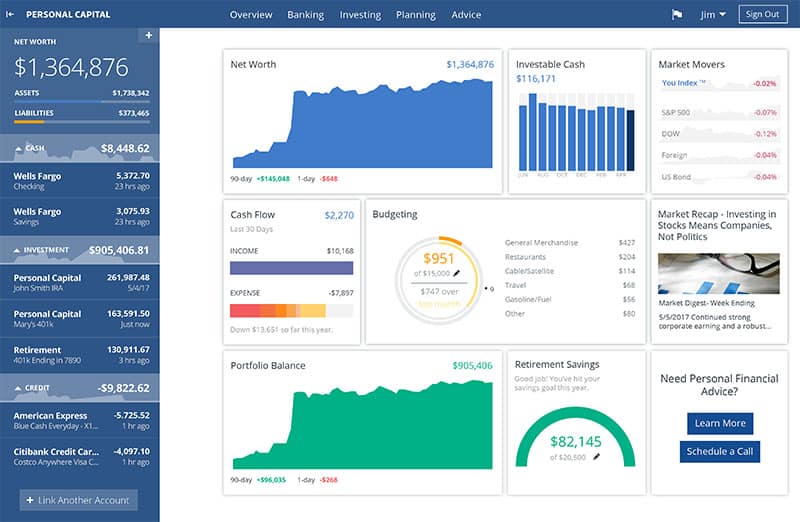 It only takes a couple minutes to set up and you can grab your free account here. They also do a lot of other cool stuff as well which my early retired friend Justin covers in our full review of Personal Capital - check it out here: Why I Use Personal Capital Almost Every Single Day.
(There's also Mint.com too btw which is also free and automated, but its more focused on day-to-day budgeting rather than long-term net worth building)
Get blog posts automatically emailed to you!