They can't always go up :) And while there is a lot of red in most the categories this month, the biggest loss (in "monster cash") is more of an accounting adjustment on my end than anything crazy going on. Though it's still money we can't count on in the future…
Over the years I've been counting all money that's in my accounts on the day I run these net worth reports – whether it's money in savings or money in checking that may or may not be used in the following weeks. So while technically I *do* have this money on any given date, I've decided to stop including the amounts that I know for a fact will be going out the door in just a matter of days/weeks.
This may sound like I've been doing it the wrong way the entire time, but another point I should make is that I also pay all our bills 30-45 days out :) So really all that money set for expenses aren't due until the next month anyways, making it all fine and dandy while tracking it in the current month – if that makes any sense?
When I was getting paid bi-weekly and paying bills like a normal person this wasn't all that necessary, but now that I pay myself once a month (on the 1st) and then future pay ALL my bills that very same day, it started feeling weird keeping all these amounts in my calculations. So now all the logistical money (aka money set aside for bills) are completely out, and the only thing that's left is pure cash savings or investments/etc. Which feels more "real" to me now.
Beyond these hard numbers and changes, though, there's an important point to this today :) And that's to:
Make sure your *reasons* for tracking your net worth align up with how you're currently doing so.
Make the necessary adjustments to get things back on track when they're not.
It's perfectly normal (and smart!) to adjust your calculations when your goals for something aren't matching up anymore. And I was reminded of this last week too when someone left a comment on my net worth update from Feb, 2008 when I wasn't listing my mortgages as an expense (I only listed the "equity" in the asset column). Back in the day that's all I really cared about and knew, but as time went on I realized that it was more important for me to show BOTH sides of the equation to better track my future progress (and I was also oblivious to the game of real estate).
So just like your budget or savings goals/etc, it's always good to re-visit your game plan and make any necessary adjustments to better fit with your current purposes.
And Now, The Breakdown of December's Money :)
MONSTER CASH (-$6,335.96): Skewed again because of this accounting change I mentioned above… Without that, we'd have been UP $1,500! But wouldn't have sat all too well with me :)
GOLD & SILVER (-$112.63): I thought metals were supposed to go UP when the markets crash? LAME… I pretty much took the month of December off from coin/bullion collecting, so this is just an adjustment from the last estimated value of everything. I'm hoping to start dabbling again shortly :)
529 College Savings (-$12.28): Up the last month, and down this one. All to be expected when you invest money into mutual funds though… when thing go up, all yours go up and when they fall yours fall! But we have plenty of years to grow this bad boy, so for now we just sit tight and keep pumping money into it…
IRA: SEP (-$893.31): Nothing new added to this guy either – just waiting for all those investments into stocks I love to blossom more and keep proving it's a great investing strategy! Haha… but only time will tell on that one. It's only been what, a year?
IRA: ROTH(s) (+$51.92): These IRAs are packed with more conservative stocks and funds, esp. in the wife's account, which is probably why they tend to fluctuate only a little as the months go by… But you can't be too risky with ALL your investments, right?
IRA: TRADITIONAL(s) (+$1,834.08): We've left these guys alone too – mainly cuz we invest everything into our ROTHs first, and then followed by my SEP IRA for reducing self-employment taxes. But one day we'll condense all these once we figure out which is the best route to go. These have been humming along for over a year now when we started this IRA Test.
IRA #1 (NOT Managed): $64,153.24 **Still leading the pack

IRA #2 (Managed, USAA funds): $61,692.84
IRA #3 (Managed, ALL funds): $62,290.55

AUTOS WORTH (kbb) (-$678.00): A big loss this round! Which makes up for *increases* over the past few months, haha… this stuff is so weird to me, but whatevs. It only starts to matter when it's time to offload 'em :)
Pimp Daddy Caddy: $2,179.00
Gas Ticklin' Toyota: $7,927.00
HOME VALUE (Realtor) ($0.00): The same $285k as we adjusted it to in early-July… Unless we refinance soon and find the "true" value of the place, which may or may not happen within this next century, haha… (we're too underwater). But even then it's not 100% accurate anyways as you only know the real value the day someone makes you an offer ;) Supply and demand, baby!
MORTGAGES (-$2,888.68): Operation Mortgage Payoff continues in full force! Over $2,200 extra paid off this month, on top of the principal that's already built into our main payments… Something our original mortgage was lacking when it was an interest-only one! Hah! I don't miss that at all…
That's it folks! A busy busy month, with another busy one to come. Always gotta be on this stuff though if you want to watch it continue to grow! It's not gonna earn and manage itself – it needs YOU to do that ;) Now lemme know how your month went!
Much love,



———————
PS: Did you see my Redskins whoop the Cowboys Sunday night?? We're going to the playoffs, baby!! First time since I was a kid! Haha…
(Visited 28 times, 1 visits today)
**********
PS:
If you're just getting started in your journey, here are a few good resources to help track your money. Doesn't matter which route you go, just that it ends up sticking!
If you're not a spreadsheet guy like me and prefer something more automated (which is fine, whatever gets you to take action!), you can try your hand with a free Personal Capital account instead.
Personal Capital is a cool tool that connects with your bank & investment accounts to give you an automated way to track your net worth. You'll get a crystal clear picture of how your spending and investments affect your financial goals (early retirement?), and it's super easy to use.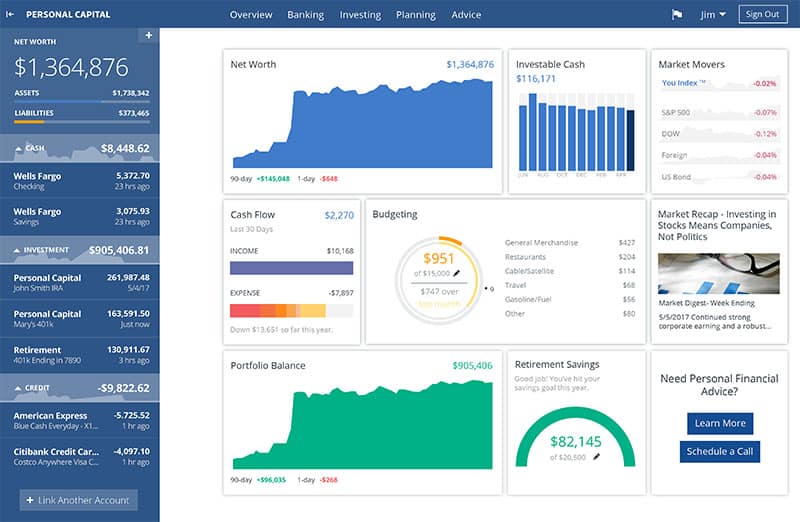 It only takes a couple minutes to set up and you can grab your free account here. They also do a lot of other cool stuff as well which my early retired friend Justin covers in our full review of Personal Capital - check it out here: Why I Use Personal Capital Almost Every Single Day.
(There's also Mint.com too btw which is also free and automated, but its more focused on day-to-day budgeting rather than long-term net worth building)
Get blog posts automatically emailed to you!