Hey hey! Back from the beach and ready to talk $$$$!
But first up – special shout out to my son, J. Penny, who turns 5 today – whaaaaaat?! How did that happen? Remember when I wanted to track all his expenses for 18 years but then gave up a little after two when his baby brother, J. Nickel, came around? Hah!
We ended at $28,185.49, and probably good we stopped there before my wallet had a heart attack ;) The final breakdown was pretty interesting to see though, and here's a snapshot of it after 29 full months of tracking (starting from the day the pregnancy test showed a positive):
Toys:

$360.76

Clothing:

$642.84

Diapers:

$1,141.59

Home/Furniture:

$1,117.12

Food:

$1,332.49

Supplies:

$1,859.52

College Savings:

$3,350.00

Medical:

$6,792.42

Daycare:

$10,588.75

Extra padding:

$1,000

(for stuff I probably forgot to track)
Some biggies in there like daycare and medical and even college savings (all of which will vary drastically between families, of course), but still mind blowing when you see it all added up like that. And that's just for our first kid!
Anyways, good times ;)
Here's a pic of us celebrating together on the 4th: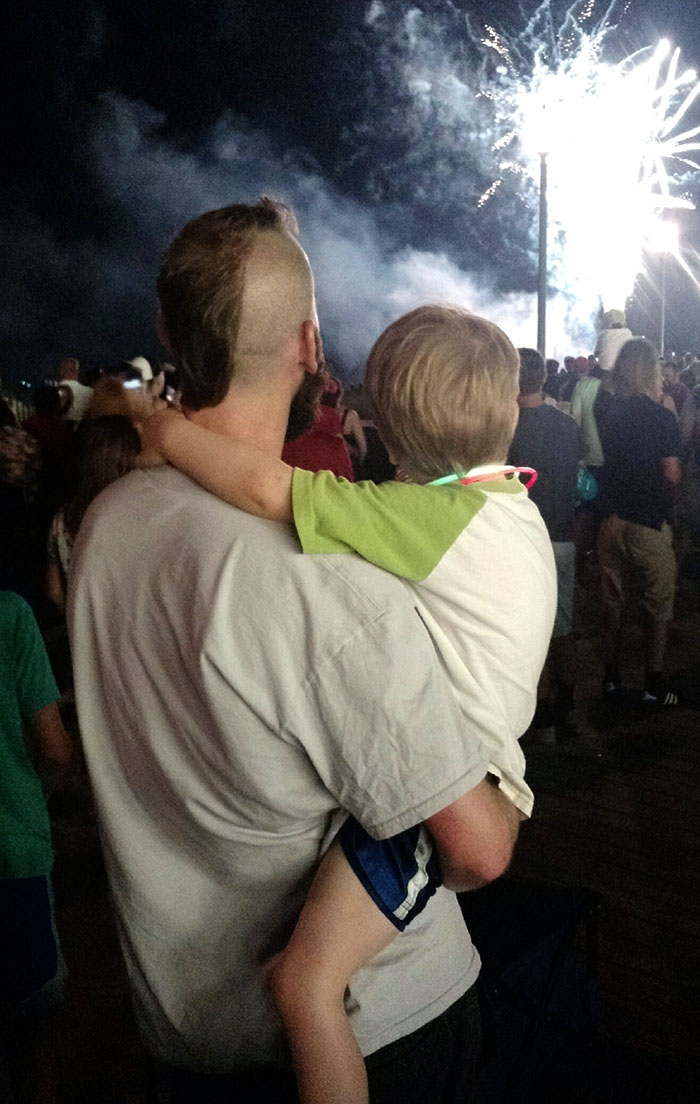 And here's a picture he drew recently he was pretty proud of. (Want to guess what it is? ;) The answers on Twitter were hilarious!)
I love you buddy!! Keep expanding that brain of yours and one day you'll be taking over the family biz!
Now Onto The $$$ Numbers For June:
[This marks net worth tracking #114 in a row, and is one of the best things I've ever done for my money. Highly advise doing it yourself if you're not already! (I list a few of my favorite tools to help you do so at the end of this post…)]
CASH SAVINGS (-$1,145.57): The only drop in categories this month, and mainly due to me underestimating my quarterly taxes. Which I keep separated out from all my main accounts here so I don't feel such a pain of loss every three months :) Figured it's really the IRS' money anyways, so why include it in my overall net worth? (I tried this for the first year of self-employment and it sucked!)
THRIFT SAVINGS PLAN (TSP) (+$448.37): Uppity up it goes! The percentages of increase keep going down as the pot grows, but still fun watching it trump all others over the months… Here's how it's looked from the start of my wife contributing to her account last year (starting at $0.00):
First contribution (n/a %)


+119.00%

+51.82%

+37.54%

+27.62%

+21.87%

+28.09%

+14.04%

+12.93%

+11.75%

+9.82%
All automated from the beginning too so we never got used to seeing the money – tip #381!
ROTH IRAs (+$973.77): A nice little increase here too without any additional contributions lately (we usually max it out all at once at the beginning of the year once we know our tax situation from my biz).
SEP IRA (+$4,337.27): Same with this bad boy too – nothing new added but continues to rise over the months due to being fully invested in index funds. Particularly, VTSAX from Vanguard. Here's a screenshot from the end of last month:
CAR VALUES (+$79.00): Always odd when they go up a little, but needless to say they're depreciating assets and will always trend downwards… Unless, perhaps, you rock a collectible car, but I highly doubt many of us own one of those ;)
Here's how both our cars currently break down per Kelly Blue Book:
Lexus RX350: $12,693.00
Toyota Corolla: $3,592.00
CAR LOAN: (-$468.35): Another nice bump as we continue paying down the loan on Lexi! Still not ready to wipe it all away quite yet (cash savings + debt > less savings + no debt, for me at least), but one of these days I'll finally rip off the band aid and be done with it…
And that's June's numbers!
Here's a nice snapshot of the past year's worth of tracking everything below. We had a solid bump back in December, and then it's really just been the markets doing their thing ever since. Though as Mr. Money Mustache recently warned gleefully exclaimed: be ready – another recession is coming!
And then here's a snapshot of the net worths of my two little boys – bless their little wallets… Our $50/mo automated contributions to their 529 accounts are now in full swing:
Hope your month treated y'all well too! Anything new go down over there? Anyone hit some cool milestones? (Paid off debt? Bought a house? Became a Thousandaire? :))
As always, you can see all 100+ previous net worth updates of ours here, and of course check out the Ultimate Net Worth Tracker over at Rockstar Finance where there's now 359 bloggers publicly disclosing their net worths. We're not shy anymore, that's for sure!
But really, all that matters is that YOU know yourself where your money is, even if you never tell a soul… It's personal finance for a reason, we're just a bunch of voyeurs up in here ;)
To the next step!
(Visited 14 times, 1 visits today)
**********
PS:
If you're just getting started in your journey, here are a few good resources to help track your money. Doesn't matter which route you go, just that it ends up sticking!
If you're not a spreadsheet guy like me and prefer something more automated (which is fine, whatever gets you to take action!), you can try your hand with a free Personal Capital account instead.
Personal Capital is a cool tool that connects with your bank & investment accounts to give you an automated way to track your net worth. You'll get a crystal clear picture of how your spending and investments affect your financial goals (early retirement?), and it's super easy to use.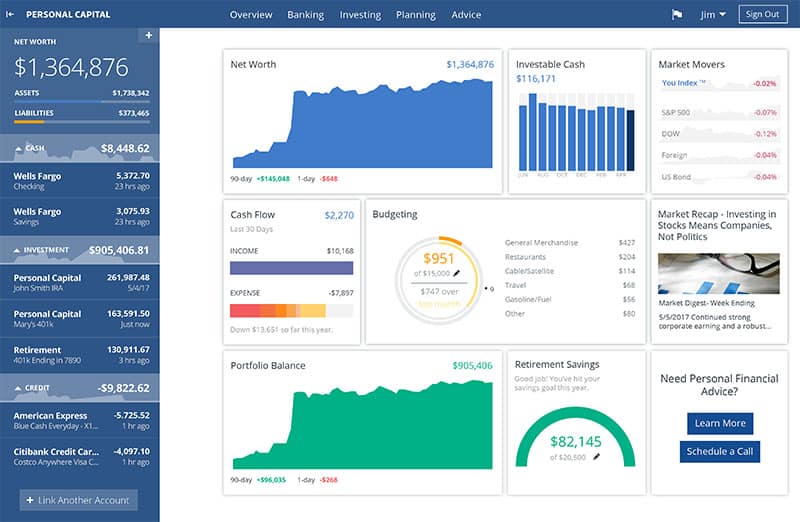 It only takes a couple minutes to set up and you can grab your free account here. They also do a lot of other cool stuff as well which my early retired friend Justin covers in our full review of Personal Capital - check it out here: Why I Use Personal Capital Almost Every Single Day.
(There's also Mint.com too btw which is also free and automated, but its more focused on day-to-day budgeting rather than long-term net worth building)
Get blog posts automatically emailed to you!