Goooooood morning, people of the internet! What's shaking? How's your life? Money? Kids? Wives? Lovers?
Had a fun, restful, weekend for me over here and almost forgot to check on our finances for the month – the horror! But alas here we are, net worth update #113 in a row, and the slow climb continues onward :)
It's funny, they say there's no such thing as a get-rich-quick plan, but I gotta say – the months and years move pretty fast, don't they? I swear it was just the other day when I first started saving my money, and then BAM – 10 years flies by and that money's transformed pretty sizably! I think they need to call it "get rich what-feels-like-quickly planning" instead :) Doesn't it sound so much more exciting than "personal finance"?
Anyways, all that to say that nothing really juicy happened this month with our finances, but I'm damn glad younger J. Money had the whits to get the plan started all those moons ago…
I thank you kindly, sir!
Here's how May went down:
CASH SAVINGS (-$212.43): Not the best, not the worst. Probably splurged a little too much on our weekly getaway when we dropped off the kids and decided to take a little road trip. We've stopped buying each other anniversary gifts for years now, and instead like to visit small country towns for a day or so and just enjoy each other's company (and some fine dining, as well!). We accidentally skipped last year's trip, so I guess we were trying to make up for it :)
THRIFT SAVINGS PLAN (TSP) (+$479.94): Grow grow grow, little TSP account!! You're making your new family very proud! Can't believe it's already been almost a year since you entered our lives, I should go and kiss mommy for bringing you home!
ROTH IRAs (+$1,357.40): Don't worry, we love you very much too, our little IRAs… it's just you're more grown up now and don't need as much attention as your little sister, TSP. We'll continue to pay attention to you and feed you though! Soon you'll be as big as your brother, SEP IRA!
SEP IRA (+$4,732.29): Hello there son!!! Okay, enough of that talk, haha…. We love all our accounts the same, and they continue to grow right alongside the markets even when we don't contribute an extra dime. Which is the beauty of investing, really. Put it in once and it'll continue working hard for you no matter what you do (or don't do) in the future! Even though of course you keep feeding them because you prefer not to have to wait the 60 years for you to be able to touch it again.
Here's a glance at how the majority of our funds have performed the past few years since moving them to Vanguard:
CAR VALUES (-$560.00): Finally, they start going down again! The last two months have seen temporary increases for some reason, but this go around they dutifully drop as they should. Cars aren't assets, but they still serve a damn good purpose. Especially fast ones :)
Here are the values of our two cars per KBB.com:
Lexus RX350: $12,745.00
Toyota Corolla: $3,461.00
CAR LOAN: (-$465.15): All negatives are positives here! Threw another $300 or so against the principal this month in an effort to speed up the process of paying it off. Still not in any sort of rush (we love having more cash than necessary in savings), however, don't want it dragging on year after year either. I reckon it'll be gone by this time next year unless something crazy comes up.
And that's May for ya!
Here's a screenshot on how the past 12 months have gone:
And then as always, our little boys' net worths (every time I post these I'm reminded of Jason Fieber's article on how he was worth more as a baby when he was in debt, haha… So crazy to think about, but also so true! Unless your net worth is greater than $0.00, you were technically worth more as a baby!):
(BTW: We started contributing $50/mo towards each kids' 529 accounts now… I can't tell you for the life of me why we haven't been doing this over the years, but for whatever reason it just popped into my head the other week and I set it up before I could forget again. We'll probably need to jack it up to $1,000/month with how ginormous tuition is growing, but hey – baby steps ;))
That's it for me, how'd you guys do? Anything crazy one way or the other? Anyone win the lottery or get robbed or start dating a millionaire?
Slow and steady gets awfully boring sometimes… Maybe I need to revisit the highs and lows of our Blogger Net Worth Tracker that continues to grow. We've now got over 300 bloggers in there ranging from -$532,304 to $5,000,000!
Either way, keep marching forward… We'll be back in another month reporting our numbers, and it'll feel like it just happened! Put time to work for you!
*********
(Visited 123 times, 1 visits today)
**********
PS:
If you're just getting started in your journey, here are a few good resources to help track your money. Doesn't matter which route you go, just that it ends up sticking!
If you're not a spreadsheet guy like me and prefer something more automated (which is fine, whatever gets you to take action!), you can try your hand with a free Personal Capital account instead.
Personal Capital is a cool tool that connects with your bank & investment accounts to give you an automated way to track your net worth. You'll get a crystal clear picture of how your spending and investments affect your financial goals (early retirement?), and it's super easy to use.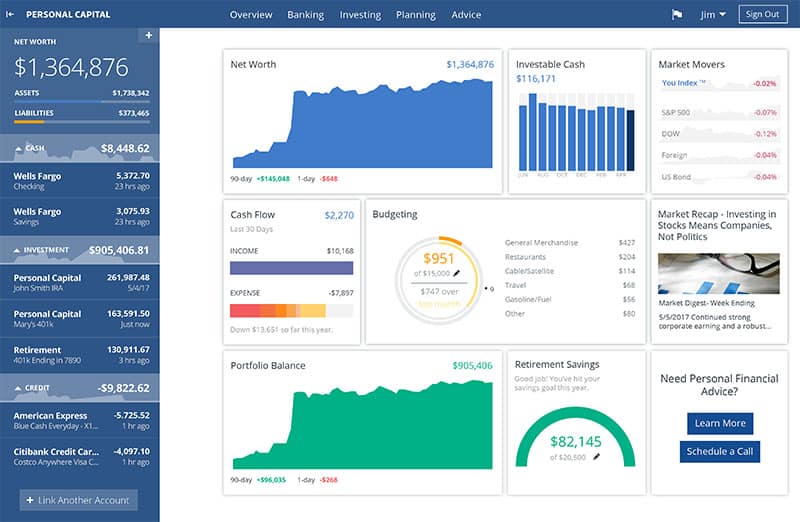 It only takes a couple minutes to set up and you can grab your free account here. They also do a lot of other cool stuff as well which my early retired friend Justin covers in our full review of Personal Capital - check it out here: Why I Use Personal Capital Almost Every Single Day.
(There's also Mint.com too btw which is also free and automated, but its more focused on day-to-day budgeting rather than long-term net worth building)
Get blog posts automatically emailed to you!