What up, what up! Another month locked up as we continue on tracking our money :) I swear it feels like we do this every week?

Lots of good stuff going on around here though, particularly with these two things:
1) The wife's supplemental income @ $1,500 a mo.
2) Our major mortgage payoff of over $3,000 this month!
More on that in the details below, but first I have to address something else that's new with the graph over there – the inclusion of the 529 account now ;) After reading this below email I got from a fellow reader and letting it – along with other stuff – marinate all month, we decided it made more sense indeed to be included in our net worth from now on. Here's what the message said:
"For the 529 you say that if baby gets a scholarship/free ride then you'll potentially allocate the money to baby #2 (etc.).  If baby #1 has been responsible for tracking and even managing the money for a while, it could seem punitive to take the money back (even if it's going to a sibling).  At the extreme it would be like "you did well and got a scholarship, so we're going to punish you for your good behavior and take away the money we said was yours".  So while I absolutely think the savings account belongs in baby net worth, I wonder about the 529 being in the net worth if there's any possibility it won't really be his at the end of the day.

Anyway, that's my 2 cents.  I wanted to point out what it might look like from the baby's (future) perspective"
That hit me hard. The last thing I'd ever want to do is upset (or punish, in this example) my kids for doing REALLY well in school/etc, and I agree that you can't allocate someone money for handfuls of years and then take it back later. Now we could always dedicate *other* money from our savings to go towards their 1st home or car or something like that instead (like, say, you give everyone $XXXXX to be used for starting their life out in the priority of school first, then house/business/etc), but either way the money in the 529 is to be used strictly for college stuff. If not just to avoid all the penalties.
Also? The money as of this point is technically OURS. As many of you pointed out when we were discussing this stuff… It only becomes our kids' when/if they need it. If I leave out the 529 account, why not leave out savings too then since most of that will be going to someone/some place later too? Haha…. Okay maybe that's not the *exact* same thing, but it does help nix my original theory that it's better to get it out of our net worth now than later in 18 years and "take the hit" then. That's just stupid. Who knows what the future will bring?
So we go back and include it into our net worth for the future… Thanks for all the opinions everyone, I really do consider them! :)
Here's How November's Money Broke Down:
MONSTER CASH (+$1,325.42): This is due to two incredibly awesome things this month: The wife bringing home a $750 biweekly paycheck now while I'm a stay-at-home dad two days a week, and then a nice uptick in business the last week of the month which was a delightful (and much-needed!) surprise. Without it we would have taken a loss in income vs. expenses this month.
GOLD & SILVER (+$8.48): A small uptick for the month, but will be much lower next time as I'm about to trade-off a few of my silver bullion rounds (1 oz circles of silver which look like coins but aren't) for some older, COOLER, coins instead. Like a 20 cent piece from 1875 (did you even know they existed??) and a "Capped Bust" half dollar circa 1836 :) Which also features, as the name suggests, a partial bust of a woman! Haha… How come coins aren't like that these days?
**NEW** 529 College Savings (+$2,528.96): The 529 only actually went up $28.96 this month, but since we took it out of the baby's net worth and added it into ours this month, it's technically showing a $2,500+ increase… That happened last month when we first invested in it ;)
IRA: SEP (-$197.81): The loser of the group this month, haha… And one of the only accounts that consists of hand-picked investments from yours truly ;) I never said I was a pro though!
IRA: ROTH(s) (+$769.70): This IRA's a lot better to see… and also contains a smattering of hand-picked stocks too, but mostly index funds for the portions we allocated into the  Mrs' account. She's a much more conservative investor in case you couldn't tell ;)
IRA: TRADITIONAL(s) (+$2,296.35): This one hasn't been touched in over a year as far as new investment money's concerned, and actually never WILL either since we choose to max our Roths instead every year… The only thing that might change is me condensing all 3 accounts here from our test into one main one and just letting it ride from there. Here's how they're all fairing now though:
IRA #1 (NOT Managed): $63,468.49 **Still in the lead

IRA #2 (Managed, USAA funds): $61,068.15
IRA #3 (Managed, ALL funds): $61,765.91

AUTOS WORTH (kbb) ($77.00): Two months in a row going up! Haha…. lame. (Unless we happened to be selling them this month ;))
Pimp Daddy Caddy: $2,175.00
Gas Ticklin' Toyota: $8,609.00
HOME VALUE (Realtor) ($0.00): Nothing new in this arena either. Still at the same $285,000 we priced it at months ago when a neighbor sold and we dropped the value from $300k (what we thought was conservative back then) to $285k just to be safe. If there's one thing I've learned since becoming a homeowner, it's that it's better to have GOOD surprises than BAD! So we'll be keeping it lower for a while unless something major (in the good or bad department) changes.
MORTGAGES (-$3,068.17): Now this category CERTAINLY changed! Over $3,000 paid off this month – woohoo!!! Operation Mortgage Payoff is back in action, ladies and gentlemen! At least this month! ;) It's hard to tell what the future will bring w/ all my online businesses/projects since it's so unpredictable, but we take the wins when we get them and then honker down when the storms hit… And right now it's looking pretty damn sunny out! Here's how our mortgages break down:
That's it for this month! We were usually gonna have Baby Money's net worth being updated here every month along side his daddy's, but since the 529 is gone from it now, and his savings will pretty much remain stable for a while, I figure maybe we'll only add it up when a change happens? What do you think? Or would you prefer to see it every month even if it's the same and boring?
Regardless, I hope YOUR month was just as sexy this time around! Take some time to brag about it down below in the comments where we we'll congratulate you and not judge! :) You always  have a safe home here anytime you want to pimp or bitch about your money. We know it's not "acceptable" in the real world for some reason, so stop by here anytime my friends…
To a good December!


———————
PS: You know who *else* is having a damn good net worth increase this month? Those two lucky POWERBALL WINNERS!! I wonder how they're coping with everything right now? :)

(Visited 15 times, 1 visits today)
**********
PS:
If you're just getting started in your journey, here are a few good resources to help track your money. Doesn't matter which route you go, just that it ends up sticking!
If you're not a spreadsheet guy like me and prefer something more automated (which is fine, whatever gets you to take action!), you can try your hand with a free Personal Capital account instead.
Personal Capital is a cool tool that connects with your bank & investment accounts to give you an automated way to track your net worth. You'll get a crystal clear picture of how your spending and investments affect your financial goals (early retirement?), and it's super easy to use.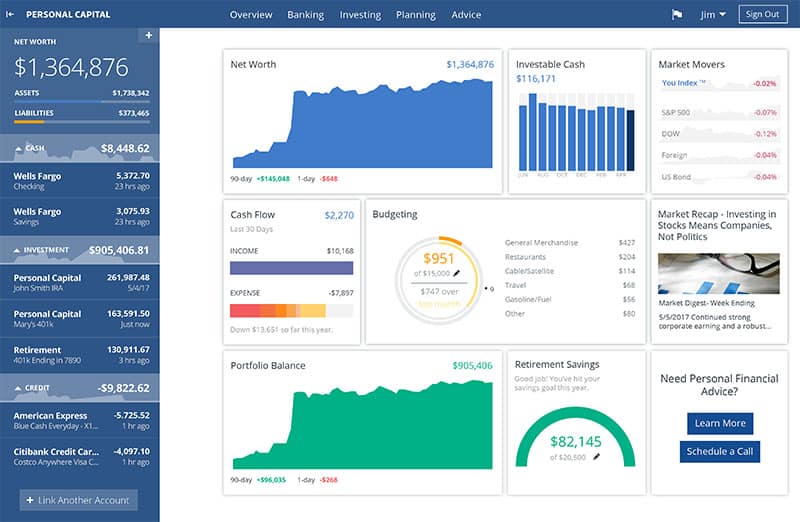 It only takes a couple minutes to set up and you can grab your free account here. They also do a lot of other cool stuff as well which my early retired friend Justin covers in our full review of Personal Capital - check it out here: Why I Use Personal Capital Almost Every Single Day.
(There's also Mint.com too btw which is also free and automated, but its more focused on day-to-day budgeting rather than long-term net worth building)
Get blog posts automatically emailed to you!