Hi again!
Man… feels good to be back :) A little weird posting up a net worth update when the next month is half-way over, but hey – can't break my record of 107 in a row now, right? And interestingly enough, these were the only requests that some of you asked me to do when I was away on sabbatical.
So, this is for you! And for my wallet, so I don't slip and skip over more down the road… (So much harder to get back into the rhythm of stuff when you take a break – even just 1 month! Praying I can write all this out to you easily and don't obsess on it for 4 hours too to "get it right." My new goal is to just free flow type as much as possible so it's more enjoyable. Even writing out this sentence right here is nice, which the old J$ would have gone back and edited out ;) So take that, old me! Haha…)
Okay, here's the TL;DR version of last month: Trump won the nomination. The markets freaked out and crashed over night. The next morning it rebounded and mysteriously got supercharged (???). This bumped up all our gains for the month. And then I paid off more of our car loan, didn't lose any cash savings (a miracle since I didn't pay attention to our money at all last month!), and the wife's TSP continued to go up through consistent contributions.
Here's November in more details:
[FYI: we share these numbers every month in order to provide a real life snapshot of a family's finances. Some months are up and some months are down, but we always lay it out here in hopes it helps. I still remember the first time I saw someone's real life numbers online (MyMoneyBlog.com circa 2007), and it completely changed the game for me – both financially, and career-wise! So the second I started this blog, I made sure to do the same. (You can see my first net worth posting here). Hopefully it inspires you to start tracking yours too!]
CASH SAVINGS (+$14.38): I'll take it!!! This whole last year our savings stash went from like $30,000 down to $4,000 (through a series of fortunate and unfortunate events), so lately anything that's in the green feels like a major win around here :) Especially taking an entire month off and not concentrating on earning anything, but *growing* my projects instead. And of course soon we'll have that stash hitting our accounts as well from last month's announcement of building a team here at BudgetsAreSexy and selling a minority stake in it (stay tuned for next month's update which will show that).
BROKERAGE (+$22.66): A nice little bump here, mainly from my continued use of Acorns which rounds up all my daily transactions and dumps the change into investments for me. It doesn't seem like much over the months, but then when you look at the whole pie you see it's almost $550 which is awesome! Literally from spare change!
THRIFT SAVINGS PLAN (TSP) (+$434.59): I say this every month, but it's always so fun to watch the drastic climb of an account when you start building up from scratch :) Which is exactly what's going on here with my wife's TSP account from the gov't job she landed in late Summer. Every paycheck it automatically adds in another chunk, and we don't even notice it at all since we're so used to seeing the lesser amounts. If you're not contributing anything to your retirement accounts, I urge you to please start now! Bump it up even just 1% and you'll get used to it as well (and even maybe get addicted, since most employers will match it and give you FREE MONEY just for doing so!).
ROTH IRAs (+$4,307.14): Easy money! Haven't dropped in a penny for the last 6 months and it continues to creep up over time.. That's the power of *investing* your money vs just keeping it in savings (though that has its place too). I hope to go back to monthly contributions one day, but for now we continue to max it out in one chunk at the end of each tax year so long as we have the money for it. I still don't have this "self-employment" thing down even though it's been half a decade (probably because I keep changing up the game :)).
SEP IRA (+$17,614.14): Same with this guy too! Nothing added and yet a "free" $17k comes into our account. Of course, the opposite holds true and some months we're down $17k+ too, but hey – it's the upwards trend that counts in the end and is the best way to grow your wealth: without lifting a finger :)
Here's a snapshot of where all my IRA money is (Vanguard, VTSAX), and its recent performance :
CAR VALUES (-$676.00): Nothing too out of the blue here, other than more expensive cars seem to devalue faster than less expensive ones :) But such is life with car ownership. Here's the values of them both per KBB:
Lexus RX350: $12,897.00
Toyota Corolla: $3,918.00
CAR LOAN: (-$310.07): Haven't gone "all in" on paying this off yet, but still chipping away at it each month… We had an interesting discussion going in our forums the other week about how people feel about being in debt, and while I'm not overly excited about it, people were probably surprised when I said I didn't *hate* it either. I don't mind using it sparingly and for a good reason, but I've also been fortunate enough to not been terribly burdened by it over my lifetime which I'm sure plays a pretty important role in your feelings towards it. Either way, I def. don't plan on having this car loan forever :)
Lastly, here's a look at how our money has performed over the past year!
As long as it keeps trending up I'm okay with it :) I was telling a friend the other day that I used to grow it SO MUCH FASTER back in the day, but for whatever reason I've had a much harder time with it these past 3-4 years. She asked me how old my boys were, and when I said 2 and 4 we both let out an "Ahhhhh" at the same time as the epiphany struck us, haha… damn kids!
Speaking of which, they're not doing too shabby either for their ages ;)
And that's November! Hope it didn't disappoint anyone eager to see it, haha…
How was your month? How's your month going this month?
As always, you can see all 100+ of our net worth reports over the years here, and once you're bored with those you can head over to my sister site, Rockstar Finance, and check out 200+ OTHER bloggers' net worths as well.
Hope Santa brings you more wealth this holiday season!
(Visited 62 times, 1 visits today)
**********
PS:
If you're just getting started in your journey, here are a few good resources to help track your money. Doesn't matter which route you go, just that it ends up sticking!
If you're not a spreadsheet guy like me and prefer something more automated (which is fine, whatever gets you to take action!), you can try your hand with a free Personal Capital account instead.
Personal Capital is a cool tool that connects with your bank & investment accounts to give you an automated way to track your net worth. You'll get a crystal clear picture of how your spending and investments affect your financial goals (early retirement?), and it's super easy to use.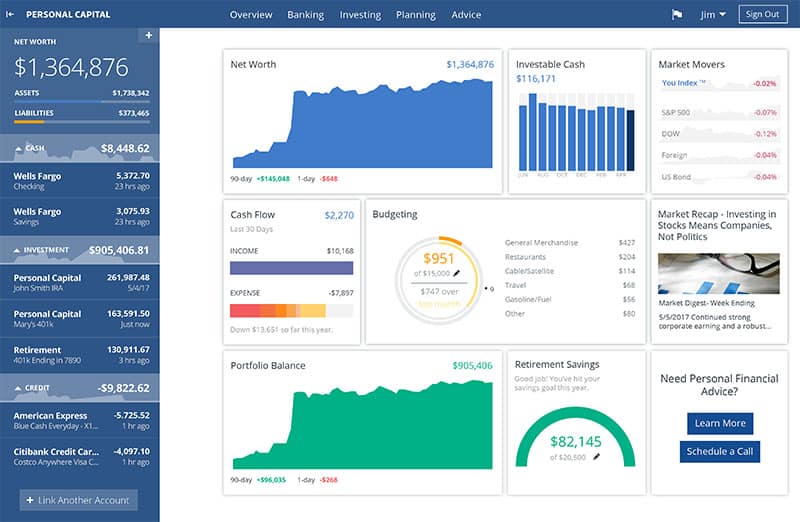 It only takes a couple minutes to set up and you can grab your free account here. They also do a lot of other cool stuff as well which my early retired friend Justin covers in our full review of Personal Capital - check it out here: Why I Use Personal Capital Almost Every Single Day.
(There's also Mint.com too btw which is also free and automated, but its more focused on day-to-day budgeting rather than long-term net worth building)
Get blog posts automatically emailed to you!