Happy best day of the month: Net Worth Day!

How many of y'all have already updated yours? How many saw an increase from last month?
We eeked out a little gain compared to previous months, mainly due to the markets being flat (where most our money is), but we did start seeing a few welcomed changes now that my wife is working again:
#1. We have a 2nd income again!
The paycheck amounts have been changing as we tweak retirement contributions and get healthcare going, but so far getting one for $1,389.93 and another of $1,193.04 have felt the opposite of bad ;)
#2. We have another retirement account to track
The Thrift Savings Plan (TSP), which is like a 401(k) except for government workers. And looks like they match contributions dollar for dollar up to 3% (WOO!), and then another $0.50 on the dollar for the next 2 percentages thereafter. So if you put in 5%, they'll match 4% of your entire paycheck which is FREE MONEY!!!
They also automatically give you 1% whether you contribute to your account or not (good for people who don't pay attention!), meaning you'll actually get an extra 5% total for free so long as you put in 5% yourself. Which of course we're doing, and will probably increase as time goes on.
Something else the gov't does is set the automatic contributions to your TSP at 3% for all new employees, forcing them to log in and change it if they're unhappy about it. Which not many do, because you know – effort ;) A study I just read showed how the participation at one company among new hires rose from less than 20% to over 90% due to automating contributions for their employees like this! Pretty incredible! Here's a great article by My Money Blog if you're interested in reading more: The Power of Default Settings: 401(k) Auto-Enrollment
#3. We now have a pension in the mix!
Every paycheck a little over 4% goes towards my wife's future pension which, from what I gather, is an annuity that pays out every month for the rest of her life once retired (as long as enough time has been banked). There's always a question of whether pensions belong in your net worth or not, and while I don't personally believe they do (to me it's more of a *cash flow* thing – similar to having a second job or passive income stream coming in), it WILL of course affect your $$$ and your future.
Instead, I prefer including it in my retirement calculations/spreadsheet where all other income streams come into play as well (you don't include your salary in your net worth, right?). Then, if that money is saved or invested once we get it, it'll be accurately reflected in our net worth at that point. Though hopefully we're spending it and enjoying our lives :)
So lots of good changes going on over here, for sure… All helping us to regain sanity from the past few months of moving and starting daycare again, yada yada yada.
Now time for the numbers….
(And btw, for all new people – the reason I share this every month is to give people a real life snapshot of someone's money to help them with their own. It was something I LOVED seeing myself when I first stumbled across personal finance blogs 8 years ago, and ever since I've been including them in my own. Feel free to ask whatever questions you'd like!)
Here's how August broke down:
CASH SAVINGS (-$414.73): No more $2,000 losses – woo! We're not out of the woods yet, but now with the move and other unexpected costs out of the way (turns out we like to drive over razor blades and get flat tires – yay!), the ship should start turning around. And perhaps I should halt my aggressive car paying down plan too until we're gaining again…
BROKERAGE (+$18.68): Every month Acorns invests a few dollars for us by automatically rounding up all our daily transactions. Nothing too crazy, but it's fun to stash a little extra on top of everything else we're doing and looks like we're about to cross $500!
*NEW* THRIFT SAVINGS PLAN (TSP) (+$348.16): Hubba hubba! A new account to grow, and another chance at hitting financial freedom sooner than later :) I wasn't able to log in and get the exact #'s of this account as the gov't is slow to send info out (we still don't have our health insurance account # even though we've been enrolled for weeks!), but going forward we'll be tracking it to the penny as we do all other areas here… The $348 is a combo of what my wife contributed herself + the matches she gets. Hopefully this will rise even faster as it's invested into the market.
(Right now her $$ is going into the default Lifecycle Fund (like a "target date") but hoping to convince her to get more aggressive since we have plenty of years ahead of us… My wife's more conservative than I am though, so we'll see how that goes :) The good thing about the TSP options is that they're all really good! Especially in terms of expense fees, so gotta love that…)
ROTH IRAs (+$233.35): Nothing major here due to the flat markets and not contributing anything extra, but once we get going again we'll be switching from yearly lump deposits to monthly ones. For now it's just at the mercy of the markets.
SEP IRA (+$1,114.12): Same with this guy too. Nothing new added and just going with the flow of our economy. Here's a snapshot of our account since switching over to index investing two years ago (we're 100% into VTSAX – Vanguard's Total Stock Market Index Fund):
(This shows *returns* fyi, not total amounts invested)
CAR VALUES (-$523.00): Both our cars declined in value this month – as to be expected – and here's the value of both of them now via KBB.com:
Lexus: $13,985.00
Toyota: $4,122.00
I still miss the Caddy, but fortunately the Lexus helps make up for it :)
CAR LOAN: (-$457.81): We might have to stop this until we're above water, but I'm just so addicted to rounding up debt payments to the nearest $100th – or in this case, nearest $500th :) I just love seeing the amounts drop so fast!!! Highly recommend for anyone also trying to kill off debt faster. You barely notice it when you're rounding up normally…
And lastly, here's a snapshot of how it's gone over the past 12 months:
Oh, and our kids money too (yup, gotta start them young!):
And that's August! How did you do??? Anything new or exciting to report?? Anyone just starting out on this wonderfully nerdy path? :)
If you are, check out the resources below if you're looking for a good way to track it all, and if you like seeing peoples' net worths like this, hit up my other project where we track over 200 other bloggers' money too:  The Rockstar Finance Net Worth Tracker. It ranges from those in hundreds of thousands of debt, to those in the MULTIPLE millions of dollars! Pretty fascinating stuff.
Here's a list of the past 100+ of our reports too if you'd like to peruse: Net Worth Archives
Good luck y'all! Another month = another chance to gain freedom!
(Visited 19 times, 1 visits today)
**********
PS:
If you're just getting started in your journey, here are a few good resources to help track your money. Doesn't matter which route you go, just that it ends up sticking!
If you're not a spreadsheet guy like me and prefer something more automated (which is fine, whatever gets you to take action!), you can try your hand with a free Personal Capital account instead.
Personal Capital is a cool tool that connects with your bank & investment accounts to give you an automated way to track your net worth. You'll get a crystal clear picture of how your spending and investments affect your financial goals (early retirement?), and it's super easy to use.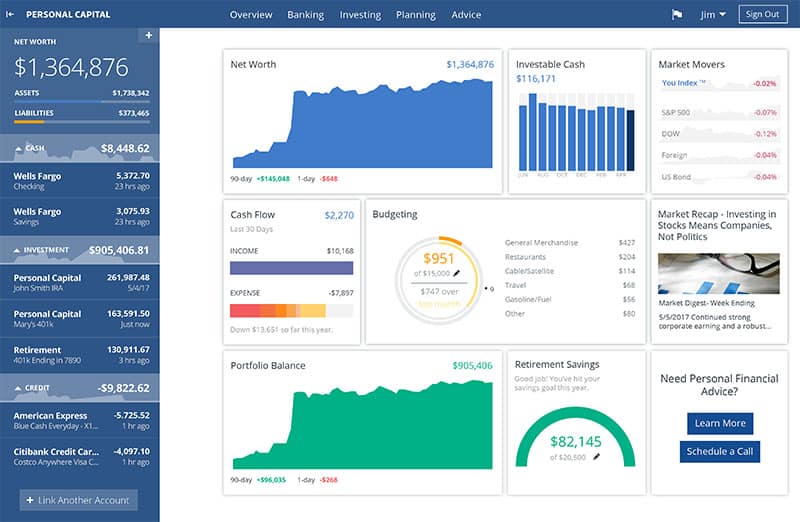 It only takes a couple minutes to set up and you can grab your free account here. They also do a lot of other cool stuff as well which my early retired friend Justin covers in our full review of Personal Capital - check it out here: Why I Use Personal Capital Almost Every Single Day.
(There's also Mint.com too btw which is also free and automated, but its more focused on day-to-day budgeting rather than long-term net worth building)
Get blog posts automatically emailed to you!