What up, what up!

That time again to update ye old net worth and do some checking in on our money! Y'all have a good month over there? Anyone cross some epic milestones?
I'd like to say that I was a straight up hustler and re-crossed that Half-A-Millionaire status all by myself, but truth be told it was the market's doing though I did plant the original seeds :)
And unlike last month when I straight up freaked out about my car purchase (no more regrets!!) I promise to keep my emotions in check this time around. All those changes going on totally hijacked my emotions and I haven't been more ready to move on to the next chapter…
Which began two weeks ago! The wife is at her new job earning that 2nd income (YES!), the kids are down the street playing with their new daycare friends, and I'm here typing to you at our new place while I pretend "to work" :) So here's to a calmer future!
Here's how the month of July went down finance-wise:
CASH SAVINGS (-$2,319.97): Another big drop in reserves due to moving and not focusing on monetizing my projects enough (why can't I just get paid to blog to you all day? :)), but this should be the last month of it. The wife starts getting paychecks next week, and I'm back to focusing on the future of my projects and how to align my goals with making money at the same time. Something I've been struggling with lately since it usually messes with "the heart" of it all. But can't ignore it any longer!
DIGIT & "CHALLENGE EVERYTHING" ACCOUNTS: Just another reminder that I've mixed all my 'savings' accounts into one main line item here in the net worth breakdown. I'm still rockin' Digit which saves me hundreds every month (now up to $5,494.64!), but my minimalist side finally got a hold of me and didn't like seeing all the areas split up like it had been. Hopefully it makes it easier to follow too!
BROKERAGE (ACORNS) (+$29.42): This has been on autopilot going on a little over a year now. Every month Acorns invests $20-$30 for me by automatically rounding up all my daily transactions. It's pretty cool if you want an easy way to invest more – check it out.
IRA: ROTH(s) (+$3,900.94): Nice bump! Haven't added a thing in months, but the market continues to climb making its customers nice and happy ;) Unless you happen to be one of those who cashes out every time it freaks out and waits too long to get back in. The trick is just plowing more and more in whenever you can and letting it ride! I only wish I had more money to do this every time a Brexit or whatever happens!
IRA: SEP (+$15,300.62): Huge jump here too! A 4% one! Similar to the Roths, we haven't touched this in quite some time so it's totally just moving along with the markets. And since I'm fully invested in Vanguard's VTSAX index fund, it just mirrors the overall economy as a whole. Which has been doing fairly well lately.
Here's a snapshot of our account since switching over two years ago… Keep in mind that it shows *performance* and not the entire amount actually invested (that's $400k now):
(This is exactly why you sit tight through the madness – it corrects over time!)
AUTO VALUES (-$305.00): Nothing major to report here. Just depreciating as is normal, though I'd imagine the amounts being dropped will be somewhat higher now that we've swapped the Caddy for the Lexus ;) As much as I started really regretting not buying it from a private party, I've since come to terms with it and realize I did the best I could within the time frame I had. And even more importantly, I'm still very much enjoying riding it around town! I'm starting to understand just what the fuss is about them, haha… Though I still feel VERY out of place owning one.
Here's the values of our two cars via KBB.com:
Lexus: $14,373.00
Toyota: $4,257.00
AUTO LOAN: (-$418.34): Operation "round up debt payments" are back in action! I used to do this with our home mortgages – rounding up to the nearest $100th – to get them paid off faster, so it feels kinda good in a nerdy way to have another mission like this again. Our normal payments are around $340/mo, but we threw in $500 this round as well as a little extra we got back from refinancing it already last month. Was able to spend more time looking into it all, and got our rate down from 3.45% to 2.75%. Only saves us a few dollars a month – but hey, one time work for future savings! The best kind!
And here's how the last year has gone in total, for those visual people out there:
Our boys have their own net worths too! (Though sadly can't update it themselves… yet :))
And that wraps up July! Very much looking forward to getting all these cash problems out of the way and re-gaining momentum again… If it weren't for banking so much while times were good, we'd be looking pretty bad here! And I guarantee you would have taken my blogger card from me by now ;)
Hope your situations are poised to get better too! It's not always roses all the time!
As always, here's the list of all 90+ updates we've done over the years: J's Net Worth Journey. And here's a look at how 229 other bloggers are faring too: The Ultimate Net Worth Tracker (via my other site, Rockstar Finance). See if there's anyone in your own range there that you can follow and get motivated by! The amounts range from $500,000 in DEBT, all the way up to $3.3 MILLION plus.
See ya back next week :)
(Visited 21 times, 1 visits today)
**********
PS:
If you're just getting started in your journey, here are a few good resources to help track your money. Doesn't matter which route you go, just that it ends up sticking!
If you're not a spreadsheet guy like me and prefer something more automated (which is fine, whatever gets you to take action!), you can try your hand with a free Personal Capital account instead.
Personal Capital is a cool tool that connects with your bank & investment accounts to give you an automated way to track your net worth. You'll get a crystal clear picture of how your spending and investments affect your financial goals (early retirement?), and it's super easy to use.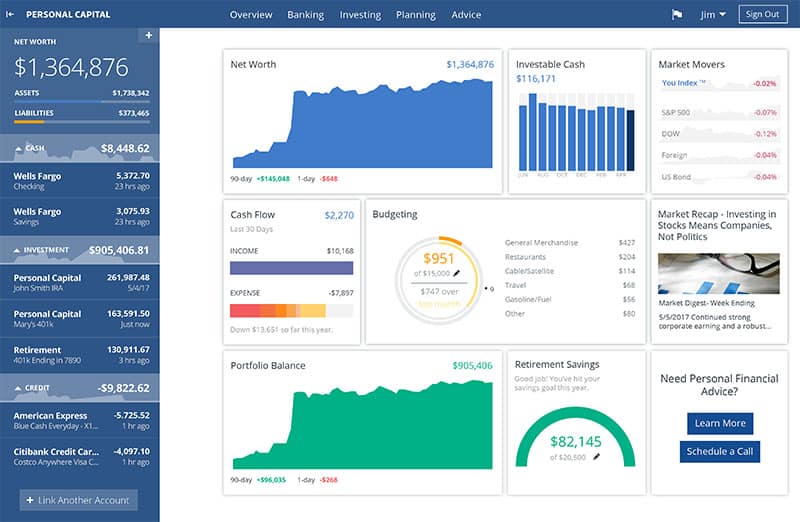 It only takes a couple minutes to set up and you can grab your free account here. They also do a lot of other cool stuff as well which my early retired friend Justin covers in our full review of Personal Capital - check it out here: Why I Use Personal Capital Almost Every Single Day.
(There's also Mint.com too btw which is also free and automated, but its more focused on day-to-day budgeting rather than long-term net worth building)
Get blog posts automatically emailed to you!