It's the best time of the month again! Even though I "lost" $7,000, haha… (I say "lost" because most of it was in stocks which we all know we won't be touching for many years to come so the day-to-day/month-to-month doesn't really matter. What does is the day(s) we cash out! ;)).
Even when it's going down down down into a burning ring of fire, though, I still very much enjoy updating our numbers each month. It may be less stressful ignoring it during the down times, but just like with everything in life it's more important to know what you're dealing with than having your head in the sand. Plus, it makes the UP times feel much better!
Also, while the cash parts are very much our own doing, it's hard to blame yourself for what the stock market does. Risks and rewards with that bad boy, and just as it goes down it very much goes up UP UP! So as long as it does that long term that's all that matters.
Still, our cash flow continues to leak every month – a combination of restructuring biz, making babies, living on only one (variable) income, home ownership sucking, and just general less than exciting affairs. I remind myself that it's only temporary though, and that I can go into super overdrive if drastically needed at any point, so we give it a few more months and see how things shape up. My wife will be finished with her dissertation by then and working on jump starting her career again, some of my projects should be better in place by then as well, all the while I'll have been able to spend nice quality time with my two beautiful boys. Something I'm trying to prioritize above all else which is hard as hell to do when you're used to hustling 24/7!
We can't continue to lose money every month though, so I give you free reign to kick my ass if we're in the same spot come May – deal? ;)
Here's how January went down…
CASH SAVINGS (-$1,184.22): This includes all cash in our "house savings" account, everything I'm currently stashing away in our Challenge Everything account, all money automatically being saved with the sexy Digit (full update coming soon!), as well as anything else in our wallet, safes, you name it. Pretty much all cold hard cash we can tap at any point if needed. (Or should I say, *when* needed during these times! But that's what it's there for, right?)
*NEW* BROKERAGE (+$503.85): This is a new section to our net worth reports going forward! Which came out of our blogger competition and me trying my hand at dividend investing using Motif. So far we're up $3.85 (all 20 of us invested $500 at the same time) and I'm currently in 12th place. Though, again, it doesn't really matter as I'm in it for the long haul… Just fun to have a non-retirement brokerage account for once!

IRA: ROTH(s) (-$1,408.36): Nothing new added here in quite some time. Though once we're done filing our taxes and seeing how much – if any – we have left over (I file quarterly so I always have $$ stashed aside), we'll be able to see if our Roth IRA maxing streak continues to live on… Here's hoping!
IRA: SEP (-$5,412.81): Same with this guy too – we only dump in money after tax time which we'll DEFINITELY be doing here soon. Not only does it save us a TON of money in taxes, but I no longer have a 401(k) anymore so it's my main tool for investing in retirement. So if there's only one thing I do every year, it's continuing the momentum and maxing out this bad boy no matter what. And all $330,000 of it + my Roth money is all invested in Vanguard index funds. Or, fund, for that matter – VTSAX.
Here's how it's performed since we moved our money over in April:
AUTOS WORTH (kbb) (-$70.00): Same ol' same ol' here too – just the cars depreciating every month as they're supposed to… Though, a kind reader from last month's update pointed out that Kelly Blue Book now shows values for cars older than 20 years! So I checked out what Frankencaddy is now worth according to them, and it put me out at around $1,600-$1,700. But with its, *ahem*, character traits, I'm keeping the value stagnant at $1,000 which I think I could easily get if I wanted to for real sell her one day. Still, good to know about KBB!
Here are our cars' values:
HOME VALUE (Realtor) ($0.00): This is also remains at the same amount over the months/year: $300,000. One day I'll hit up our realtor again for an update (I don't like using Zillow as it fluctuates too much and I seriously doubt it's accurate), but for now it sits where it is while we continue chipping away at it… cursing under our breaths the entire time, haha…
MORTGAGES (-$681.94): Another almost $700 knocked out – woop! Rounding up payments every month to the nearest $100th has been working miracles over here… Shaving off years and years of payments while nixing thousands of interest at the same time. My favorite type of trick!
Here's what's left on our two mortgages:
Here's how our boys fared this month:
And that wraps up the first month of the year! Not as beautiful as one would wish, but it is what it is and we keep our head down and focused on the mission. Working smart and stashing away as many nuts as we're able. We'll see what February brings, but please do wish the Mrs. luck in finishing up her paper and starting the job search :) It's been 3 years in the making!
As always, you can find all of my net worth updates over the years here, and the big honkin' Blogger Net Worth Tracker here. Now featuring 136 bloggers with worths ranging  from -$134,907 all the way up to $2,160,878. All different people in all different phases :)
How did the money gods treat you last month?
——–
PS: If you've never tracked your net worth before, take out a pen and paper and spend 15 minutes doing it right now. Just add up all your assets (cash, stocks, 401ks, etc) and subtract all your liabilities (debts, loans, credit cards, mortgages, etc). The number you're left with is your net worth!
Alternatively, you can use the spreadsheet I use to track mine (top one on the list), or sign up with any of these free services and have it all automated for you (but where's the fun in that? ;)):
Mint.com (free) – hook up your accounts and it'll automatically pop out your net worth.
PersonalCapital.com (free) – Similar to Mint, only with an investment slant. I believe they're giving away $10 Amazon cards to new members too right now – might be a good time to check out?
(Visited 34 times, 1 visits today)
**********
PS:
If you're just getting started in your journey, here are a few good resources to help track your money. Doesn't matter which route you go, just that it ends up sticking!
If you're not a spreadsheet guy like me and prefer something more automated (which is fine, whatever gets you to take action!), you can try your hand with a free Personal Capital account instead.
Personal Capital is a cool tool that connects with your bank & investment accounts to give you an automated way to track your net worth. You'll get a crystal clear picture of how your spending and investments affect your financial goals (early retirement?), and it's super easy to use.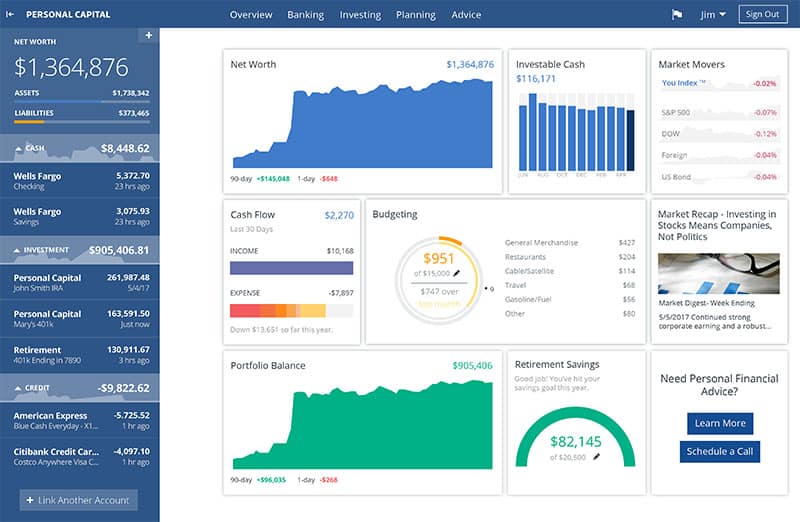 It only takes a couple minutes to set up and you can grab your free account here. They also do a lot of other cool stuff as well which my early retired friend Justin covers in our full review of Personal Capital - check it out here: Why I Use Personal Capital Almost Every Single Day.
(There's also Mint.com too btw which is also free and automated, but its more focused on day-to-day budgeting rather than long-term net worth building)
Get blog posts automatically emailed to you!