What's poppin' y'all! Welcome to a fresh new month to make that fresh green dough! And what a better way to start it out than the last go around, jeez… I can take a $50,000 hit once, but back to back? I think I'd faint :)
Though is it me, or is it super eerie that the markets almost completely broke even this entire month after the crazy that occurred back in Jan? Perhaps the quiet before another large storm?
I actually wouldn't mind that at all, if I'm being totally selfish here. This is the month we max out our main retirement account (SEP Ira) and would love to scoop up more of that precious VTSAX while on fire sale… We don't dollar cost average since the amount we can invest is based on my businesses' fluctuating income, so I'm always super anxious and excited to jump right in as soon as our taxes for the year are completed. Which if all goes well should be about this time next week – woo! And yes – I cheat and use an accountant! :)
We're now into month #2 of not owning a home anymore too (SCORE!) and to say I feel free is an understatement. It's so great, in fact, that I still keep both sides of the equation there in the net worth just so I can keep salivating! Haha… Isn't it so damn pretty? :) No mortgages or debt or anything?? I'll cut it out next month just to move on with my life, but man – still counting those lucky stars we found that buyer in the dead of winter. Could have gone the opposite way for sure!
And speaking of debt, you'll also notice we haven't activated my parents' kind offer yet to shore up extra savings while we transition into new territory here (offloading the house gave our cash reserves a serious beat down). We'll be finally making a decision on that too as soon as our tax stuff gets wrapped up… I know it sounds silly to take out a loan just to keep more $$ in your reserves, but similar to our Would You Rather last week it all comes down to personal decisions in the end. And in some cases, maybe even keeping your significant other happy ;) Is there a way to factor that into your net worth?
Now on to February's $$$ break down!
(FYI – To all new people here, I do these every month to not only hold myself accountable, but to also share real-life snapshots of someone's finances since you hardly ever see it in the "real world." We're all in different phases with this stuff, but hopefully it motivates you to keep on pushing hard, and at the very least to *start tracking your net worth* as well. You can check out the tools at the end of this article if you don't know where to begin.)
CASH SAVINGS (+$2,239.13): Yes! Finally going in the opposite direction for once – love it. A dual combo of great business income mixed with not pouring our money into our house anymore… And while March doesn't look *as* promising for income as yet, it's now nice knowing we automatically save a good $900ish each month we no longer own. I should start putting THAT into our Challenge Everything account – hah!
DIGIT SAVINGS (+$64.30): A nice little bump here as well. Just my Digit robot friends doing their thang and pushing over small amounts every few days knowing I won't even notice they're gone. That's the best part of it all – your savings grows without even lifting a finger! You can check out my review of them here if you have no idea what I'm talking about…
CHALLENGE EVERYTHING (+$555.33): The biggest of Round II! We got a couple of unexpected checks this month – one from Ebates (thanks wife!) and one from our mortgage's escrow accounts (thanks J$ for getting rid of it!) – so in true fashion we forwarded it all into our Challenge account before we were tempted to place it anywhere else.
I know I've said this before, but one of the best things about separating out *extra* cash is that it only goes UP over time since you're not touching it! So stupidly easy, yet hardly anyone ever does it. So if you're looking for new ways to try and save more, give opening up a separate account a try and see how it goes. And a quick *hi* to all those coming over from my Business Insider article! This is further proof of how powerful experimenting can be! :)
ACORNS (BROKERAGE) (+$16.65): Nothing too exciting going on here, but always nicer to see a green change there than a red one. So we'll take it and hope to watch as it continues to grow over time by rounding up all our purchases for us… Another excellent way to save without doing a thing! (Full Acorns review can be found here)
IRA: ROTH(s) (-$71.90): See what I mean about nearly breaking even? We have $60,000 invested and it only moved by $70! Haha… I'm telling you… the quiet! :)
IRA: SEP (-$137.18): Same here too – but even more drastic. We've got $330,000 invested into this bad boy and only watched it tick down by a mere $130 bucks… Excited as hell to dump more cash into it this month and help turbo charge it some more! Here's how our $$ has performed since moving over to Vanguard almost two years ago:
AUTOS WORTH (kbb) (-$205.00): Down down down as cars tend to do… Nothing special to report here, other than my Caddy still working despite its age and the random wintery storms that come and go on a whim (so freaky right?). Here's what our two cars are roughly worth via KBB.com:
Plain Jane Toyota (wife's): $4,203.00
Frankencaddy (mine): $1,000.00
HOME VALUE (Realtor) ($0.00): Bye bye house!! Hope you're having fun in someone else's net worth now! :) I suppose it's a little misleading though saying the home's value is worth $0.00 when it's actually still worth $300k whether I own it or not, haha… (either that, or I just ripped someone off!). Regardless, we'll see a clean new slate next month here and officially wave goodbye forever… Awww….
MORTGAGES ($0.00): I am going to miss that sight, though :) One more time for good measure:
1st Mortgage: $000,000.00 (30 year conventional @ 5.5%)
2nd Mortgage: $00,000.00 (HELOC @ variable 2.8%)
Later on old friends!
And now how the past year has gone…
And the net worths of my two darling boys who will one day be embarrassed that I call them Baby Penny and Baby Nickel to the world here :) But that's what dad's are supposed to do, right?
By the way, you can see a list of all my net worth updates over the years here.
And also 200+ other personal finance bloggers' worths here.
And that wraps up net worth update #88! The mission to a million dollars net worth – and beyond – continues forward, woop! Hopefully yours is humming along nicely too. Would love to hear about them and all the tricks you've got up your sleeves! Share 'em below so we can all learn!
See ya in the comments,
(Visited 18 times, 1 visits today)
**********
PS:
If you're just getting started in your journey, here are a few good resources to help track your money. Doesn't matter which route you go, just that it ends up sticking!
If you're not a spreadsheet guy like me and prefer something more automated (which is fine, whatever gets you to take action!), you can try your hand with a free Personal Capital account instead.
Personal Capital is a cool tool that connects with your bank & investment accounts to give you an automated way to track your net worth. You'll get a crystal clear picture of how your spending and investments affect your financial goals (early retirement?), and it's super easy to use.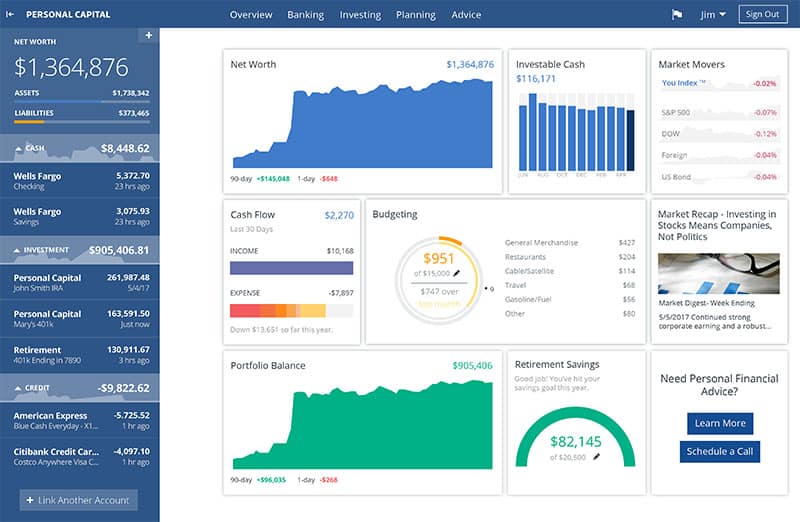 It only takes a couple minutes to set up and you can grab your free account here. They also do a lot of other cool stuff as well which my early retired friend Justin covers in our full review of Personal Capital - check it out here: Why I Use Personal Capital Almost Every Single Day.
(There's also Mint.com too btw which is also free and automated, but its more focused on day-to-day budgeting rather than long-term net worth building)
Get blog posts automatically emailed to you!