Whelp. One month you're up, and one month you're down…
Seems like the more money in the pot you have, the more fluctuations you get. At least when we're dealing with 99% stocks and funds ;)
Huh… I've actually never really thought about that before – the amount of our net worths tied to the markets vs other things like cash, cars, houses, etc… It's not all in one or two specific stocks which is good, but still – that's kinda freaky, right?
Anywho, a down month with our stocks and retirement accounts, and yet another down month with our cash too – the worst part. Seems I still haven't been able to steer the ship out of that perfect storm we hit earlier this summer, and it's really sucking. We're not spending all crazily or anything outside of the new changes, it's just our *income* has really slowed down with the blogging business and others I've got my hands into. Par for the course with self-employment, but still doesn't make you feel tons better ;)
But I'm not giving up hope (or hustle) just yet! I have a couple of new things on the back burner waiting to make it out in the world, as well as a side hustle or two in the works as well. And if all else fails in the end, I'll just suck up my pride and get back to doing the "responsible thing" again and get myself a normal 9-5 like the rest of the world… There's worse problems than that I'd imagine :)
Here's how August's Net Worth broke down:
MONSTER CASH (-$3,557.45): The good side here is that we're finally all caught up with moving expenses and insurance stuff and houses being rented out (well, one house being rented out that is), but the down side here is that WE LOST A $HIT TON OF MONEY!
529 College Savings (-$95.76): Due to the above this month, and previous ones lately, we have have stopped putting in any extra cash here for Baby Money… 'cuz we have no "extra."
IRA: SEP (-$1,762.31): Same deal here. Though I always pour in the money at the end of the year anyways once I know how much my biz made and how much I can contribute (the amount is tied to profit).  The best part about this is that you save a LOT of money on taxes by dropping a cash bomb here (it's our self-employed's version of a "401k"), but the worst part is that you need that cash bomb to be able to do it! Wha wha wha…
IRA: ROTH(s) (-$2,233.53): Nothing infused here either. And probably won't be this year unless a miracle happens sometime soon (all money would first go to maxing out the SEP anyways, and then the rest here…).
IRA: TRADITIONAL(s) (-$4,145.95): No magic to report in this category either. The stocks doing their thing and our IRA Test still humming along without a clear end in site. The fault of yours truly ;) But at least we can't say we didn't test it thoroughly over time! Here's how they break down:
IRA #1 (NOT Managed): $70,827.60 **Leader for over a year

IRA #2 (Managed, USAA funds): $66,356.65
IRA #3 (Managed, ALL funds): $66,984.86

AUTOS WORTH (kbb) (+$163.00): How these cars managed to outperform all the rest is beyond me, haha… Maybe that's the new correlation with this economy? Markets up – auto worth down. Markets down – autos up! ;) Here's how much each of our cars are worth right now according to KBB.com:
Pimp Daddy Caddy: $1,669.00
Gas Ticklin' Toyota: $6,944.00
HOME VALUE (Realtor) ($0.00): We'll be sitting on the recent valuation of $300k for a while unless the market continues to change enough one way or the other. It had been set at $285k for over a year, and then our realtor said we could probably get $300 or $315k for it when we considered selling it instead of renting it earlier. So we chose the lower number to conservatively estimate its value for now.
MORTGAGES (-$639.52): This is really the shining light of our net worths time and time again. No we haven't been throwing our $2,000's towards it like we used to do, but we're consistently paying off more than needed every month regardless of the crap going on around us. You might think it would be smarter to take this money and apply it towards less of a loss in the cash department each month, but I refuse to hit pause on the early payoff. I find it a slippery slope when you start stopping goals as it makes you lazier and not as motivated! And by "you" I mean "me" :) I'd rather clean toilets for the extra money than give up these extra payments. (And not all the $640 is extra btw, only a portion of it is since standard mortgages have principal payment already included with each payment)
Here's how our two mortgages break down:
And that's it for this month… Not as sexy as last month's $27,000 bump, but much better than the previous month's $40,000 loss… I guess we'll just be playing see-saw with our money here, no big deal. It's not like our future depends on it or anything ;)
How did you guys fair?



———————
PS: It's crazy how your money changes over the years when you're tracking it. We've done almost 6 years of these updates now, and it really gives you a good sense of how far you've come (or not) and what your life was like throughout…. I highly encourage you to start tracking it yourself if you haven't done so already. It's like a diary of your money :)
(Visited 6 times, 1 visits today)
**********
PS:
If you're just getting started in your journey, here are a few good resources to help track your money. Doesn't matter which route you go, just that it ends up sticking!
If you're not a spreadsheet guy like me and prefer something more automated (which is fine, whatever gets you to take action!), you can try your hand with a free Personal Capital account instead.
Personal Capital is a cool tool that connects with your bank & investment accounts to give you an automated way to track your net worth. You'll get a crystal clear picture of how your spending and investments affect your financial goals (early retirement?), and it's super easy to use.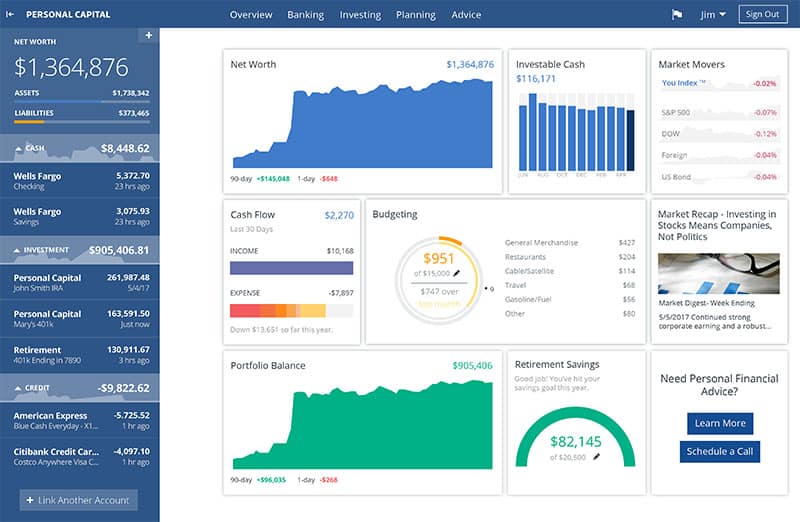 It only takes a couple minutes to set up and you can grab your free account here. They also do a lot of other cool stuff as well which my early retired friend Justin covers in our full review of Personal Capital - check it out here: Why I Use Personal Capital Almost Every Single Day.
(There's also Mint.com too btw which is also free and automated, but its more focused on day-to-day budgeting rather than long-term net worth building)
Get blog posts automatically emailed to you!