A nice change from last month's $3k decrease :) And almost all the increases come strictly from the stock market going up up up… But always better than down down down!
(Unless you're on a buying binge – in which case you celebrate!)
You hardcore readers might also notice one of my old categories is gone now too – that of the "gold and silver" variety. At first it made sense to include it as I had planned on picking up more and more silver and gold rounds over time to diversify more into the real "physical world" vs. electronic stocks and all that (if an apocalypse hits, what would you rather have – gold bars or stocks that were wiped out?) but it seems my interests are getting deeper and deeper into "coin collecting" now over "bullion hoarding." So it doesn't seem right to keep these in there unless I wanted to start tracking my basketball card collection and stamps too ;) All of which are somewhat valuable, but not worthy enough to be included in these updates at least to me. Maybe you're different?
(Actually, that's an interesting thing to think about, eh? If any of your own collections should or shouldn't be included in your worth? Even if they're valued at, say, $5,000 or $50,000? Hmm…)
Anyways, that's the biggest change going around here with these updates… Everything else was pretty much taken care of by the stock market :)
Here's how it all broke down for January:
MONSTER CASH (-$502.82): Not the best, but not the worst. Usually when this happens I try to cut back on an extra debt or savings payments I may be scattering across my accounts, but I've been on such a great roll with paying our mortgages off more and more every single month, that I didn't want to scale back and lose motivation just because of an off business month. So I paid as close to the $2k extra as I could, and took a small loss of savings to keep things on track.
GOLD & SILVER  As I mentioned, this little guy will be going bye-bye now while I concentrate more on collecting as a hobby more so than investing. It doesn't mean I won't PICK UP some sweet gold aor silver coins in the future – I most certainly will! – but just that I'll be doing it more for the "coin" value over the metal inside. So for now it doesn't seem like it should be included in here anymore…
529 College Savings (+$166.63): A nice recouping of some losses recently in this department! I wonder how large this would grow if I just left it alone for 18  years 'til my boy needs it? I bet that would be fun to watch! :) (And also sooooooooooo slowwwwwwwwwww, haha…)
IRA: SEP (+$2,226.62): Haven't touched this guy at all lately, but I will soon once my taxes are done! The only part I actually enjoy about tax season – not having to pay thousands of extra dollars just by INVESTING more! It's awesome! I usually put in $15,000-$25,000 a year, and in return save $5,000-$8,000 from leaving my nest :) That's some good incentive right there!
IRA: ROTH(s) ($3,675.53): Same with these funds too (the "no touching" part). Later this year I'll work on my goal of maxing them both out so the wife and I continue building up these taxable wins as much as the law allows us too. Someone once told us that we better do it now before our income raises too high to be able to (a good problem to have, of course!) and ever since then it's kinda stuck with me. We'll see if we reach those salary caps any time soon ;)
IRA: TRADITIONAL(s) ($9,146.05): Nothing new added in here either – and realistically nothing WILL be either as long as I'm self employed and have that SEP IRA running as it is… There's no tax benefits at all for us here when we've got the Roths and SEPs going, so for now these remain all my xfered over 401(k) funds from back in the corporate world… which I do admit I miss! I loved my 401(k) FREE money!! (You guys better be milking it if you have the option!)
Here's the breakdown of my three accounts here which are still undergoing our IRA Test.
IRA #1 (NOT Managed): $67,301.60 **Still winning

IRA #2 (Managed, USAA funds): $64,531.63
IRA #3 (Managed, ALL funds): $65,449.45

AUTOS WORTH (kbb) (+$249.00): We better sell our cars while they're hot! Haha… I really don't know why these numbers ever go up, but it is what it is so we just jot down the numbers the Kelly Blue Book tells us, and we continue moving right along… Here's what each of them are worth:
Pimp Daddy Caddy: $2,179.00
Gas Ticklin' Toyota: $8,176.00
HOME VALUE (Realtor) ($0.00): This is still set at the same $285k as when we adjusted it in the middle of last year. I don't know if it's fluctuated that much since, but it's not super important until we go to sell or rent out our place anyways (or my refinancing plan comes to fruition). So for now we just leave it as is and count our blessings the market is a lot better now than it was 4-5 years ago, ugh.
MORTGAGES (-$1,626.44): $1,600 less to worry about in the future! It's not the $2k I set for myself every month, but I'm not gonna allow myself to stress out too much about it and still consider it a win :) We can't be 100% on our game every month, right?
Here's how both our mortgages break down right now:
And that's it! Another month down on the books, and another fresh one to come and work on again. I love that :) Especially when you have $hitty ones and you get to start with a clean slate again for those next 30 days! Haha… as long as the overall trend is moving in the direction you want though, you can just consider those off ones as little bumps along your journey… You can't appreciate the ups anyways without having those downs!
Here's hoping y'all had some of those UPs too last month! A.B.H. baby – always be hustlin'!



———————
PS: Check out this couple who covered their entire bedroom floor with pennies… Exactly $596.70 worth. Do you think they counted THAT in their net worths? ;).

(Visited 29 times, 1 visits today)
**********
PS:
If you're just getting started in your journey, here are a few good resources to help track your money. Doesn't matter which route you go, just that it ends up sticking!
If you're not a spreadsheet guy like me and prefer something more automated (which is fine, whatever gets you to take action!), you can try your hand with a free Personal Capital account instead.
Personal Capital is a cool tool that connects with your bank & investment accounts to give you an automated way to track your net worth. You'll get a crystal clear picture of how your spending and investments affect your financial goals (early retirement?), and it's super easy to use.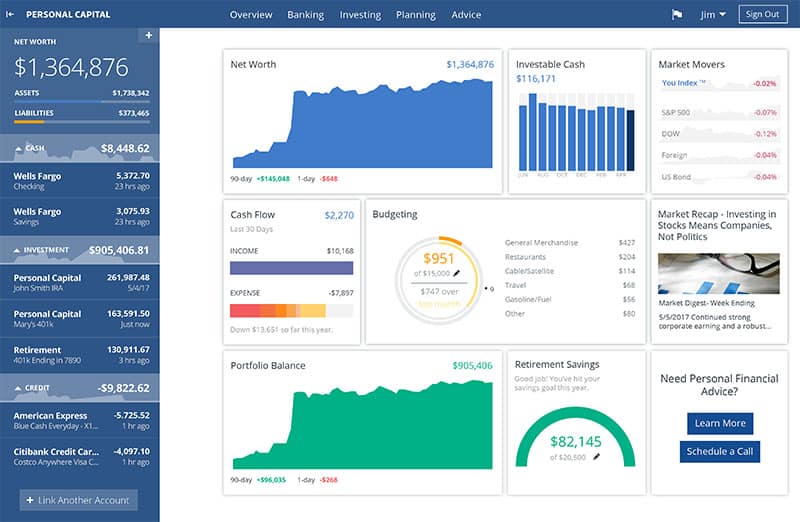 It only takes a couple minutes to set up and you can grab your free account here. They also do a lot of other cool stuff as well which my early retired friend Justin covers in our full review of Personal Capital - check it out here: Why I Use Personal Capital Almost Every Single Day.
(There's also Mint.com too btw which is also free and automated, but its more focused on day-to-day budgeting rather than long-term net worth building)
Get blog posts automatically emailed to you!