Whew! Was a bit scared to run the numbers this month with so much cash exchanging hands, but looks like we're still good and on track :)
I've already blogged about a lot of this stuff, but here are a few of the major things that went down for your perusal… It's funny how you can go months with hardly anything major happening, and then BAM! You got like 10 things hitting you all at once, haha… Guess that's life, eh?
1)  I owed the Gov't $6,000 in taxes — On top of the $30,000 I already paid throughout the year :(  So that really sucked, but at the end of the day it's hard to complain when it also meant I brought home more money than normal too ;) So we're all good…
2) I maxed out my SEP Ira with $22,000 — In order to not owe the Gov't even MORE than that $6k above! (And also to keep saving for retirement since I no longer have a 401(k) to do so in since I'm self-employed… I miss that guy, though!).
3) We maxed out the wife's ROTH Ira (with $5k) for the first time ever – wiping away another $5,000 in cash.  But it was a last minute thing when we realized that if things continue on the up and up, that we'll soon *not be able to* invest anymore there due to income level capping (which is a good problem to have, of course). So we filled it up just in case, and took another hit on the reserves.
4)  I bought a solid gold 1 oz coin last month!  You can read the post for all the reasons behind it if you missed it, but basically I dropped $1,900+ on it for both investment purposes, and also for "world ending" hedging purposes ;)  It's not enough to do much on either side of the equation there, but it did satisfy my curiosity for a bit, and now I have something cool to track over time… I don't think I'll be picking up any more though in the very near future. The next investment may be in the junk silver arena like my boy Kevin did over at Thousandaire :)  If you like that kinda stuff, check out his article – it's a good one.
How The Rest of March's Net Worth Broke Down:
CASH SAVINGS (-$28,214.86): The biggest hit since we started tracking these net worths, but obviously a lot of great stuff accomplished in the process. I'd be a bit more scared if our cash reserves were a lot lower than they were at the time ($100,000) and probably wouldn't have done a cple of those major things I just listed above either, but the beauty of having so much on reserves is that it gives you ultimate FREEDOM!  Freedom to sit on it all and wait for an opportunity to hit, or freedom to use it to pay off debt later, or invest in something important to you (like a business?) or anything else you want.  So while it does seem at times that I'm an idiot for holding onto so much and not doing anything with it, you'll now know why I tend to veer that route ;)  Cash is totally king in my books, and I'm all for being more safer than not in this department.
EMERGENCY FUND ($0.00): Holding steady here at $10,000 still!  Though the reality is we have a bigger E Fund here if you account for the cash in other savings/investment accounts too.  I should probably adjust these numbers a bit later on, but for now we'll leave it be.  $10k is easy for me to understand – and allocate – properly in my head :)
**NEW** PHYSICAL GOLD (+$1,716.70): I love having new categories to track!  And this one's even odder than usual since the measurement standard of "value" here changes so drastically throughout the weeks these days, and it's not like I can just "cash in" at any time if I wanted to – making it even MORE illiquid.  But, on the other hand, it's a real solid in-my-hands investment that's not tied digitally to the world out there ;)  And since my good friend who also invests in these precious metals values them at "spot" + $50.00, I'm gonna go ahead and do the same here.  And the "spot" price for 1 oz. of gold at the time of me writing this is $1,666.70 (even though I paid $1,960 – yikes!), so add that along w/ the $50 premium and we're looking at $1,716.70. Even though we'll only find out the true answer here if/when I ever go to sell it.
IRA: SEP (+$21,815.35): A 200% addition to our original amount from last year! Haha… and the #1 spot where most of our cash went this month :)  But, as I already mentioned before, it saved us $6k in more taxes being owed, as well as pumping up our investments even more so I could play with more stocks that I love!  Which are also on the up and up lately – woohoo!
IRA: ROTH(s) (+$5,786.88): Up a solid $5k from our latest maxing of the Mrs' IRA we just did – which covers the tax year for 2011.  Depending on how good (or not) this year pans out as far my self-employment income, we'll decide again at the end whether we can afford to jack this up again, or if we  have to keep cool that round.  Either way, I love when we drop money here cuz we can never be tempted to spend it!! :)
IRA: TRADITIONAL(s) (+$1,163.69): This is one of the only departments where we didn't change anything this month.  The increases were purely from market fluctuations, and it's nice to see them not going down like they had been for so many years… Here's our update on the IRA Game too — the un-managed account is still in the lead!!  By even more this time, which def. helps convince me that there's not anything TOO special about someone managing this stuff for you.  It hasn't even been a year yet since we started this out, but I may call it a day in a bit and just combine the 3 accounts into the one un-managed one…. we'll see though.
IRA #1 (NOT Managed): $61,515.88 **Still in the lead!

IRA #2 (Managed, USAA funds): $60,132.76
IRA #3 (Managed, ALL funds): $60,694.20

AUTOS WORTH (kbb) (+$413.00): I don't know how these cars can go up, haha, but it is what it is… we use Kelly Blue Book values for all of this stuff ("private party" since that's how we'd sell it later), and we'll continue to do so even if it looks wonky from time to time ;)
Pimp Daddy Caddy: $2,312.00
Gas Ticklin' Toyota: $9.440.00
HOME VALUE (Realtor) ($0.00): Same ol' $300k as it's been for the past 1-2 years!  I'm sure it's adjusted up or down by now of course, but until we have another chat with our realtor, we'll leave it be and just get a nice surprise when it comes time to sell or rent it out... I'm over trying to use Zillow – that place increases (and decreases!) our house by like $20,000 every other day – it's crazy.  Hopefully they're more accurate in your areas if you like using them, though, I just don't trust 'em :)
MORTGAGES (-$2,562.97): 6 months straight of paying an extra $2,000 off – woohoo!!  And it's def. getting harder, haha… I mean, I'm not gonna give up cuz I'm super excited to be paying these off within our 10 year goal here (and I'm also super stubborn!), BUT, I'll admit it's not the funnest thing to do in the world.  Especially as it barely feels like the debt's going down at all :(  Just gotta keep in mind BIG PICTURE!
And that's a wrap.  Lots of juicy stuff locked up and ready to head on into the new month… How'd things go on your end?  Y'all still killin' it too?  Anyone have a major increase or decrease this month?  Let us know below so we can continue on the good chats :)  You know we eat this stuff up!
Yours in financial freedom,


———————
PS: Remember when our net worth was at $60k a few years ago?  Crazy how time flies!  And that if you stick to your plan long enough, you get to reap all the rewards!  So don't lose your passion, friends, YOU CAN DO IT!!
(Visited 8 times, 1 visits today)
**********
PS:
If you're just getting started in your journey, here are a few good resources to help track your money. Doesn't matter which route you go, just that it ends up sticking!
If you're not a spreadsheet guy like me and prefer something more automated (which is fine, whatever gets you to take action!), you can try your hand with a free Personal Capital account instead.
Personal Capital is a cool tool that connects with your bank & investment accounts to give you an automated way to track your net worth. You'll get a crystal clear picture of how your spending and investments affect your financial goals (early retirement?), and it's super easy to use.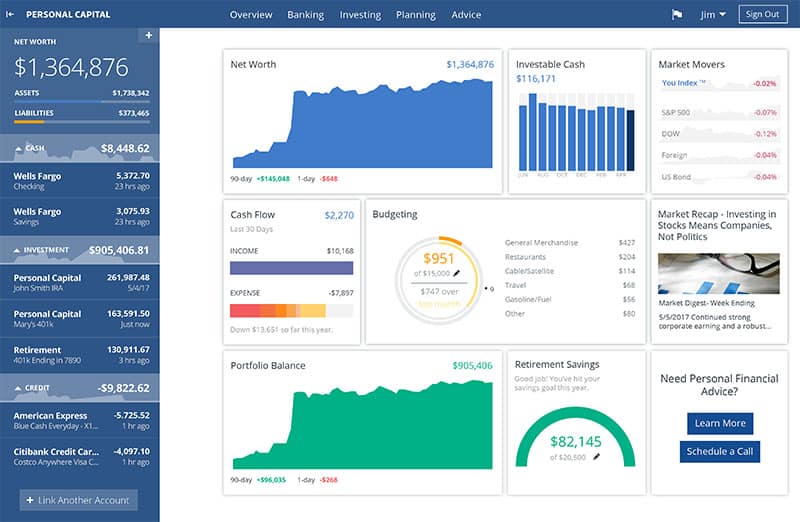 It only takes a couple minutes to set up and you can grab your free account here. They also do a lot of other cool stuff as well which my early retired friend Justin covers in our full review of Personal Capital - check it out here: Why I Use Personal Capital Almost Every Single Day.
(There's also Mint.com too btw which is also free and automated, but its more focused on day-to-day budgeting rather than long-term net worth building)
Get blog posts automatically emailed to you!