Now every time I do these things I think of Hank! :)
Darn you buddy!!! Haha…
But wow, what a month!  Going on back to back ups here – love it.  Even though I really only worked hard at 1/2 of this $11k increase ;)  As always the rest was left up to the stock market Gods…
But the parts I participated in >>>> Cash Savings & Mortgage shortening<<<< were super successful. Which is good because I've been staying up late working my a$$ off lately! (and by lately I mean every single day for the past year – the true meaning of hustling ;)) But if I'm not looking out for #1, who is?  No one.  Well, maybe the wife.  And my cats – and maybe my mom, but when it comes to hitting that $50k "I'm Outta Here!" mark it all lands on my shoulders, and my shoulders only.   So we press on!  And I keep in mind that I'm 80% there :)
Net Worth break down: October, 2010
CASH SAVINGS (+$6,081.99): The month was good in this department! We were able to hold on to much more than we were last month (by over $5k I believe) so I've got no complaints at all :)
EMERGENCY FUND ($0.00): The same boring as ever $10,000 just sitting there, waiting to be woken up with an emergency! (which let's pray never happens)
ROTH IRAs (+$834.35): Another day in ROTH paradise ;)  We don't add anything in, and yet it magically rises. Haha… of course it magically falls on plenty of occasions too.
401(k)s (+$4,579.34): Same with this guy. I maxed it out earlier in the year and now just watching it bob up and down until I can start contributing again.  Which at this point could be never, seeing how new management at our company CUT the benefit completely!!  Wouldn't even leave it open so we can contribute on our own dime… Oh well, not my problem when I leave ;)  Plus I've heard I could contribute to a similar fund when I'm working for myself. Just gotta dig up the details first.
AUTOS WORTH (kbb) (-$50): Better than the $400 lost last month!
Pimp Daddy Caddy: $2,695.00
Gas Ticklin' Toyota: $9,390.00
HOME VALUE (Realtor) ($0.00): Still @ $300k as our realtor set it at a while back. Our neighbor's house had an offer of $297k a few months ago on their house, so this should still be fairly accurate.
CREDIT CARDS (+$193.28): This was the only department we failed at.  I'd like to say it was on purpose since we paid so much off last month (Over $800!), but really it was just me not wanting to dip into our savings to fend it off… it'll be cleared out in a bit though, nothing to be concerned about.
MORTGAGES (-$131.41): Still going strong here too!  I just keep rounding up the mortgage payments so it's nice and even – tricking myself to pay more, while at the same time making it easier to budget :) Might go back and edit the rest of my category numbers too later.  I like super easy numbers!
Mortgage #1: $286,660.17 – 30 year fixed, interest-only @ 6.875%.
Mortgage #2: $62,450.38 – Maxed out HELOC w/ 2.8% interest.
That's it for this month.  Hope you all fared sexily too!  Remember to keep that end goal in mind if you're saving up for something big, or trying to drop a lot of debt.  The more you can envision it and stick to your guns, the smoother the process will be!  Even if it's boring and you wanna shoot yourself in the face ;)  You can do it though, I totally believe in ya.
—————–
PS: My personal budget has also been updated, and you can download it (and others) here.
PPS: Is it Friday yet?
(Visited 4 times, 1 visits today)
**********
PS:
If you're just getting started in your journey, here are a few good resources to help track your money. Doesn't matter which route you go, just that it ends up sticking!
If you're not a spreadsheet guy like me and prefer something more automated (which is fine, whatever gets you to take action!), you can try your hand with a free Personal Capital account instead.
Personal Capital is a cool tool that connects with your bank & investment accounts to give you an automated way to track your net worth. You'll get a crystal clear picture of how your spending and investments affect your financial goals (early retirement?), and it's super easy to use.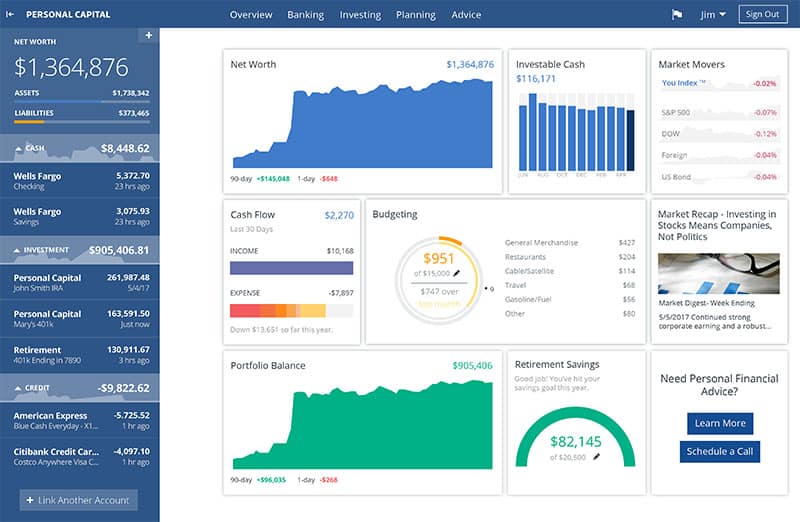 It only takes a couple minutes to set up and you can grab your free account here. They also do a lot of other cool stuff as well which my early retired friend Justin covers in our full review of Personal Capital - check it out here: Why I Use Personal Capital Almost Every Single Day.
(There's also Mint.com too btw which is also free and automated, but its more focused on day-to-day budgeting rather than long-term net worth building)
Get blog posts automatically emailed to you!