The stock markets returned to lift up the world's investments! So it had absolutely nothing to do with me actually doing GOOD! haha…
Okay, well that's a little bit of a lie, but as you can see in that graph to the left, the bulk of this extra $13Gs came from our stocks & mutual funds going up. And in all honesty it's going to be this way for the rest of our lives unless we start hoarding hundreds of thousands of dollars in cash or some exotic antiques or paintings or something.  And I really have no intentions of doing that ;)  So our wealth will fluctuate every day the market is open, and we hope it just continues to gradually go up! (and if not, at least we'll be buying low during those points).
But in OTHER exciting news, and completely out of nowhere really, I started paying down our mortgages! AND our 1 credit card which I've sworn I wasn't going to do for months to come! :)  Remember how I said I sometimes just can't take it anymore and will pay off huge chunks of debt when I'm "in the mood?"  Well yeah, that  happened this month.  I  unleashed almost $1,000 toward our mortgages and credit card cuz I was getting antsy.  We'll see what next month brings, but it was nice to get it out of my system for a bit.  More details are below…
Net Worth break down: September, 2010
CASH SAVINGS (+$1,021.04): Not as much as we've been able to save in previous months, but it's actually pretty good since we paid off that $900+ toward debt earlier this month.  Only sucky part is that it'll slow down my race to the $50,000 "quit my job whenever I want" fund now.  But whatever, really can't complain about banking another thousand dollars away.
EMERGENCY FUND ($0.00): The same boring as ever $10,000 just sitting there, waiting to be woken up with an emergency!  (which let's pray never happens)
ROTH IRAs (+$1,844.23): Nothing new added here either, actually.  Just the market doing what it does!  And this time in our favor unless last month, bleh.
401(k)s (+$10,244.07): Same with this bad boy. All maxed out and just riding the wave until a fresh new year opens up….although now that we DON'T HAVE A 401(K) anymore at work I'm not quite sure what, exactly, we'll be up to when January comes… I'll have research that a bit further.
AUTOS WORTH (kbb) (-$400): Now this makes more sense!  If you recall from last month, we were UP $265?!  So strange… but this oddly makes me feel better, so well done Kelly Blue Book.
Pimp Daddy Caddy: $2,695.00
Gas Ticklin' Toyota: $9,440.00
HOME VALUE (Realtor) ($0.00): Still @ $300k as our realtor set it at a while back. Our neighbor's house had an offer of $297k a few months ago on their house, so this should still be a fair estimate.
CREDIT CARDS (-$804.00): We're getting there!  If I suck it up another month we'll be zeroed out by the time our next net worth update comes around.  But let's not get too carried away here, my $50k fund is still the apple of my eye right now ;)
MORTGAGES (-$130.87): I went back to paying off even amounts against both these guys again. Even just rounding them up to the highest $100 helps chip away at them nicely.  No plans on doing much more than that in the future, but for now we'll stick to this latest "trick" until I start caring again… stupid mortgages…
Mortgage #1: $286,818.64 – 30 year fixed, interest-only @ 6.875%.
Mortgage #2: $62,554.19 – Maxed out HELOC w/ 2.8% interest.
Here's to another month!  Hope you all saw increases in your wealth amounts too :)  You're making sure to track it all right?  Even if it's just on a piece of paper or a quick spreadsheet? I hope so!  You can't measure success without knowing your past reports.
—————–
PS: My personal budget has also been updated, and you can download it (and others) here.
PPS: Watched Social Network movie the other night.  Mark Zuckerberg did NOT look good…wow. Doctor S had some interesting words to say about him on his blog, you should check it out ;)
(Visited 10 times, 1 visits today)
**********
PS:
If you're just getting started in your journey, here are a few good resources to help track your money. Doesn't matter which route you go, just that it ends up sticking!
If you're not a spreadsheet guy like me and prefer something more automated (which is fine, whatever gets you to take action!), you can try your hand with a free Personal Capital account instead.
Personal Capital is a cool tool that connects with your bank & investment accounts to give you an automated way to track your net worth. You'll get a crystal clear picture of how your spending and investments affect your financial goals (early retirement?), and it's super easy to use.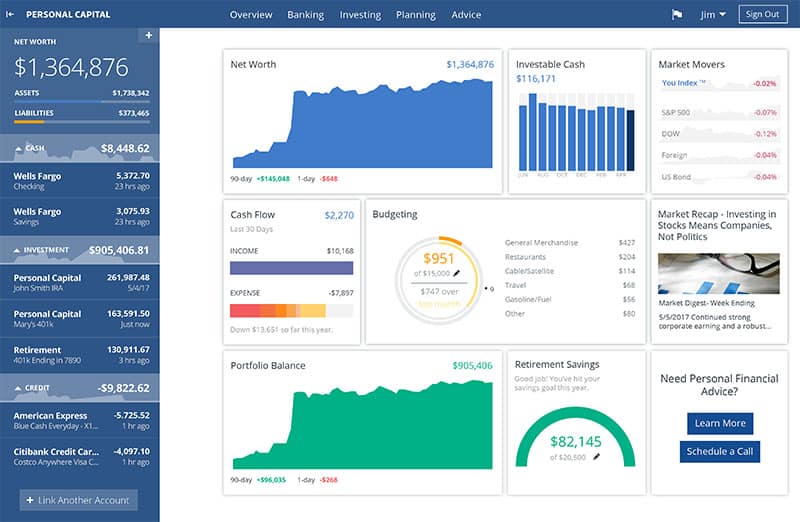 It only takes a couple minutes to set up and you can grab your free account here. They also do a lot of other cool stuff as well which my early retired friend Justin covers in our full review of Personal Capital - check it out here: Why I Use Personal Capital Almost Every Single Day.
(There's also Mint.com too btw which is also free and automated, but its more focused on day-to-day budgeting rather than long-term net worth building)
Get blog posts automatically emailed to you!