Not the funnest of updates, but ya gotta have some downs to appreciate the ups, right? (right)
As with everyone last month, we took a big hit in the investment sector of our net worth.  Totally out of our control, of course, but the same goes when times are good ;)  Last month we were up $15,000!!! Haha…
Plus, it's not like we'll be *touching* any of these stocks and funds of ours anytime soon.  We've got at LEAST a good 30-40 years before we'll need that money, so def. no need to get our panties in a bunch just yet.  We just keep our heads up high and go with the flow, baby!  (and keep investing away while the prices are low!)  Here's how last month shaped up…
Net Worth break down: May, 2010
CASH SAVINGS (+$3,950.94): The was the one category we killed this month.  All the travel expenses haven't been factored in just yet (although most was already paid for with our tax refunds), but we should be pretty good w/ it all. Holding onto my 9-5 has def. helped the mission here ;)
EMERGENCY FUND ($0.00): Same ol' $10,000 here as it's been for the past 2 years.  And hopefully another 2 years too which would mean we're not going through financial difficulties! Or any disasters…
ROTH & TRADITIONAL IRAs (-$1,806.72): Bleh.  Once we start contributing again these numbers will look sexy as hell…been almost a year since our last deposit!
401(k)s (-$10,536.47): Bleh x 5,000.  But as I've already mentioned above, it's all a part of the game!  You have high months and you have low months – and hopefully one day in-between months like normal ;) I'm still chippin' away at Operation Max Out my 401(k) too, but w/ the whole work drama going on it's been a bit wonky lately.  I'll be writing a post on this stuff soon… Here's how our 401k breaks down this month:
Contributed: +$875.00
Company match: +$0.00
Market fluctuation: -$11,411.47
AUTOS WORTH (kbb) (-$135.00): Makes much more sense than last month's increase of $200 something! haha…this time around it was my caddy who dropped a bit in value.  As long as he's still kickin' Daddy's happy though! Here's how our car values break down:

Pimp Daddy Caddy: $2,745.00
Gas Ticklin' Toyota: $9,250.00
HOME VALUE (Realtor) ($0.00): Still @ $300k as our realtor set it at a while back. I should actually write a follow up post on my neighbor's house for sale I touched on the other week.  There's been some pros and cons to it so I'll be sure to update you soon :)
CREDIT CARDS ($0.00): Another month at $0.00!  I'm 99.9% confident it'll stay that way too for a while.  I leave that .01% open for me in case something sexy comes along ;)
MORTGAGES (+$4.79): Still haven't paid extra toward any of our 2 principals yet – just can't bring myself to do it.  I know we SHOULD be paying at least something off every month, but w/ the vacay and me wanting to work for myself one day in the near future, it's just not a priority.  It really is the one area in my financial life that I hate thinking about. Here's how they break down:

Mortgage #1: $286,818.64 – 30 year fixed, interest-only @ 6.875%.
Mortgage #2: $62,558.98 – Maxed out HELOC w/ 2.8% interest.
There you have it. A dip in our net worth due to the crazy market… But at least our savings and budgeting goals are on point :)  And that's really the whole idea behind these monthly updates – to keep track of your personal progress and to make sure your headed in the right direction.  As long as you're pimpin' the stuff in your direct control, you're doing well!  And if you slip up here and there – well, that's okay too.  Being perfect is boring ;)  Now get out there and make June magical!

—————–
PS: My budget has also been updated.
PPS: And so have my sidebars.
(Visited 10 times, 1 visits today)
**********
PS:
If you're just getting started in your journey, here are a few good resources to help track your money. Doesn't matter which route you go, just that it ends up sticking!
If you're not a spreadsheet guy like me and prefer something more automated (which is fine, whatever gets you to take action!), you can try your hand with a free Personal Capital account instead.
Personal Capital is a cool tool that connects with your bank & investment accounts to give you an automated way to track your net worth. You'll get a crystal clear picture of how your spending and investments affect your financial goals (early retirement?), and it's super easy to use.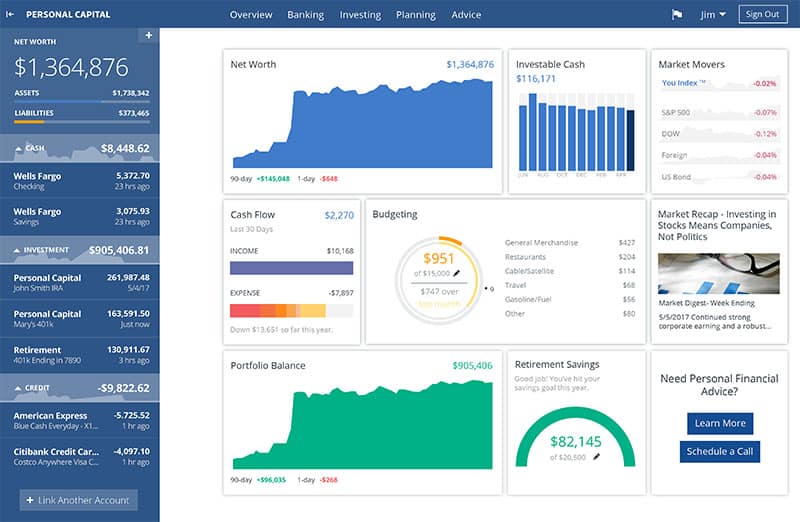 It only takes a couple minutes to set up and you can grab your free account here. They also do a lot of other cool stuff as well which my early retired friend Justin covers in our full review of Personal Capital - check it out here: Why I Use Personal Capital Almost Every Single Day.
(There's also Mint.com too btw which is also free and automated, but its more focused on day-to-day budgeting rather than long-term net worth building)
Get blog posts automatically emailed to you!