A good good month! And tons of money transfering around too.
If you recall from earlier in the month, we finally filed our taxes and deposited a huge chunk into our SEP IRA so that we can avoid paying the gov't a cool $9,000 ;) Which explains that ginormous hit on our cash reserves as you can see there (as well as our giant increase in SEP money – woo!). It's always a nice feeling upping your retirement accounts when you don't do a thing throughout the previous 11 months, haha…
Makes me miss the good ol' 401(k) and biweekly investments! I save it all up to the end 'cuz I don't know how much I can ever put in since it's based on biz earnings, and then I get burnt out soon after ;) Dropping $25k with a click takes a lot outta you!
Other than those areas though, everything else is pretty self-explanatory…  But naturally I'll be explaining everything anyways as I do each month :)
Here's how March broke down:
MONSTER CASH (-$21,108.19): As mentioned above, we took out $25,628 from our reserves to invest in our SEP IRA which saved us over $9,095 in taxes for the tax year of 2012. It sucked, but it was also pre-planned so it wasn't anything out of the blue or anything. You can read more about it here.
529 College Savings (+$98.27): A nice little boost for Baby Money's future college tuition :) We didn't put anything extra in this month, it's just from the markets doing their thang.
IRA: SEP (+$26,783.33): BAM! The only good reason to take out $25k from your savings, haha… And it's already earned an extra thousand or so – woohoo! :)
IRA: ROTH(s) (+$1,806.05): An awesome increase here too for doing nothing but leaving things be.
IRA: TRADITIONAL(s) (+$3,640.25): Same here, no additional deposits – just pure increase. Of course we all know there are months when it all goes down the $hitter, but I tend to focus on the more exciting ones like this month :) It only really matters on the day you hit "cash out" anyways…
Here's the status of our IRA Test accounts. No word on when I'll be stopping it and merging the whole thing into just one… Probably when I get on my next minimalism kick.
IRA #1 (NOT Managed): $68,997.79 **Leader for like a year now.

IRA #2 (Managed, USAA funds): $65,608.84
IRA #3 (Managed, ALL funds): $66,314.47

AUTOS WORTH (kbb) (-$224.00): Nothing out of the ordinary here. Just the cars depreciating in value like they're supposed to. Here's how they break down:
Pimp Daddy Caddy: $2,133.00
Gas Ticklin' Toyota: $7,582.00
HOME VALUE (Realtor) ($0.00): Sill the same $285k we pegged it last year when a similar home in our neighborhood sold… I'm pretty sure it's moved since then, but whether up or down is anyone's guess. I'll probably get a better sense here in a few weeks when we go to put it up for rent – wee!! (New post coming soon on that :))
MORTGAGES (-$1,626.05): Not the sexy $2,000+ we used to be at, but nonetheless it's a nice knock down for one month of work. Our Mortgage Payoff Plan is about to be adjusted here anyways as soon as I finish putting in some more thought… Gotta adjust plans when life takes different turns!
That's about it for this month. Getting closer to that $400k mark, and continuing to hustle hard while we're still so young and nubile!
How did you fare last month? Anything juicy or crazy happen to pump up/deflate your numbers? Keep on tracking your net worth so you can look back one day and see how far you've come! That's the best part of this stuff – experiencing the journey :)
Y'all have a good day out there,


———————
PS: Game Of Thrones is back!!! WINTER IS COMING!

(Visited 10 times, 1 visits today)
**********
PS:
If you're just getting started in your journey, here are a few good resources to help track your money. Doesn't matter which route you go, just that it ends up sticking!
If you're not a spreadsheet guy like me and prefer something more automated (which is fine, whatever gets you to take action!), you can try your hand with a free Personal Capital account instead.
Personal Capital is a cool tool that connects with your bank & investment accounts to give you an automated way to track your net worth. You'll get a crystal clear picture of how your spending and investments affect your financial goals (early retirement?), and it's super easy to use.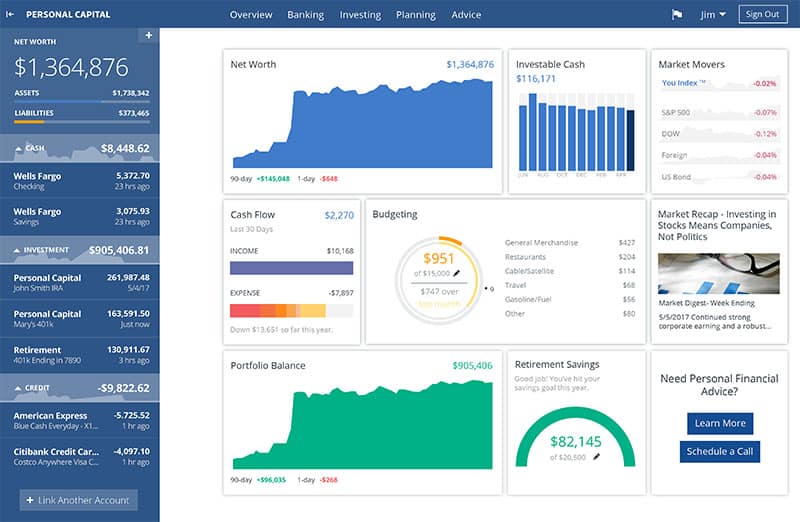 It only takes a couple minutes to set up and you can grab your free account here. They also do a lot of other cool stuff as well which my early retired friend Justin covers in our full review of Personal Capital - check it out here: Why I Use Personal Capital Almost Every Single Day.
(There's also Mint.com too btw which is also free and automated, but its more focused on day-to-day budgeting rather than long-term net worth building)
Get blog posts automatically emailed to you!