What's up money lovers!
I'm a bit late to the game this month, but as always our latest net worth numbers are posted below. And also like always, 95% of it rides on the whims of the market ;) Which thankfully I believe in, or else it would really feel out of control!
Speaking of which, I really like this quote I saw the other day by fellow blogger, and author, Tom Corley:
"Choice, not chance, determines your fate."
BOOM!
Do you remember that time when you finally "got it" and realized you needed to start making changes with your $$$? When something just clicked and it was time to put it into overdrive?
That's where I was almost 10 years ago exactly, and by making that one commitment to finally start saving some *real* money completely changed the game for me. I've literally done one main thing every year since (max out my retirement accounts) and the power of compounding has taken it from there.
It's a surefire way to reach independence – so long as you have the patience for it :)
But in either case, it all comes down to choice, not chance. Much to the dismay of my kids… ("But dad, we didn't doooo anything? It just fell and broke!" Uh-huh….)
There's a lot of things we can't control in this world, but personal action – and by extension, our finances – is not one of them. We all have the power to make a change, and it starts with one big decision followed by hundreds more little ones.
If your money isn't trending in the direction you want it to be, it's time to take that first step!
Now to July's $$$ numbers…
[We post these updates here on the blog once a month to show a real-life snapshot of what someone's money looks like and to get good discussions going around it. Tracking this stuff has been one of the best things I've ever done with my money, and I hope you are doing the same – even if you never share it with a soul! :) You can find all 115 of our net worth updates over time here.]
CASH SAVINGS (+$58.07): Nothing too exciting going down in this department. Shaved some expenses here (less daycare) and spent others there (beach vacation) and by the end of it we pretty much broke even. Though I must admit – it's been nice working less over the summer, especially if it's not affecting the income!
THRIFT SAVINGS PLAN (TSP) (+$503.24): The wife keeps on working, and the automatic transfers keep on hitting! I know the gov't is all kinds of bonkers right now, but man – their benefits sure are killer for its employees. I hope everyone working there is taking full advantage of it while they can! Never know what's around the corner w/ those guys…
ROTH IRAs (+$2,418.48): A nice little boost here as well. It's been a few months since we've put anything into it (we max it out once a year after tax time), but I swear one of these days I'm going to go back to the monthly deposits… still just chicken since life keeps fluctuating so much lately.
SEP IRA ($8,806.76): Same with this bad boy here too – nothing new added while the market keeps doing its market thing. Awfully fun to watch when you have money invested in it, but won't be so much as soon as it starts crashing ;) And we all know it will – it's just a matter of when!
Here's a screenshot from our Vanguard account since moving over the other year:
CAR VALUES (-$127.00): Nothing too exciting going down in this department – just the cars doing what they naturally do – depreciate. Here's the values of them per Kelly Blue Book:
Lexus RX350: $12,203.00
Toyota Corolla: $3,955.00
CAR LOAN: (-$466.20): We continue to send a few hundred extra towards it every month! In fact, I'm pretty sure I accidentally paid like 3 months worth of interest ahead or something as it shows my next payment is due in December, haha… But can't stop me from keeping going ;)
And that's July's net worth!
Here's a quick snapshot of how it's performed over the past year – with sexy gradient and all:
And of course, we can't forget about my little nugget's net worths… They may be only 3 and 5, but everyone has a financial footprint! Whether they know about it or not!
As always, you can see all 100+ previous net worth updates of ours here, and of course the net worths of 300+ other bloggers' here as well, courtesy of my sister site, Rockstar Finance.
Keep on tracking that money, everyone!
Your money comes and goes by *choice,* not by chance!
(Visited 15 times, 1 visits today)
**********
PS:
If you're just getting started in your journey, here are a few good resources to help track your money. Doesn't matter which route you go, just that it ends up sticking!
If you're not a spreadsheet guy like me and prefer something more automated (which is fine, whatever gets you to take action!), you can try your hand with a free Personal Capital account instead.
Personal Capital is a cool tool that connects with your bank & investment accounts to give you an automated way to track your net worth. You'll get a crystal clear picture of how your spending and investments affect your financial goals (early retirement?), and it's super easy to use.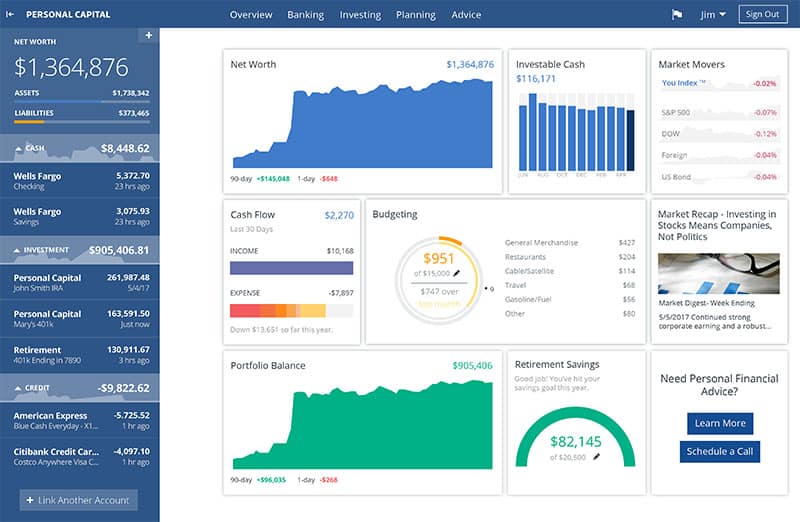 It only takes a couple minutes to set up and you can grab your free account here. They also do a lot of other cool stuff as well which my early retired friend Justin covers in our full review of Personal Capital - check it out here: Why I Use Personal Capital Almost Every Single Day.
(There's also Mint.com too btw which is also free and automated, but its more focused on day-to-day budgeting rather than long-term net worth building)
Get blog posts automatically emailed to you!