'Sup voyeurs!
How's your wallets looking this month? Anyone break any new records? Anyone hit early retirement and want to share all their secrets with us??? :)
We got pretty darn close to one of our major milestones – barely missing $500,000 by a few Gs – but it feels good to be back on top again after 6 months of wild swings in both directions… Our worth's fluctuated by $60,000 over the past four months – pretty crazy!
But we've got a new high on the books now @ $496,016.17, finally topping October's $495,297.66, and we're ready to move forward into (hopefully) newer territory as we go… I pretty much feel like this guy right now :)
Here's how the month of April broke down:
CASH SAVINGS (-$1,468.85): We took another hit this month, but on the flip side it was due to maxing out my Roth IRA for the 7th or so year in a row :) So we'd really be up $4,000 if it weren't for that… And just like last year, I have to give y'all some major thanks for convincing me to do so despite my hesitancy with our low cash reserves going on. While we're not in the best position in that department lately, I think ultimately it was the smart thing to do at least growth wise. But we'll see how we're feeling about it over the next few months ;)
DIGIT SAVINGS (+$607.85): We cashed out all $3,474.95 saved last month to help max out my SEP IRA, so this month marks a fresh start of filling it back up until it's time to re-release it into the world again. Though I'm finally considering for the first time in years just funneling it right over to my Roth on a *monthly* basis and getting back to the dollar cost averaging route. Something I used to do before self-employment, but have since hesitated on since my income fluctuates so much. But hey, I always say that nothing has to be permanent so why not test it out again and then switch if need be, right? For those new to hearing about Digit, btw, here's my review on them and why I love them so much. Digit: The Easiest Way to Save Money – Ever?
CHALLENGE EVERYTHING (+$236.89): Same deal here as with Digit – we cashed out all $2,103.45 previously saved via our Challenge Everything mission, so this month we're back to filling it back up again and getting ready for re-deployment. Probably towards the Roth in hopes of maxing it out faster. I haven't done anything new w/ our bills/Craigslist lately, so this $200+ is mainly dividends being paid back from work we did over a year and a half ago… Pretty freakin' sweet!
BROKERAGE (ACORNS) (+$14.19): Nothing too exciting going on here, just Acorns doing its thing rounding up all our transactions throughout the month and dumping the difference into our brokerage account for us. You can learn more about them here if interested, especially if you're new to investing and just need a bump to get started: Rounding Up Change + Investing It = Acorns App!
IRA: ROTH(s) (+$5,985.59): A nice jump considering the flat market this month! And again due to throwing in $5,500 to max out my Roth IRA for the 2015 tax year… It wouldn't have been as exciting had that not happened ;)
IRA: SEP (+$2,440.30): See! Nothing too juicy when you're not dumping anything in, haha… Of course, better being up $2,000 than being down $2,000 – though in the grand scheme of things it's literally like only a half a percent difference.
Here's a snapshot of how our investments (VTSAX) has performed since dumping it all into Vanguard:
(Is it me, or does this remind you of that "humps" song by the Black Eyed Peas? "My hump, my hump, my hump, my hump, my hump!")
AUTO VALUES (-$17.00): Nothing crazy going down in this department either… Just what you'd expect in depreciating assets. Here's what the values of both our cars look like – taken from KBB.com:
LIABILITIES: No sir, not here! Been debt-free for the past few months since offloading our house (and mortgages that come along with it), and despite one hiccup of taking out a loan from the Bank of Mom and Dad and then paying it right back, it's been a great feeling over all :) And also very weird only having to fill out one side of the net worth equation too… You just get so used to having stuff in those debt columns that it throws off the rhythm when they're not there! Something I'm very much okay in getting used to though, haha… And hopefully you're experiencing it – or will be soon – too!
Here's how our finances have looked over the past year:
More humps! More humps, more humps, more humps! :)
Here's how my two boys are doing as well… Never too early to start them on the habit!
(The extra $5.00 in baby #2's account came from my darling mother who gave me a jar of change she's been saving for our boy for a few months :) She picks a different grandchild to save for and this round was #2's turn. How sweet is that? And yes – she's been loving early retirement lately!)
And that wraps up net worth update #90!
Hard to believe how much can change over the years when you really hunker down… But you can't fully appreciate it unless you're keeping track of it all! So I hope you are!
If you're new to the game and need some help, here are a few resources:
And as always, you can find every last net worth update we've shared on this blog here, as well as 200+ other bloggers' worths on our ultimate net worth list here.
Everyone's trying to grow their wealth in different ways, but the eventual goal at the end is always the same: financial freedom. Just a matter of figuring out the best routes for you, and then harnessing time!
Hope you guys had a great month too! Would love to hear any new ideas you might be working on over there :) XOXO,
——–
PS: Have you heard the joke about the jump rope?? Ahh, skip it…
(Visited 17 times, 1 visits today)
**********
PS:
If you're just getting started in your journey, here are a few good resources to help track your money. Doesn't matter which route you go, just that it ends up sticking!
If you're not a spreadsheet guy like me and prefer something more automated (which is fine, whatever gets you to take action!), you can try your hand with a free Personal Capital account instead.
Personal Capital is a cool tool that connects with your bank & investment accounts to give you an automated way to track your net worth. You'll get a crystal clear picture of how your spending and investments affect your financial goals (early retirement?), and it's super easy to use.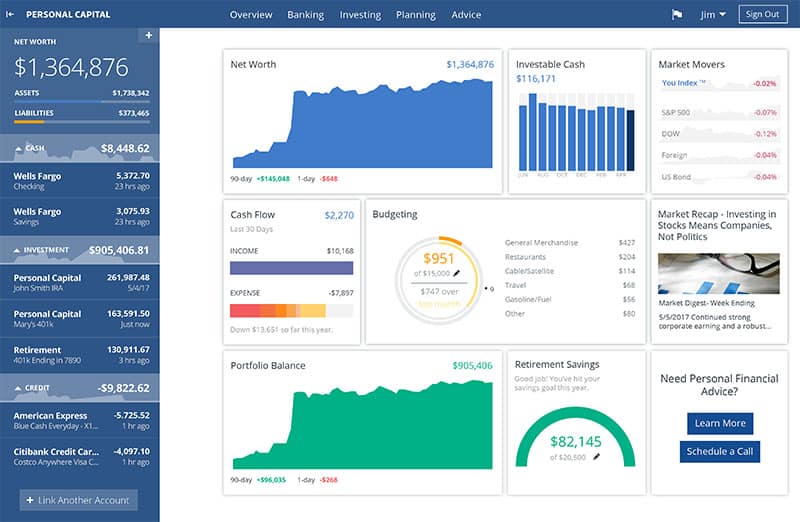 It only takes a couple minutes to set up and you can grab your free account here. They also do a lot of other cool stuff as well which my early retired friend Justin covers in our full review of Personal Capital - check it out here: Why I Use Personal Capital Almost Every Single Day.
(There's also Mint.com too btw which is also free and automated, but its more focused on day-to-day budgeting rather than long-term net worth building)
Get blog posts automatically emailed to you!