Another month, another loss! Not as bad as last month's massacre thankfully, but dropping $7k instead of $22k isn't all that sexy either, haha… Unless you've got a hoard of cash just waiting to be dumped into the market, in which case YOU'RE FREAKIN' BRILLIANT!! Scoop up those investments while they're all on sale – you lucky bastard! :)
I'd do the same myself, but we're playing it safe over here and holding onto all extra cash until our sell vs rent dilemma is over. Which I've got to give y'all MAD thanks for btw as you've really helped us put things in better perspective! I've read every last comment and email and note y'all have sent, and can't thank you enough for taking the time to pass them all over.
Thank you, thank you, THANK YOU!
I f'ing love our community here, and I swear I couldn't do it without you… quite literally, as a blog without readers is pointless! :) So thank you from the bottom of my heart for not only reading all these years, but also being incredibly supportive along the way. I really can't tell you how much it means to me.
Getting back to the markets though, check out how our $$'s performed since moving it over to Vanguard last year (all in VTSAX – a total stock index fund):
You see how it goes way up and then crashes all the way down to baseline? That's what this craziness has done to our pot in the past two months, haha… wiped away all earnings from the past year and a half – amazing! Thank goodness we won't be touching it for decades to come – plenty of time to get it into the millions :)
Here's how the rest of the month broke down:
(FYI – you might notice there's a few extra categories in our net worth now. They've always been accounted for, but I thought it would be fun to break them down and pay special attention to them so we can watch how they perform over the months specifically. You'll now see our Digit and Challenge Everything money separated out from savings, as well as our two new brokerage accounts added this year – Acorns and Motif – instead of being lumped together. Hopefully this sheds more light on our finances and encourages you to experiment with your money too!)
EMERGENCY FUND (+$3,106.99): Our 5th month in a row into the positives – woo! And our 3rd into the thousands, actually. A nice change from The Perfect Storm when we were losing $2,000 every month while restructuring my business and getting killed by daycare. The daycare will come back at some point, but at least a 2nd income will too along with it. It's crazy to think we've been living off my one income for over 5 years now more or less. You guys better never stop reading my blog! :)
DIGIT SAVINGS (+$111.83): The digit robots continue to save money for me. Quite literally! Every few days they analyze our spending and pushes little amounts of money aside that it thinks we won't miss or need. $5.00 here, $20.00 there. All totaling over $1,500 in the past 9 months since signing up. For doing absolutely nothing! They're definitely worth a peak if you haven't checked them out yet – here's my full review. I'm so obsessed that I've since become an advisor to them and can't wait for them to drop what's next… they're totally disrupting the industry!
CHALLENGE EVERYTHING (+$253.31): Bye bye $5,484.07, hello start of Challenge Everything II! :) As much as it stung to dump the cash and start afresh (we used the money to max out my Roth IRA – woo!), I've gotten re-energized over the past few days to go again here and see if we can beat out our old record. And looks like I have some catching up to do since I took a month off from selling anything! Though I did find $0.53 in more change…
ACORNS (BROKERAGE) (+$10.11): I don't know why, but this is one of my favorite accounts. It only goes up by a few dollars every month, but I love watching it grow! All Acorns does is round up my purchases and other financial transactions (like my digit xfers – hah) and then dumps the difference into my investment portfolio they've helped me create. It hasn't grown that much outside of my monthly deposits, but it's all money that would have normally not been invested anyways, so to me it all feels free. And $253.53 in spare change is pretty good after only 8 months! Here's my full review on Acorns too if you want to learn more.

MOTIF (BROKERAGE) (-$7.57): This account, on the other hand, is one of my least favorites. Not because it hasn't grown over the year or I don't think Motif is cool (it actually is if you're an active trader)), but just that I've realized how much of an index guy I am at heart now. If you recall, I set this account up during a blogging challenge at the start of the year (currently 16th place – hah), as well as to learn more about dividend investing, but so far I've just let it sit and not really paid attention to it much. So it's totally my fault I'm not learning anything, but when the interest isn't there anymore you move on, eh? I'll probably end up shutting this down at the end of the year and moving the $$$ over to my Vanguard account. Here's my full review of Motif if you want to see what they're about. Def. creative!
IRA: ROTH(s) (-$2,468.42): Back to our normal categories now, our Roths take a dip again due to the markets and us not contributing to them this month. I've thought about breaking up the year into 12 installments instead of maxing it all out in one swoop at the end of every year, but my conservative side keeps me nervous since blog income constantly fluctuates. And the Roth comes second to maxing out our bigger investment account – the SEP IRA – which we want to hit every year no matter what. This not only saves us a ton in taxes every year, but the amount wan invest is much higher – usually $15,000+ depending on business profit.
IRA: SEP (-$9,943.90): OUCH! Just the markets doing their thing as always, but never fun to see regardless. Again, unless you have that stack of cash just itching to get back into the game :) As I mentioned last month though, none of this really matters until it's time to start cashing these in way down the road. So we ride alongside and keep building up our stockpile! There can't be lows without having the highs, right?
AUTOS WORTH (kbb) (-$4.00): The best loss of the whole month, haha… A whole four dollars! What will we ever do?? :) Here's the current values of both our cars… one based on the Kelly Blue Book, and the other a rounded down $1,000 due to its uniqueness, haha…
Plain Jane Toyota: $4,285.00
Frankencaddy: $1,000.00
HOME VALUE (Realtor) ($0.00): As I mentioned last week, the range of reality can span anywhere from $280,000 to $320,000, so we've kinda just settled right in the middle there at $300,000 as a more realistic number. But if we do indeed go through with the sale of our place, we'll find out once and for all the REAL value as the offers start coming in! It's funny how that's the only time you can guarantee what it's worth, haha… When it's time to sell.
MORTGAGES (-$713.05): In the meantime, we continue to chip away $700+ through normal (and extra) principal mortgage payments each month. So at least every month we still own our house the debt is being chipped away! It's not all bad! Here's how our two mortgages break down:
Our Net Worth over the past year:
We've reverted all the way back to January – d'oh! But I'm not stressing… just the way it goes, my friends. And hopefully you're taking advantage of it a lot more than I am :)
Here's what my kids' net worth look like too:
And that wraps up September! A great month for cash savings, but not so much in the investments territory… How did you guys do? Anything fun or juicy to report? Anyone pay off their debts or come across an insane hustle?? I want to hear about it!!!
As always, if you want further motivation or just feel like stalking, here's our updated list of now 180+ personal finance bloggers divulging their own net worths. Spanning from -$123,446 all the way up to $2,282,462. Pretty interesting to sort through.
You can also see all 93 of my net worth updates here: J's Net Worth Tracker
Here's to a great October!
(Visited 15 times, 1 visits today)
**********
PS:
If you're just getting started in your journey, here are a few good resources to help track your money. Doesn't matter which route you go, just that it ends up sticking!
If you're not a spreadsheet guy like me and prefer something more automated (which is fine, whatever gets you to take action!), you can try your hand with a free Personal Capital account instead.
Personal Capital is a cool tool that connects with your bank & investment accounts to give you an automated way to track your net worth. You'll get a crystal clear picture of how your spending and investments affect your financial goals (early retirement?), and it's super easy to use.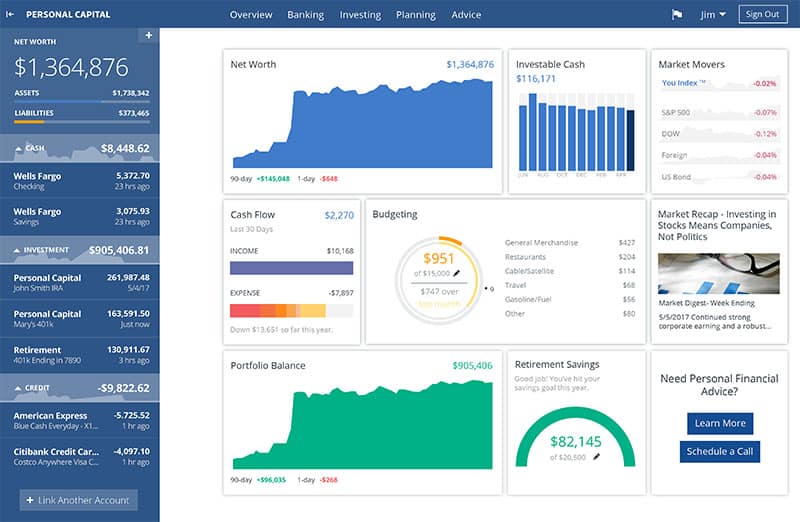 It only takes a couple minutes to set up and you can grab your free account here. They also do a lot of other cool stuff as well which my early retired friend Justin covers in our full review of Personal Capital - check it out here: Why I Use Personal Capital Almost Every Single Day.
(There's also Mint.com too btw which is also free and automated, but its more focused on day-to-day budgeting rather than long-term net worth building)
Get blog posts automatically emailed to you!