Nothing crazy exciting to report, but we're moving along nicely.
October's net worth grew an extra $4.5k and I'm happy as a clam :) We had a few change ups this month (which I'll get into during the breakdowns) but we're pretty much on auto pilot.
2+ years ago this graph would be all over the place, so it's nice to be financially settled these days. In fact, this is probably the most secure I've ever felt. I'd be even more so without the house, but we always need something to work on, right?
It's just nice to know that game plans DO work out if you stick with it. Some months are easier than others, and some just sucks balls, but if you play to win it's just a matter of time until you get there :)
Here's how October's net worth breaks down:
CASH SAVINGS (+$3,183.60): Always a fan of more cash! The bump this month was due to the Mrs. getting paid for her TA gig. She gets it in chunks every 4-6 months I want to say, and then nothing in between. So I'm sure she's squirreling it away for this financial (and literal) winter ;) I don't foresee another spike like this anytime soon.
EMERGENCY FUND ($0.00): Our money market is still holding onto this $10k as normal. I'm pretty sure there's a better place to put it with the lack of high yield interest going on, but then again we prefer to keep it pretty liquid "just in case." Emergency Funds are boring, but they sure are good for the mind!
ROTH IRAs (+$2,540.44): While I did max out my Roth & 401(k) last month, most of this comes from a not-as-sexy reason ;) The Mrs. was forced to convert over her old 401(k) from her previous employer into a Traditional IRA – so we now have a surge here, and a decrease in the 401(k) dept. And I should probably clarify "forced to convert" too. There were a few diff. options for her to take, but we slacked a bit (*gasp!*) and we went with the Traditional until we formulate a better game plan. Eventually, we'll probably throw all her accounts into one main retirement fund for her so it's easier to track, but we'd like to check in with a financial planner first.
401(k)s (-$1,265.71): The last 401(k) deposit of $4,970 ($2,485 contribution, $2,485 match) hit in October and we're nice & 100% maxed out now! It doesn't look all that fun since $2k of the Mrs. was converted into the IRA as already mentioned, AND the stock market bit off $4,400 in the last trading days, but J's a happy man. Pumping this fund really is one of the best things you can do, so if possible go for it! And if you can't, try poking around an IRA instead.

AUTOS WORTH (kbb) (+$50.00): Last month we were "up" $275, and now $50? I don't buy it, but if I were to sell any of these cars today you better believe I'd list it at the KBB price :) They're both in pretty decent shape, esp the Caddy for its age, but for now we're holding onto them since they're running great (even if I DO get tempted by that damn Benz dealership down the street!). Here's their breakdown:
Pimp Daddy Caddy: $3,045.00
Gas Ticklin' Toyota: $10,485.00
HOME VALUE (Realtor) ($0.00): This will remain @ $300k (the price our realtor set it at) until I hit him up later for another review. He's the master in our particular neighborhood, and has been selling (and living) in this area for 20+ years. I keep an eye on Zillow & Redfin.com as well, but they fluctuate so much that I never can tell what's real and what's hype.
CREDIT CARD (car loans) ($0.00): Still at Zero! The previous debt here was an "auto loan" that I charged on my credit card – effectively setting my interest @ 3%. I don't recommend this for everyone, but the method works well if you know what you're doing and don't have outstanding debt.
MORTGAGES (-$9.61): We're still interested in refinancing our first mortgage, but unfortunately we're still too under water to do anything right now. And sadly enough we're still slacking on the extra payments every month to knock it down even more. We were going strong for a good 4-5 months there, but our "house budget" keeps going over so I have to tighten up the ship again and see where our problems lie ;) Once we get that back on track, we'll start throwing an extra $100-$200 against it again. For now, here's how our mortgages are lining up:
Mortgage

#1: $287,150.36 – 30 year fixed, interest-only @ 6.875%.
Mortgage #2: $62,818.34 – Maxed out HELOC w/ 2.8% interest.
Another month, another happy report! You all do good as well? I hope so. Tracking your money and watching it grow (or decline) really keeps you on top of things. It's awesome when you can look back and compare it to where you were a year ago :) If you haven't been tracking it yet, find a free spreadsheet or site & start! You're the only one watching over your money.
God Bless,

—————–
*My budget has now been updated.
**And so have my sidebars.

(Visited 13 times, 1 visits today)
**********
PS:
If you're just getting started in your journey, here are a few good resources to help track your money. Doesn't matter which route you go, just that it ends up sticking!
If you're not a spreadsheet guy like me and prefer something more automated (which is fine, whatever gets you to take action!), you can try your hand with a free Personal Capital account instead.
Personal Capital is a cool tool that connects with your bank & investment accounts to give you an automated way to track your net worth. You'll get a crystal clear picture of how your spending and investments affect your financial goals (early retirement?), and it's super easy to use.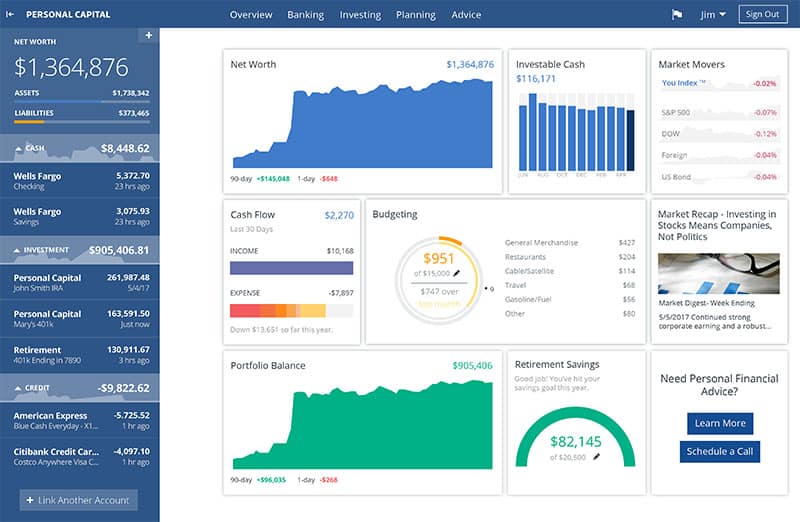 It only takes a couple minutes to set up and you can grab your free account here. They also do a lot of other cool stuff as well which my early retired friend Justin covers in our full review of Personal Capital - check it out here: Why I Use Personal Capital Almost Every Single Day.
(There's also Mint.com too btw which is also free and automated, but its more focused on day-to-day budgeting rather than long-term net worth building)
Get blog posts automatically emailed to you!