It's much better than last month's $10k loss! Gotta be happy these days with everything going on out there, especially since i'm employed :)
We had a person leave this month, but luckily it was on his own accord. I'm really just hoping we can weather this storm by cutting back on some of our extravagances here @ work…i've already noticed a few things here and there, so fingers crossed!
It's pretty obvious i'm not gonna reach my Net Worth goal of $100,000 this year, but ya can't say i didn't try ;) Sometimes it's just not meant to be i suppose, but you better believe i'll keep working on it. As long as i continue to stay on top of my budget each paycheck, and slam more money into that 401k while prices are cheap, i'll be on a good track. After all, it's the best time in 50 years to buy, right?! at least that's what i've read recently ;)
I can't tell you *when* things will start turning around, but i gotta stay hopeful and keep my head up. I can't change the economy myself, but i sure as hell can keep staying on top of my finances!
Here's how it breaks down this month:

CASH SAVINGS: Sweetness! I only used $160 of my monthly $200 cash allowance this month, and i guess i saved in some other departments too….esp considering i didn't bring in nearly as much blogging income as i had the previous month or so.
ROTH IRA: Down $400? Yeah….still not fun. I suspect this will go down until the markets level off, but again there's nothing i can do about it. i mean, i could always throw MORE money into it, but i'd rather max out the 401k first, and then pump a little more into the ol' Emergency Fund.
401(k): Down $3,000, BUT that doesn't include my bi-weekly contributions unfortunately… because our 401k company is *still* all sorts of F'd up, i'm awaiting on these to hit my account. If these amounts ($593.75 + $593.75(match) + $593.75 + $593.75(match)) were actually in already, i'd really only be down around $900! And THAT'S not bad at all :)
SAVINGS BONDS: Another 20 cents in the ol' pockets….i'm ritch biatch! haha…crazy old buggers. You can check out the breakdown of my bonds are here.
CONDO INVESTMENT: I stopped lending money to my brother months ago, so it's really just a matter of collecting it all now at 5% interest. There's no real time frame here, but i've been told he'll pay the remaining $900ish over the next cple months – works for me! It all seems "free" anyways since i used to classify it as just another bill to pay. So now it's like a have an extra $123 a month to play with!
HOME EQUITY: This amount still reflects our purchase price minus the money we accidently paid off the mortgage when our heloc froze. As always, i still don't know how to classify this as the house isnt' worth what we paid anymore, but it's on my New Year's resolution…i'll probably just Zillow.com it and then add another row to both Assets and Liabilities to reflect it or something.
AUTO WORTH (kbb): Down $10 bucks – i love it! It's a helluva good feeling knowing that my car is now worth more than i paid for it ($3,100). I do sorta miss riding high in the SUV, but i'd take the stress releiver any day over that :)
CREDIT CARDS: This amount is from buying my Caddy and selling my Highlander (i owed more than i sold it for) a few months ago – that's it. No other consumer debt on this bad boy, just the car amounts. And to keep on track, I'm still applying my old $443 car payments towards the balance every month until it's paid off.
AUTO LOAN: Zeroooooooooooooo! That is if you disregard my credit card balance ;) If you remember, i was losing anywhere from $450- $1200 a MONTH keeping the Highlander, so the steady value for my Caddy is freakin' great.
That's it for this month folks. As always, I sincerely hope you did better than i did! Keep staying on top of your finances, and remember that it's just a matter of time until it all turns around :) I'll see ya out there.
—————–
*The sweet & sexy side bars have been updated.
*And here are the past Net Worth updates.
(Visited 15 times, 1 visits today)
**********
PS:
If you're just getting started in your journey, here are a few good resources to help track your money. Doesn't matter which route you go, just that it ends up sticking!
If you're not a spreadsheet guy like me and prefer something more automated (which is fine, whatever gets you to take action!), you can try your hand with a free Personal Capital account instead.
Personal Capital is a cool tool that connects with your bank & investment accounts to give you an automated way to track your net worth. You'll get a crystal clear picture of how your spending and investments affect your financial goals (early retirement?), and it's super easy to use.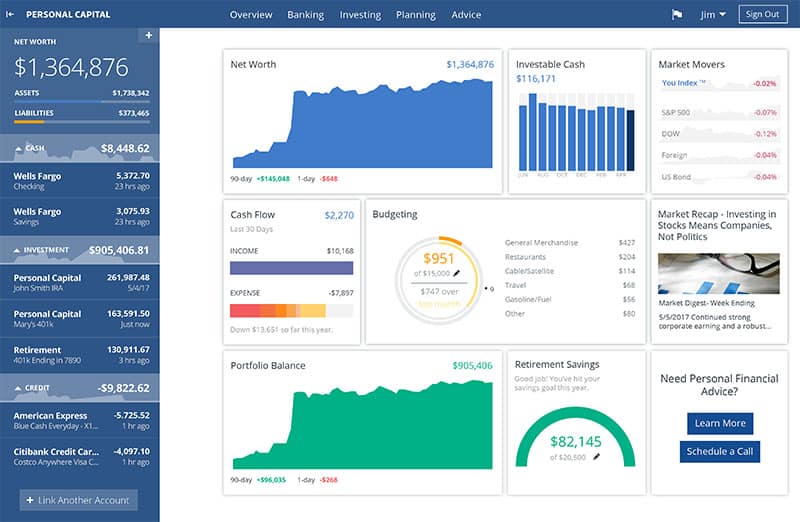 It only takes a couple minutes to set up and you can grab your free account here. They also do a lot of other cool stuff as well which my early retired friend Justin covers in our full review of Personal Capital - check it out here: Why I Use Personal Capital Almost Every Single Day.
(There's also Mint.com too btw which is also free and automated, but its more focused on day-to-day budgeting rather than long-term net worth building)
Get blog posts automatically emailed to you!