Happy November Net Worth Day! It's as if we do these every single month or something? ;) Hopefully YOU'RE doing them at home though, too. Nothing's sexier than knowing where all your money's at, yessir…
We had a pretty conservative month ourselves this time around, compared to our last one (if only every update we could climb $60,000!!). But I'll take conservative over *losing money* every single time, that's the worst… But unfortunately all a part of the game.
Here's How November's Numbers Broke Down:
CASH SAVINGS (+$163.97): Baaaarely made it into positive territory, but very proud that we did. Quite a change from just a couple of months ago when we were bleeding cash like a mad man. Hustling helps with praying, I'll tell you that much!
529 College Savings (+$80.63): This will remain fairly stagnant until we start adding more money here for our little tikes… which is doubly scary, now that we're expecting our 2nd one! Ack… I choose to not think about this much for the immediate future ;)
IRA: SEP (+$1,457.03): Nothing extra added here either, yet. We'll have our one-time HUGE ass deposit come January/February though once we do our 2013 taxes… The amount I'm allowed to put in depends on business profit, and we're expecting to be able to max it out at around $15,000 this year (which will come from the money set aside from those sites I sold this year).
IRA: ROTH(s) (+$1,006.32): This has been left alone too, for now. Depending on how the next few months go, we may or may not max out both of our Roths since money isn't flowing in as much as it used to. But I'd hate to break my record of maxing it out for over 6 years now!
IRA: TRADITIONAL(s) (+$3,134.83): Nothing new added here either – just the markets doing it's thing… Here's how my three accounts currently break down – as part of our 2-year old IRA Test:
IRA #1 (NOT Managed): $77,619.74 **Leader for two years now

IRA #2 (Managed, USAA funds only): $71,915.34
IRA #3 (Managed, ALL different funds): $72,754.27

AUTOS WORTH (kbb) (-$356.00): All losses from my wife's Toyota – the Caddy seems to have leveled off on value dropping lately, probably because it's now 20 years old, haha… It should be considered an antique soon, yeah? Here are their values:
Pimp Daddy Caddy: $1,837.00
Gas Ticklin' Toyota: $6,069.00
HOME VALUE (Realtor) ($0.00): We haven't touched this since our realtor re-evaluated it over the summer when home prices started going back up (yipee!). I'm sure our house is at least worth a little bit more from what I've been seeing, but we'll remain nice and conservative here since it really doesn't mater much anyways until we sell it… Right now it's being rented out while we rent ourselves in our new home state of Virginia. Which is going VERY well, btw, we love it here! Hard to imagine it's already been 6 months now, jeez….
MORTGAGES (-$651.93): More getting chipped away every single month! It's amazing how much MORE too goes away with a 30 year fixed over an interest-only loan like we used to have, haha… Then you add in all the rounding up we do every month (we round to the nearest hundredth, and then add an extra $100 on top of that to both loans) and it quickly falls off even more. It's no $2,000 like it used to be every month, but that stage is unfortunately over for now… Life changes and we re-prioritize as we need to, right?
Here's what's left on both these mortgages:
And that's November! It's pretty cool looking back over the year too, as you can see from that graph I added up above… That's almost exactly a $100,000 increase this year! Love it. And even more so that we took that big ass fall in June, and still turned the ship around enough to get back on top… I didn't like it at the time, haha, but it's nice to look back and know it's in the past ;)
Hope you guys had a decent month too! Let us know below what you're looking at now so we can congratulate you (or, help you get back up and at 'em again :)). And if you're not tracking your money at all yet, START TODAY!!!
Just grab a pencil and start jotting down all assets in one column, and all liabilities in the other. Then subtract 'em from each other (the liabilities from the assets), and voila! Your net worth appears. You can get caught up in what goes in there vs. what doesn't, but just do your best and you'll be fine. This number is only for YOU anyways – to help motivate you and watch your progress over time. No one else needs to see it, unless you're crazy like me and start a blog around it all ;)
See ya back here tomorrow… And in another month for our next update!

———–
PS: Saw the recent installment of The Hunger Games over the weekend – pretty good! As long as you can get past the whole "killing each other" part ;) Just make sure to watch/read the 1st one first though or you'll be lost…

(Visited 15 times, 1 visits today)
**********
PS:
If you're just getting started in your journey, here are a few good resources to help track your money. Doesn't matter which route you go, just that it ends up sticking!
If you're not a spreadsheet guy like me and prefer something more automated (which is fine, whatever gets you to take action!), you can try your hand with a free Personal Capital account instead.
Personal Capital is a cool tool that connects with your bank & investment accounts to give you an automated way to track your net worth. You'll get a crystal clear picture of how your spending and investments affect your financial goals (early retirement?), and it's super easy to use.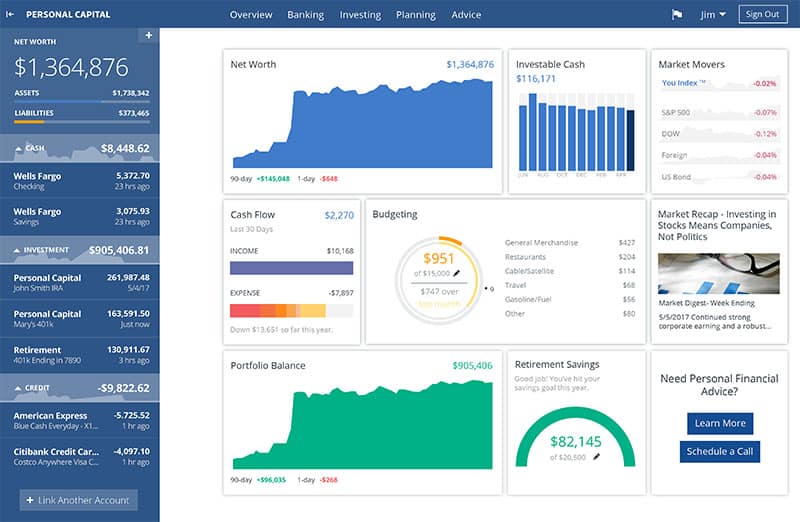 It only takes a couple minutes to set up and you can grab your free account here. They also do a lot of other cool stuff as well which my early retired friend Justin covers in our full review of Personal Capital - check it out here: Why I Use Personal Capital Almost Every Single Day.
(There's also Mint.com too btw which is also free and automated, but its more focused on day-to-day budgeting rather than long-term net worth building)
Get blog posts automatically emailed to you!