Our first major loss in net worth since October of last year, bleh. 
Although looking back, we've also had an INCREASE of about $100,000 since then too, so I guess I can't bitch *too* much, eh? :)
Regardless though, it still stings… it's true we can't control much in the area of the stock market and what that really does over time all too much, but the areas of cash is still looking bleak as it has been the past few updates too.  In fact, the last four months we've had a decrease in cash infusions for one reason or another actually – kinda scary if we don't keep a better eye on it (some of it was by design, but not all of it).
Other than the cash area though, the only other noticeable thing is that you'll see our mortgage payment plan is still in effect :)  I'm considering halting it for the month of June as our baby is born and we get some of that under control, but y'all gave some EXCELLENT advice when I blogged about getting down on myself with it all last month, and I think some of you nailed the problem right on it's head: I need to relax more and not be so hardcore.  Something I agree I  need to work on more, so big thanks for chiming in :)
Here's How May's Net Worth Broke Down in More Detail:
CASH SAVINGS (-$694.62): Not as bad as I had thought it would be – what, with our bathroom being gutted and us making last minute preparations for the baby – but it's certainly not where we want it to be either.  My goal for next month is to get this area back in the black and really hunker down more… though it just occurred to me the wife is no longer working for the next 3 months too, d'oh.  I'll have to blog about that in a bit…
EMERGENCY FUND (-$1,300.00): We pulled out more for this bad boy to cover part of our bathroom remodel, as well as the new tiles we  needed to go along with it.  I'm also considering just combining this account with our cash savings ones too to better streamline everything… as many of you have mentioned in the past, I don't think it makes sense much to keep all these separate accounts open when they're all pretty much the same anyways.  I.E. one large savings/emergency fund!  I think we're pretty diligent with our money enough to be able to have it all in one spot, but I'm gonna run it by the Mrs. and then let y'all know what we end up doing here soon… I'm all about simplifying these days!
PHYSICAL GOLD (-$103.40): What a bad time to buy up that 1 oz. gold coin the other month, eh?  I wish I would have waited longer to actually jump in on it, but I'm also glad I just went for it and can now check it off my list of things I always wanted to do (and have).  I'm sure at some point it'll start going way back up again – this economy is crazy ;)
IRA: SEP (-$1,763.81):  Bleh.  Nothing to really report  here other than the market just freaking out all over again… all a part of the game, eh?
IRA: ROTH(s) (-$1,770.05): Same here.  I haven't touched this or added anything to it lately – just the market doing it's thing.
IRA: TRADITIONAL(s) (-$10,215.42): Even more depressing.  And check out how FAR ahead now that un-managed account is in our IRA Game! Insane!!  I'm thinking of pulling the plug and just putting ALL the money into that same #1 account there, but it just blows my mind that leaving stuff alone can be better than PROFESSIONALS managing our money the entire time… I really don't get it.  But I'm also glad I now have *proof* to back it up too.  It's almost been an entire year since we started this (July 25th, 2011), and I don't see anything really major changing in the near future either, do you?
IRA #1 (NOT Managed): $58,257.43 **Still in the lead

IRA #2 (Managed, USAA funds): $56,553.36
IRA #3 (Managed, ALL funds): $56,909.43

AUTOS WORTH (kbb) (-$800.00): Nothing super interesting happening here really, other than the wifey still trying to convince me to trade my Caddy in for a minivan ;)  I def. don't see that happening anytime soon, but I *may* be up for picking up an SUV instead… maybe an Escalade up in here?? Haha… we shall see ;)
Pimp Daddy Caddy: $1,990.00
Gas Ticklin' Toyota: $8,745.00
HOME VALUE (Realtor) ($0.00): This still remains the same over the past 2 years – BUT – we believe a house in our neighborhood has now officially been sold, so I'm hoping to have a MUCH more realistic number here very shortly.  Our places are pretty close to being the same, so I think it'll reflect our updated house value pretty well.  Stay tuned for a future post on it!
MORTGAGES (-$2,584.46): 8 months in a row now paying off that extra $2,000! As I mentioned above we'll probably hit the pause button for this month of June, but I plan on getting right back to it shortly after all things depending.  I def. don't want to give up now that our 2nd mortgage is getting wiped away so much faster! It's the hardest thing I've ever had to do yet!
And that's that. I pray to the Gods above that y'all had a much better month than we did :)  If you're tracking this stuff – and I REALLY hope you are!! – let us know how things are going!
The most important thing with all this is that we're continually tweaking and making sure we're still on track, so even if you're down in the dumps like we are this month, just remember it's only a phase.  Sometimes we have GOOD months, and other times we have $HIT months, but in the long run the good ones shall always prevail. So keep it up! :)



———————
PS: This time next month I'll be typing up our new net worth with a screaming baby behind me ;)
(Visited 5 times, 1 visits today)
**********
PS:
If you're just getting started in your journey, here are a few good resources to help track your money. Doesn't matter which route you go, just that it ends up sticking!
If you're not a spreadsheet guy like me and prefer something more automated (which is fine, whatever gets you to take action!), you can try your hand with a free Personal Capital account instead.
Personal Capital is a cool tool that connects with your bank & investment accounts to give you an automated way to track your net worth. You'll get a crystal clear picture of how your spending and investments affect your financial goals (early retirement?), and it's super easy to use.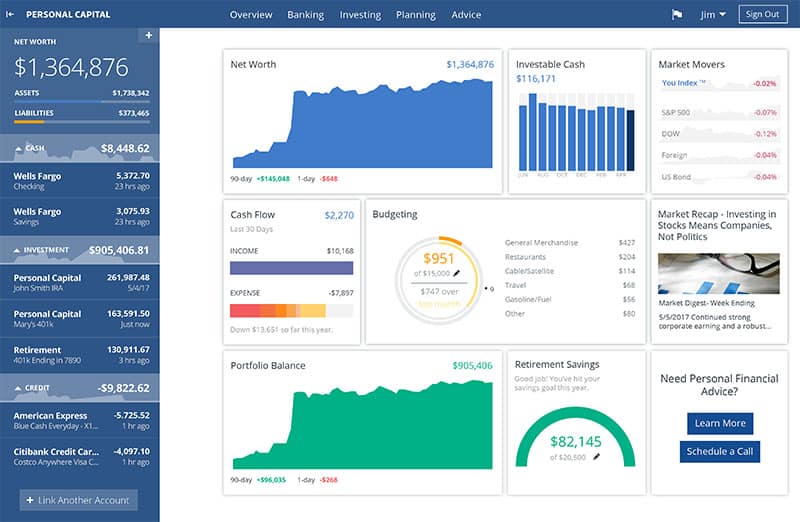 It only takes a couple minutes to set up and you can grab your free account here. They also do a lot of other cool stuff as well which my early retired friend Justin covers in our full review of Personal Capital - check it out here: Why I Use Personal Capital Almost Every Single Day.
(There's also Mint.com too btw which is also free and automated, but its more focused on day-to-day budgeting rather than long-term net worth building)
Get blog posts automatically emailed to you!