Not too shabby. I was hoping a few of my 401k deposits (7 to be exact) would hit my account, but still no luck in that department. it's all good though, it should be cleared up by the end of April.
All the other categories in my net worth calculation are moving along pretty nicely, w/ the exception of my stupid car situation :(
Value down almost $1,000?? COME ON. i hate cars. seriously, every month it's gone down like $1k, and i'm only paying off $300+ of the principal per month. i keep saying i may sell the car, but now i actually LOVE IT! ha ha… whatever, i'm too much in a good mood to get into this right now. we'll deal later.
Here's it all played out last month (Mar):
Cash Savings: Definitely a nice little jump. i'm putting my savings bonds in this category for now (prob. will create it's own section later), so $200 of this increase is related to finding out how much they're now worth. Yay! the additional $272 were from savings of going under budget :)
Roth IRA: Haven't added any additional funds in months, so i'll take an increase in earnings any day! Keep doing your thing mutual funds ;)
401k: Not impressive at all. Granted, it could def. be a billion times worse w/ the way the market is these days, BUT still. I mean, i'm contributing 19% of my paycheck twice a month. At least i have something to look forward too – once all is back to normal, i should see $4k increases each month (not including ups and downs in the market)! Y-U-M.
Condo Investment: Still creeping along nicely. I like helping family out.
Home Equity: This will remain the same over the next few months. We basically paid a large chunk of the mortgage off cple months ago (not on purpose), and since we have interest-only financing, we're taking a break until after the wedding to get more situated.
Auto Worth (kbb): ARRGHHHHH. that's about it.
Credit Cards: We're knocking them away month after month! I was paying off both cards evenly ($100 a piece), but now i've decided to pay more off the card where the 0% financing is ending first, while paying minimal payments on the other. As it stands right now, both cards are at 0%.
Auto Loan: Measly $300ish principal payment out of the $440 i'm sending in each month. Arghhhh again.
ps: i also updated my side bars to reflect the new & hip scenario.
(Visited 35 times, 1 visits today)
**********
PS:
If you're just getting started in your journey, here are a few good resources to help track your money. Doesn't matter which route you go, just that it ends up sticking!
If you're not a spreadsheet guy like me and prefer something more automated (which is fine, whatever gets you to take action!), you can try your hand with a free Personal Capital account instead.
Personal Capital is a cool tool that connects with your bank & investment accounts to give you an automated way to track your net worth. You'll get a crystal clear picture of how your spending and investments affect your financial goals (early retirement?), and it's super easy to use.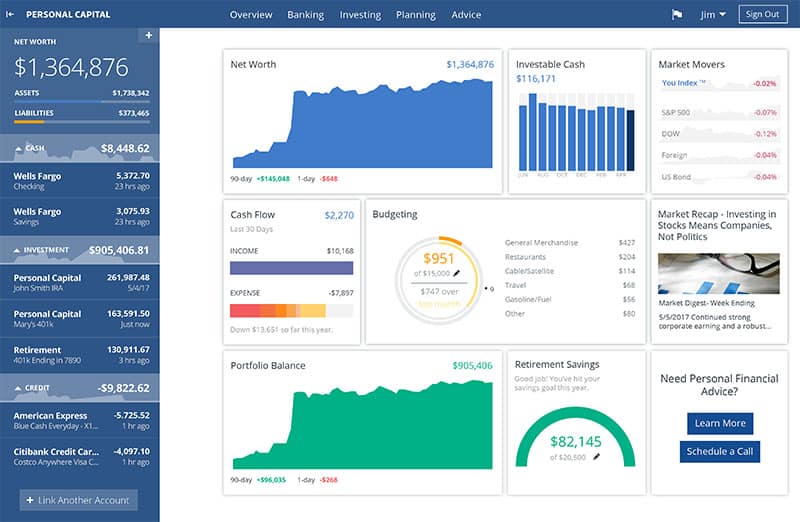 It only takes a couple minutes to set up and you can grab your free account here. They also do a lot of other cool stuff as well which my early retired friend Justin covers in our full review of Personal Capital - check it out here: Why I Use Personal Capital Almost Every Single Day.
(There's also Mint.com too btw which is also free and automated, but its more focused on day-to-day budgeting rather than long-term net worth building)
Get blog posts automatically emailed to you!