That's right, i'm way too lazy/unmotivated to combine our financial lives as yet.
Plus, by this time in 2 months she'll be in Grad School full time which complicates things even more. (although i AM happy for her!)
So the goal is to combine forces by the end of August. I think that's a fairly good goal :)
That means I have another net worth update or two before the madness begins – Woohoo!
Now that the wedding is over though, things are starting to calm down a bit and we're now back in "normal" land – and what better way to start out than being up $4,122.39 for the month! No more wedding expenditures, no more travel costs, just back to plain ol' saving mode.
Here's how it breaks down this month:

Cash Savings: This is what i like about these monthly check ups – i had NO idea i had such a big jump in cash flow! Mainly because we used most of our wedding cash to pay off all our credit card debt. We've been saving a lot from our heloc, and i've been super frugal lately, so this def. keeps me motivated to keep it up.
Roth IRA: Sucky for sure, but whatcha gonna do about it, ya know? It can't go up all that much anyways since i've stopped making deposits. It's totally at the mercy of the markets.
401k: *OUCH* While this one definitely sucks, at least it wasn't a surprise. I put in $2,375 this month, and the market stole almost double back from me – $4,354.60. Bastards.
Savings Bonds: Picked up another bond as a wedding present ($500 – currently valued at $250), and earned a few bucks from interest off the others.
Condo Investment: I'm starting to include the 5% interest here (compounded monthly), since it will be the amount I'll be paid back. I used a new calculator for this one. My brother says he'll only need 2 more months, and then he'll be set to go and ready to start paying it back. He grows up so fast! haha…
Home Equity: Same as it's been over the past few months. Don't plan on paying more than the interest on both our mortgages yet.
Auto Worth (kbb): Well, well, well – I actually paid MORE off this month than my car lost in value. YEEEEEEEEEEEEEES! about damn time ;) We'll see what next month brings, but it looks like i lose less each month (fingers crossed). Here are the amounts from the past 5 months, respectively: $1425, $925, $850, $675, and now $175.
Credit Cards: ZERO! It's been a good 18 months since i've had absolutely no credit card debt, and i'm planning on keeping it that way :) easier said than done, of course, but i'm up for the challenge.
Auto Loan: My car net worth went up $153.74! (my principal payment minus value loss) You won't hear a complaint outta me this round, that's for sure. And selling of the car is def. on the backburner.
That about wraps it up this month. Let's hope the market turns around and the crazy investors turn into smart investors, eh? Happy day before the 4th of July! And enjoy tomorrow's guest post :)

* I have updated my sweeet side bars – one of my fav. things to do!
*Feel free to also check out my past Net Worth updates.
(Visited 28 times, 1 visits today)
**********
PS:
If you're just getting started in your journey, here are a few good resources to help track your money. Doesn't matter which route you go, just that it ends up sticking!
If you're not a spreadsheet guy like me and prefer something more automated (which is fine, whatever gets you to take action!), you can try your hand with a free Personal Capital account instead.
Personal Capital is a cool tool that connects with your bank & investment accounts to give you an automated way to track your net worth. You'll get a crystal clear picture of how your spending and investments affect your financial goals (early retirement?), and it's super easy to use.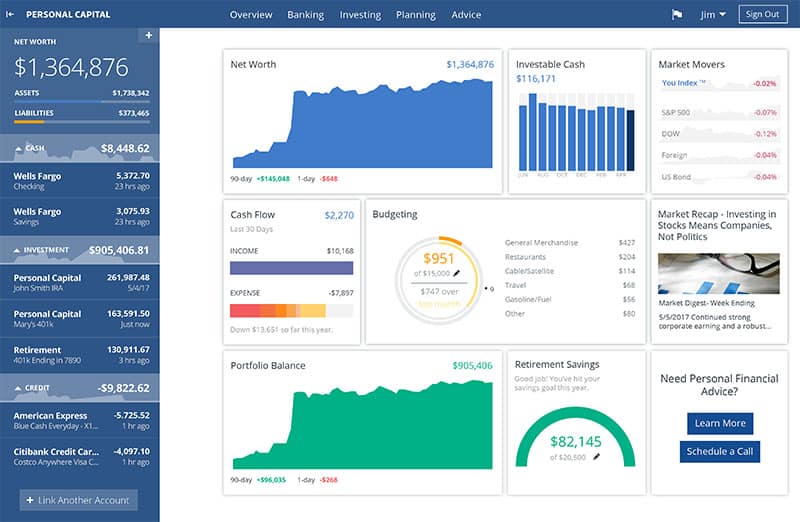 It only takes a couple minutes to set up and you can grab your free account here. They also do a lot of other cool stuff as well which my early retired friend Justin covers in our full review of Personal Capital - check it out here: Why I Use Personal Capital Almost Every Single Day.
(There's also Mint.com too btw which is also free and automated, but its more focused on day-to-day budgeting rather than long-term net worth building)
Get blog posts automatically emailed to you!