Wake up, wake up, wake up… it's the 1st of the month…
To get up, get up, get up…. so cash your checks track your net worth and get up….
Welcome to the 1st, yo! Best time of the month in finance-land :) Get to update the ol' net worth and get re-energized. Even if nothing too sexy is going on with your money.
I'll tell you this much though. If it hadn't been for running the numbers yesterday there's no way in hell I would have caught my mortgage company applying my payment last month ALL TO PRINCIPLE instead of the bill itself accidentally! Ack! I logged in to update the new balance in my spreadsheet and saw it had dropped by $2,000 and was like "What the what? Did I win a prize? Did I get some overpayment refund?"
Nope. My mortgage company just f'd up and I had approximately 1 day to fix it before the nasty grams (and fees) started showing up… And I know it was their error because I still had the e-receipt showing I had applied the $$ correctly!
But the biggest reason I didn't get screwed? I pay all my bills 1 month in advance. This gives me 30'ish days of padding in case stupid crap like this happens (or I'm the one doing the stupid crap!), and you only need to get it set up that way once (ie pay a lot of money up front to be a month ahead) and then from that point forward you're always ahead. You just pay your bills once a month like normal. I highly recommend it :)Anyways, a quick call to the bank fixed the error and now all is good in the world… though seeing $2,000 back on the mortgage wasn't fun – hah!
Here's how June went down…

(If you're new here, we post our raw #'s up every month to open a dialogue on REAL money and hopefully motivate you to track your own along the way. You can find a few ways to easily do this down below if you're not sure how)
CASH SAVINGS (+$1,107.38): Second month of being in the positive! No daycare anymore and my hustles growing are all helping immensely. And a stark contrast from how much I've been LOSING over the past two years. In fact, I keep meaning to add it all up and see exactly what that # is but I think I'd vomit ;)
BROKERAGE (-$0.17): Nothing too special going on here. My dividend stock test over at Motif Investing lost some money last month, but my Acorns account went up by $18.68 helping to even it out.
IRA: ROTH(s) (+$30.60): Nothing great going on here either – we won't be adding anything until the end of the tax year again once we see if we can max this puppy out again. I tend to do it in one lump sum each year rather than broken up into monthly investments even though I prefer that (dollar cost averaging). Business income is just too shaky to be able to tell 100% if we can rock it – though you guys seem to always convince me anyways :)
IRA: SEP (+$391.28): Same deal with this guy – one big ass chunk each year invested and then the rest sitting and growing (hopefully) nice and steady. Back at my 9-5 it was all dropped in per paycheck maxing out that 401(k) and getting those matches. One of the biggest things I miss with a real job!
AUTOS WORTH (kbb) (+$6.00): It's always funny when these #'s go up :) Because really they're not supposed to…. But I guess Kelly Blue Book knows more than I so I just copy and paste the values they tell me each month and figure it's as best of an estimate as I'll get. Except for Frankencaddy down there. He's def. worth less than what KBB says so I just slap on a $1,000 sticker as I'm confident she'd at least get that should we put her on the auction block ;)
Here's both of our cars values:
HOME VALUE (Realtor) ($0.00): Still steady at $300,000 which it's been for a cple years now. Every handful of months we ask our realtor to value it for us and it doesn't look like the economy has changed much at our old place in Maryland. Though I guess that's better than it getting worse, eh?
MORTGAGES (-$702.07): $700 knocked off almost every single month! The power of rounding up to the nearest hundredth and just moving right long… I don't think we've ever just paid the bare minimum payment in the 8+ years we've had a mortgage. Probably for the good since we don't know the difference of the "extra" money we could be having ;)
Here's the break down of our two mortgages (unfortunately we can't refinance):
And that wraps up June!
Here's how the past 12 months have gone:
And here's how our little nuggets are doing :)

(Nothing new added here for either)
How did your month go? Reach any cool milestones?
For those new to tracking your net worth, here are a few of my favorite ways to do so:
And for all the voyeurs out there, you can always see what 160+ other bloggers' net worths look like too on my other site: The Ultimate Blogger Net Worth Tracker. Use it to see what others are doing to help you grow your money faster!
'Till next time, friends…
——–
PS: You can also find all 90 of my own net worth updates here: J's Net Worth over 7 Years

(Visited 42 times, 1 visits today)
**********
PS:
If you're just getting started in your journey, here are a few good resources to help track your money. Doesn't matter which route you go, just that it ends up sticking!
If you're not a spreadsheet guy like me and prefer something more automated (which is fine, whatever gets you to take action!), you can try your hand with a free Personal Capital account instead.
Personal Capital is a cool tool that connects with your bank & investment accounts to give you an automated way to track your net worth. You'll get a crystal clear picture of how your spending and investments affect your financial goals (early retirement?), and it's super easy to use.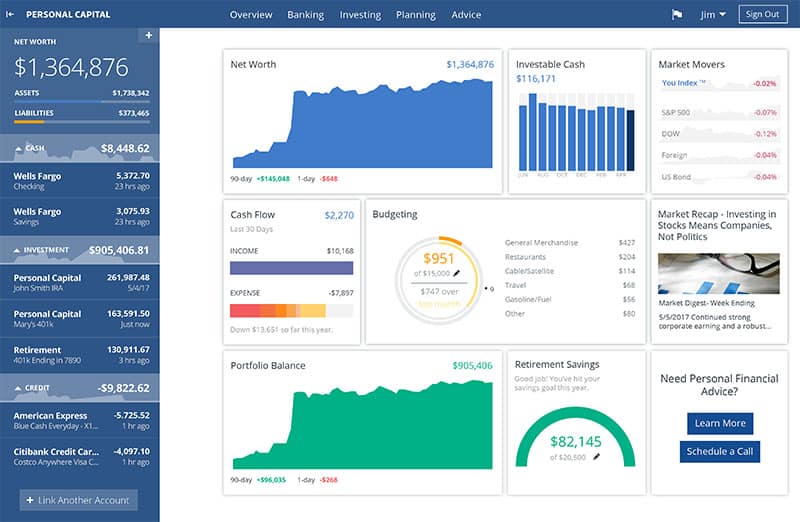 It only takes a couple minutes to set up and you can grab your free account here. They also do a lot of other cool stuff as well which my early retired friend Justin covers in our full review of Personal Capital - check it out here: Why I Use Personal Capital Almost Every Single Day.
(There's also Mint.com too btw which is also free and automated, but its more focused on day-to-day budgeting rather than long-term net worth building)
Get blog posts automatically emailed to you!