Up 13 Gs this month!
Not too shabby… Not much done on my half to get there this month, but the years leading up to it sure did help :)
That's what I like about viewing our net worths like this – it shows allll of our past financial doings nicely mixed in with our present's.  Every bad mistake is in there, all of our wise doings are in there, pretty much everything we've accomplished (or not) is presented smack dab in your face – captured in a small little box of numbers :) Now only if it could predict the future!
But it can't.  Only YOU Can.  What you'll notice though is that the more you keep tracking the stuff, the more you'll get better and better about building it up! A quick 15 min review once a month to keep you on track and motivated, you really can't go wrong.  Even if it shows downward progress!  Cuz you can't have the highs without experiencing the lows, baby!  And each and every one of us hit these dips way more often than we'd like.
So stick in there if it gets rough! It all takes time my friends.  And if it makes you feel better, just look at the mess we've made in our credit card department this month! haha… no one's perfect.
Net Worth break down: July, 2010
CASH SAVINGS (+$1,365.65): Lots of hoarding still in preparation for the big move to full-time blogging one day!  It may be a year from now, or it may be next Wednesday, but either way daddy's gotta be on point if he wants to stand a chance. Things with the 9-5 continue to be shaky.
EMERGENCY FUND ($0.00): Nothing moving in this section thank goodness!  Been a flat $10,000 for around 2 years now.
ROTH IRAs (+$6,773.88): Oops, I lied. I forgot I maxed this out last month!  That was most certainly MY doing – to the tune of $5,000 :)  As I mentioned in an earlier post, I invested in one foul swoop and continued my master plan of copying sir Warren Buffett!
401(k)s (+$7,337.91) : All maxed out and just riding the wave! Until at least some other injections happen that are long over due (long story short, not all my 401k from the year has been accounted for yet.) We hope to have this resolved asap, although it's totally out of my control.
AUTOS WORTH (kbb) (-$75.00): Just another day in car ownership!  It's not supposed to go up, right? :) KBB values:
Pimp Daddy Caddy: $2,870.00
Gas Ticklin' Toyota: $9,400.00
HOME VALUE (Realtor) ($0.00): Still @ $300k as our realtor set it at a while back. Although you'll be happy to know that our neighbor's house had an offer of $297k a few months ago! They ended up taking it off the market, but that still bodes well with our guestimations :)
CREDIT CARDS (-$1,821.05): Umm..yeah.  Lots of destination weddings and not enough money in our "house fun budget." Which it currently pulls from because I haven't updated it in a while (*gasp*).  But just like the other random times we have c/c debt, I'll be leaving it on there until we pay it off w/ the extra savings or unexpected money we get!  Not touching our saving plans so we're forced to pay attention more. (it's worth the extra $10 or so fee that incurs).
MORTGAGES (-$9.56): Nothing new on this front. Absolute no motivation to pay this down anytime soon, even though we know we're supposed to.  My blogging dream comes first :)
Mortgage #1: $286,818.64 – 30 year fixed, interest-only @ 6.875%.
Mortgage #2: $62,558.97 – Maxed out HELOC w/ 2.8% interest.
That about does it. A great great month for the Money Family's net worth. (Almost slipped and put our real last name there!) We have no idea what tomorrow will bring, but as long as we stay on top of it and do our best to keep plugging away the odds improve with every dollar! :)
And I wish you all success as well!  Would love to hear more about your journey down below.
—————–
PS: My personal budget has also been updated, and you can download it (and others) here.
PPS: I'll also currently in Seattle.  Probably trying to find the original Starbucks ;)
(Visited 10 times, 1 visits today)
**********
PS:
If you're just getting started in your journey, here are a few good resources to help track your money. Doesn't matter which route you go, just that it ends up sticking!
If you're not a spreadsheet guy like me and prefer something more automated (which is fine, whatever gets you to take action!), you can try your hand with a free Personal Capital account instead.
Personal Capital is a cool tool that connects with your bank & investment accounts to give you an automated way to track your net worth. You'll get a crystal clear picture of how your spending and investments affect your financial goals (early retirement?), and it's super easy to use.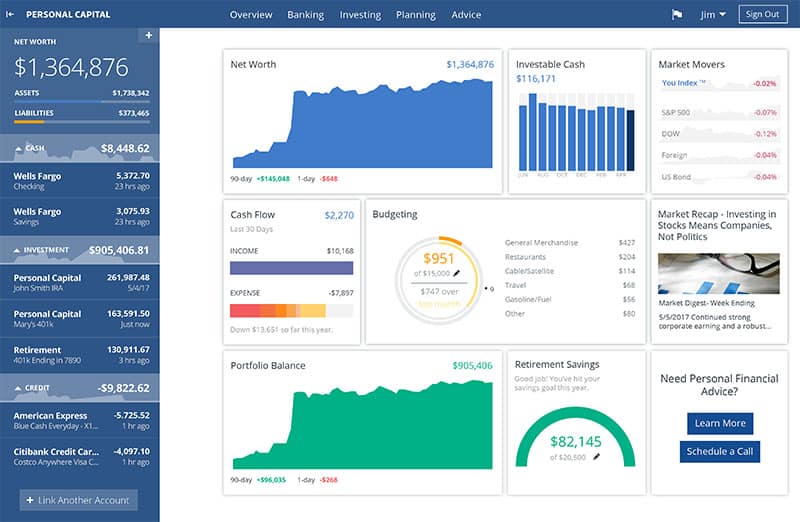 It only takes a couple minutes to set up and you can grab your free account here. They also do a lot of other cool stuff as well which my early retired friend Justin covers in our full review of Personal Capital - check it out here: Why I Use Personal Capital Almost Every Single Day.
(There's also Mint.com too btw which is also free and automated, but its more focused on day-to-day budgeting rather than long-term net worth building)
Get blog posts automatically emailed to you!