Another day, another dollar! Or, rather, *tracking* of dollars :) And today marks that beautiful day where we get to share the ins and outs of our finances to all the voyeurs out there. Just as we did last month, and just as we've done every month before going all the way back to Feb, 2008. When it first clocked in at $58,769.65 :)
In fact, that was one of the main reasons this blog even got off the ground back in the day. I couldn't believe people were just throwing out their numbers like that for the world to see, and I thought to myself – "Damn. What a great way to hold yourself accountable! I should totally try that." And now here we are 6 years later without missing a month!
I thought I'd take a few secs to answer a handful of questions I get all the time too, as a nice review:
What's the point of tracking this stuff? Everyone's different, but for me I like seeing an overall snapshot of where all my money is on one page. Which I can then track throughout time to gauge how I'm doing whenever I need/want some motivation.
What do you use to track it? I use an excel spreadsheet I created years ago aptly titled the "Financial Snapshot & Budget" which ties in both my budget, and, well, this "financial snapshot" area ;) But I'm also poking around Personal Capital to see what they offer, and if I should switch, since everyone and their mom keep raving about them… So far the coolest feature I've found is that they automate your net worth so it's all live and calculated anytime you log in, but it seems to be heavily focused on investing vs. overall finances. I haven't finished adding in all my accounts yet, but so far it is pretty accurate compared to what I track manually. So we'll see!
Why do you put such and such in there, and not other such and such stuff? Everything I track goes back to the main purpose I mentioned above: to give myself a solid overall look at my money. I'm personally not too concerned with taxable vs non-table, liquid or non-liquid, passive income vs real estate, etc, but if that's important to you I advise to tweak it accordingly (Whenever I'm interested in that stuff I just create a one-off net worth spreadsheet to give myself an idea for that moment of time).
The nice thing about all this stuff is you can track it to your own liking and goals, so if one category doesn't make sense for what you're going for, then just nix it altogether! We all track our worth differently depending on what's important to us, so don't get bogged down in what others are doing or what's technically "right." What's right is when your calculations are matching your goals.
Here's a list of other bloggers' net worths I put together if you're looking for how others track it: The Ultimate Net Worth Tracker. It covers over 40 bloggers and is ranked from highest worth to lowest (I'm #15ish), and you'll notice they're all different. And they're all in different stages of life too (and age, occupation, location, family status, etc). I put it together mainly to learn and get inspired by others vs just mere comparisons which'll drive you crazy. So hopefully it helps :)
Okay… now finally to last month's details!
How February Broke Down:
CASH SAVINGS (-$2,363.42): Overall F+. With the plus just being that some of the income I'm still due hasn't hit my accounts yet. I still have a ways to go to get this puppy corrected, which is mainly due to business income continuing to be lower than usual. But at least my expenses are still leveled off and not rising? That counts for something, right? ;)
529 College Savings (+$178.49): Nothing new added here in the past year – just the market having its effect. I reckon this will be paused for quite some time until the cash instinctively flocks again like the salmon of Capistrano.
IRA: SEP ($1,852.24): Same here – just the market doing it's thang. (But soon we'll be maxing this out once we finalize our taxes and figure out how much I can pour in from business stuff!)
IRA: ROTH(s) (+$2,401.34): Same here as well – nothing new added in. We're still debating on whether to max this out for the wife and I this year even though cash is in scarcer supply than usual. The logical side of the brain says "don't do it idiot! you need your cash!" but the emotional side says, "What are you waiting for? Don't break your record of maxing it out for the past 4-5 years! Suck it up, wussy!" Haha… I'll let you know which side wins ;)
IRA: TRADITIONAL(s) ($7,880.50): Nothing new added here as well. And more than likely nothing will for a looooong loooong time either, unless I'm convinced to drop my other retirement tools and switch to this one for some reason. Ya never know though…
Here's the latest on our IRA Test which I'll be shutting down as soon as I make the move to Vanguard.
IRA #1 (NOT Managed): $79,519.67 **Leader for two years running

IRA #2 (Managed, USAA funds only): $73,373.87
IRA #3 (Managed, ALL different funds): $74,301.93

AUTOS WORTH (kbb) (+$41.00): My caddy is locked in at $1,500 still (too old to be tracked now via KBB.com!), but the Toyota seems to keep growing in value over the months, haha… I don't pay it much attention of course, but it is what it is and I'd be listing it that way if I were to go put it on the market today, so that's why we keep tracking it as so. Here's the breakdown of our cars' worth:
Pimp Daddy Caddy: $1,500.00
Gas Ticklin' Toyota: $6,609.00
HOME VALUE (Realtor) ($0.00): Haven't updated this one in months, but probably will soon now that the Spring is around the corner. I use my realtor to tell me what he thinks it can go for (vs using Zillow or Redfin/etc), and I don't like to pester him much when I have no inclination of selling it anytime soon. He's a nice chap though and hooks me up full well knowing I WILL be tapping him when that fateful day comes ;) For now though, it's set at a cool $300,000.
MORTGAGES (-$659.76): Only $2,683.05 to go until we're no longer underwater!! I can't wait!! Here's how our mortgages currently break down (no, I can't refinance yet):
And just like that month #2 of the new year is now officially over. Damn time goes fast. And even more reason to start tracking this stuff! Every time you do, it's one more benchmark for the future-you to review and compare to. And my benchmark tells me we were at this almost exact same spot 2 months ago, haha… Check it:
We've gained $200 in 3 months! Ack! But see – good stuff to have so you always know the deal…
By the way, you can see all my previous net worths over the years, just click here.
How did you guys do last month? Anything cool or opposite-of happen? ;)

(Visited 9 times, 1 visits today)
**********
PS:
If you're just getting started in your journey, here are a few good resources to help track your money. Doesn't matter which route you go, just that it ends up sticking!
If you're not a spreadsheet guy like me and prefer something more automated (which is fine, whatever gets you to take action!), you can try your hand with a free Personal Capital account instead.
Personal Capital is a cool tool that connects with your bank & investment accounts to give you an automated way to track your net worth. You'll get a crystal clear picture of how your spending and investments affect your financial goals (early retirement?), and it's super easy to use.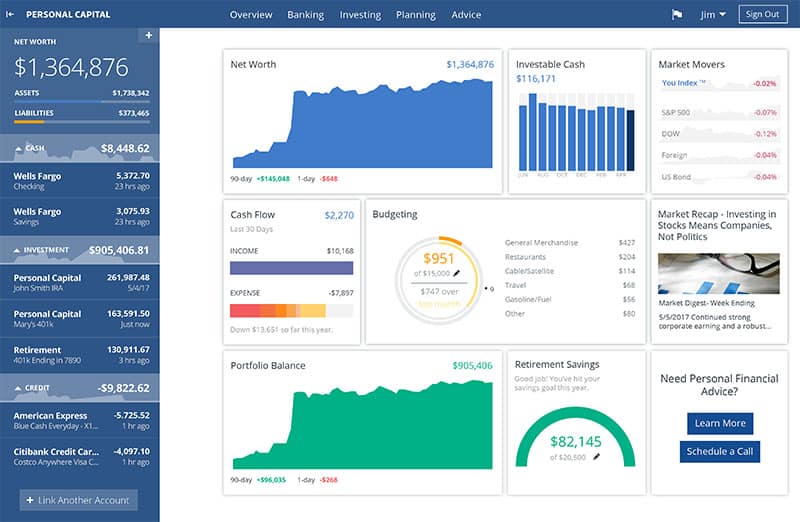 It only takes a couple minutes to set up and you can grab your free account here. They also do a lot of other cool stuff as well which my early retired friend Justin covers in our full review of Personal Capital - check it out here: Why I Use Personal Capital Almost Every Single Day.
(There's also Mint.com too btw which is also free and automated, but its more focused on day-to-day budgeting rather than long-term net worth building)
Get blog posts automatically emailed to you!