Up $4k – not a bad way to start the year, eh? I have a REALLY good feeling it's gonna be a good one, so get ready everyone – 2009 is the year of mad financial skills!!!
It's also the year I finally man up and combine Mrs. Budgetsaresexy and I's finances here on the blog :) Oooooh, ahhhhh, how exciting! What, oh what, will our net worth look like now?! (you can hardly keep it in, i know)
It's also a year for new resolutions – although unlike many of you, i have yet to figure out what these will be :) I'll def. holler once they pop into my brain though…i'm thinking a lot of blog stuff in general, but we'll see.
I guess I should also review last year's sexy sidebar goals too while we're at it here. They're now updated again, but as you can see I didn't do as great as my actual '08 New Years resolutions :( I'll have to leave them up until they're completed before swapping them out again. Here's a quick summary on how I did:
Pay off all credit card debt: 100% A+ bustaroo! I actually accomplished this twice – once in the first half of the year, and then again in the middle when we added on more wedding expenses. But, luckily enough, we used our wedding booty to knock it all off again!
Pay off cars: B. Since the above was scratched off, I decided to replace it w/ this category in late '08, except i pretty much new it wasn't gonna be wiped away before the end of the year ;) but ya gotta give it a shot, right?
Emergency Fund to $5,250: B I didn't quite make it all the way, but i sure as hell followed my plan…just turned out our work bonuses didn't pan out like i expected :(
Net worth to $100,000: Fail. Pwned. Jacked. Not even close…but again, way out of my hands really. I dutifully paid off debt & made my 401k deposits like a good little boy, but it just so happened the stock market didn't want to cooperate this year.
Not my best end to a story, but I definitely gave it my all!…and momma always said you gotta feel proud for that ;) haha….ah man, good ol' moms always have our backs don't they?
And here's how Dec's Net Worth breaks down:

CASH SAVINGS: Not too shabby considering it was the holiday season! It's all about that holiday budget, baby…well, that and an xmas bonus….but i still had to save it ;)
ROTH IRA: I'll take that $200 any day – a nice break from all the down months recently.
401(k): WOOHOO!!! Up $2.5k! I'm sure many of you noticed the same right? Or are you one of those who stopped looking altogether? ;) Who knows how long it'll last, but i'm enjoying every bit of it.
SAVINGS BONDS: One dollar, two dollar, three dollar SCORE! You can check out the breakdown of my bonds are here.
CONDO INVESTMENT: I stopped lending money to my brother months ago, and it looks like i'll be getting this leftover $700 sooner than i thought! My brother did some side work and gave me a pre-dated check to cash in Jan, 15th. I love it…and so damn proud of that guy! He's seriously come a long way since 2 years ago….*shiver*
HOME EQUITY: This amount still reflects our purchase price minus the money we accidently paid off the mortgage when our heloc froze. As always, i still don't know how to classify this, but it's on my New Year's resolution, so keep your eyes peeled.
AUTO WORTH (kbb): Zero loss? Well that's a first! Perhaps it's because my Caddy is now sixteen (16) years old! haha…but my damn is it ridin' nicely these days…ballin' like a mother ;)
CREDIT CARDS: This amount is from buying my Caddy and selling my Highlander (i owed more than i sold it for) a few months ago – that's it. No other consumer debt on this bad boy, just the car amounts. And to keep on track, I'm still applying my old $443 car payments (plus any other amounts leftover from my budget) towards the balance every month until it's paid off.
AUTO LOAN: Zilch, nada, nothing! But please see above :)
And that's it! 2008 comes to a happy end. This is the first year I've tracked my finances like this, and I gotta say it's interesting seeing all the ups and downs through it all! More ups are always better, of course, but as I mentioned 2009 will be full of 'em :) Keep doing your thang ladies and gentlemen…
—————–
*The sweet & sexy side bars have been updated.
*And here are the past Net Worth updates.
(Visited 69 times, 1 visits today)
**********
PS:
If you're just getting started in your journey, here are a few good resources to help track your money. Doesn't matter which route you go, just that it ends up sticking!
If you're not a spreadsheet guy like me and prefer something more automated (which is fine, whatever gets you to take action!), you can try your hand with a free Personal Capital account instead.
Personal Capital is a cool tool that connects with your bank & investment accounts to give you an automated way to track your net worth. You'll get a crystal clear picture of how your spending and investments affect your financial goals (early retirement?), and it's super easy to use.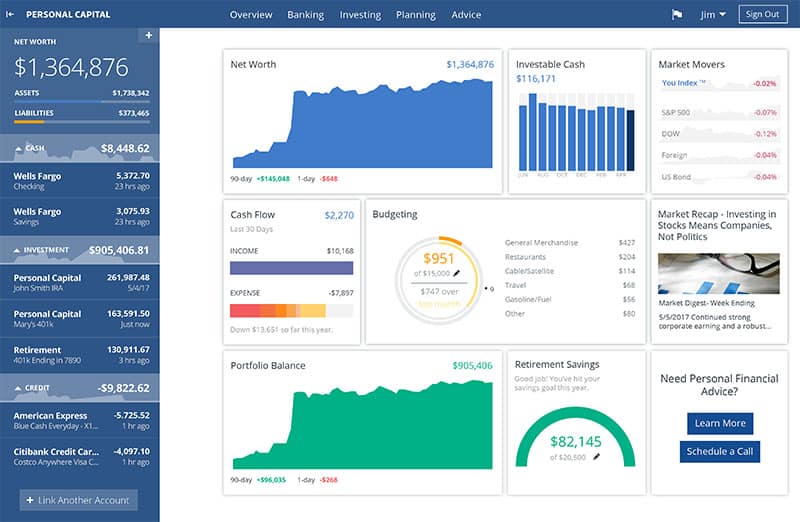 It only takes a couple minutes to set up and you can grab your free account here. They also do a lot of other cool stuff as well which my early retired friend Justin covers in our full review of Personal Capital - check it out here: Why I Use Personal Capital Almost Every Single Day.
(There's also Mint.com too btw which is also free and automated, but its more focused on day-to-day budgeting rather than long-term net worth building)
Get blog posts automatically emailed to you!