Another month, another net worth update! :) Where we break our 2 month losing streak – woo! And actually hit an all-time record of $480,000  – the highest it's ever been! Even with losing cash every month, talk about the power of compounding and investing…
And get this – when I updated my Early Retirement spreadsheet (which is a perfect time to do so btw) it knocked off a WHOLE YEAR! Because if that $17,000 stays and compounds over the next handful of years (a big "if" – hah) it grows our wealth enough to hit that financially free mark one year earlier at 53 instead of 54. Very fascinating stuff to see whether it proves fruitful or not!
It also seems we hit another milestone of $700/mo in mortgage principle pay off which is pretty sweet! It's no $2,000+/month like the good ol' days, but considering we haven't done anything different outside of rounding up to the nearest $100'th with every payment, it's a nice sight to see :) Same payment but with increasingly better results every month! Not too shabby…
Altogether a solid (and surprising) month, and just goes to show a little effort now pays off big time later. And it's only surprising to me because I ignore the news and market swings and only find out what's going on at the end of every month when I sit down to run these updates. Sometimes it's a bad surprise, but it's well worth the benefit of less clutter and depression in my life, haha… When have you ever come away from the news or pundits feeling better about yourself? :)
Here's how February went down…
CASH SAVINGS (-$1,490.29): Nothing new to add here really, other than it's been super helpful to have our Challenge Everything mission going strong which helps keep these loses lower than they would be. Which I'll be blogging about again soon w/ the latest #'s of Craigslist dealings and other random money that still continues to come in… Seriously, you guys should track the amount of random $ that falls in your hands – it adds up over time!
BROKERAGE (+$12.30): This is our semi-new experiment with opening up my first recent brokerage account to learn more about dividend investing and to diversify my accounts better (99.99999% of my investments are tied up in retirement accounts). It all started when 20 of us bloggers decided to have a little competition and see how far we could grow $500 :) I'm in a respectable 8th place so far having grown my pot by 3.3%. Not that I really know what I'm doing as I just copied what my friend Jason from Dividend Mantra does – hah.
IRA: ROTH(s) (+$3,733.99): Haven't invested a penny here since early 2014. Depending on how this tax season goes though, I hope to be able to max out this bad boy for our 6th or 7th year in a row. But our cash piles are getting low so not sure if I'll have the balls to pull the trigger!
IRA: SEP (+$14,934.14): Same with this one – nothing new dropped in, however, this will definitely change when I max this out as soon as I know how much $$ I can put in (it's tied to yearly business profit which I'm in the process of compiling). This is the one place I'll max out each and every year no matter what's going on – it's the driving force of our wealth! (Before this it was maxing out our 401(k) when I had a 9-5). This one thing alone will make you a millionaire over not so long of a time. Highly recommend figuring out how to do it if you're not doing it already. And of course we'll be throwing it all into VTSAX without a second thought :)
Here's a snapshot from our Vanguard account since moving over last April:
AUTOS WORTH (kbb) (-$23.00): Nothing new here either… Normal drops in value over time until the cars finally explode or we're forced to pick up new ones (much more likely with a growing family). I'm hoping this is still far far away as I love not having car payments (!!), but I know they can't last forever. At least Frankencaddy :( This weather is giving it to him good this year, ugh.
Here's the current values of our cars:
HOME VALUE (Realtor) ($0.00): This also remains the same @ $300,000. We only update it when we talk with our realtor (which is once every year or so), so in between it just stays flat and I don't even bother with Zillow or the likes because of the constant fluctuations that I can never fully trust. And just like with the investments, it doesn't really matter until the day of cashing in. So we're cool with not as frequent updating as long as we check in every now and then.
MORTGAGES (-$700.95): I love this number! $700. Sounds damn sexy :) And again – for doing nothing different than sending our same payments over with an extra couple hundred attached (we pay $2,000 every month towards our first mortgage that's $1,850ish, and $200 every month towards our 2nd mortgage which is like $60'ish). I've kept this constant through good times and bad, and it's so engrained that when I think of how much I pay for our mortgages I immediately think $2,200 when it's really $1,900. A good habit to get into!
Here's the balances of our two mortgages:
And here's our total net worth over the past 12 months! Look at that last jump!
And this is how our boys did ;)
Two months down this year! One positive month and one negative month… I'll take that anytime as long as the positive ones more than make up for the losers ;) And, as always, you can find all 7 years of net worth updates online here: J's Net Worth Tracker. Check out that graph at the top!
How did you guys do last month? Anyone break a million or pay off enough debt to move into the black? Hope so :)
If it helps, check out our Blogger Net Worth Tracker over at Rockstar Finance. I feature over 130 bloggers ranging from (-) $125,214 to (+) $2,533,799 and finally converted all the currencies so it's easier to compare now! (Though, you shouldn't be exactly comparing, but rather getting inspired and learning how others in your $$$ range are building up their own worths.)
Here's to a solid March!
——–
PS: Here are three ways you can start tracking your net worth *right now* if you've been slacking:
Use this "Money Snapshot" spreadsheet I created for my money clients to track stuff simply
Use Mint.com (free) and have it all automated for you after hooking up your accounts
Use PersonalCapital.com (free) which is "like Mint, only on steroids" as my friend Justin likes to say. He did an in-depth review for us taking screenshots of his own million dollar plus account to learn from, and he's been retired since he was 33 so it must be good! ;)
(Visited 24 times, 1 visits today)
**********
PS:
If you're just getting started in your journey, here are a few good resources to help track your money. Doesn't matter which route you go, just that it ends up sticking!
If you're not a spreadsheet guy like me and prefer something more automated (which is fine, whatever gets you to take action!), you can try your hand with a free Personal Capital account instead.
Personal Capital is a cool tool that connects with your bank & investment accounts to give you an automated way to track your net worth. You'll get a crystal clear picture of how your spending and investments affect your financial goals (early retirement?), and it's super easy to use.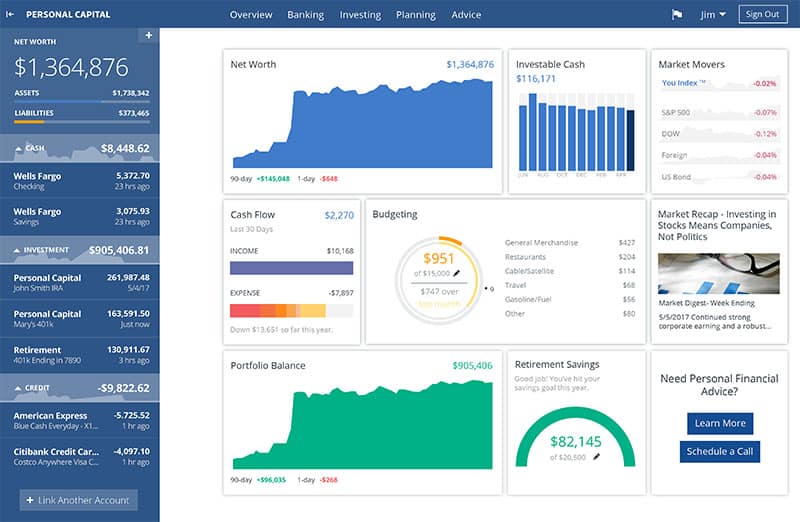 It only takes a couple minutes to set up and you can grab your free account here. They also do a lot of other cool stuff as well which my early retired friend Justin covers in our full review of Personal Capital - check it out here: Why I Use Personal Capital Almost Every Single Day.
(There's also Mint.com too btw which is also free and automated, but its more focused on day-to-day budgeting rather than long-term net worth building)
Get blog posts automatically emailed to you!