Well that was a fun month :)
Actually, this clocks in as the 2nd largest drop of net worth since tracking it over these 7 years (the first was a $40k kick to the gut back in June of '13), and sets us back to January's numbers when we were at $462,741.66, sigh…
But as many of you financial rock stars know, none of this really matters until you're done with your J-O-B and start pulling from it. So when these crashes happen it should be "Yes, yes, OMG – YES!! Stocks are SO cheap right now – Turn on that $$$ faucet please!" Or, as @AndrewsDad puts it:
And I'd like to think we have a lot of rich people reading this :)
When all was said and done though, I have to admit that August turned out to be one of my favorite months. And that's because a midst of all that market horror, there was one beacon of light that had me grinning larger than a Kardashian booty. And that was our cash reserves jumping up $4,000 – woo!! Marking the fourth consecutive increase after two years of a leaky ship… And God willing, we've finally plugged the hole.
Here's how our net worth broke down:
CASH SAVINGS (+$4,100.19): A nice contrast from *losing* $2,000 every month when we had our kids in daycare and I was mid re-structuring my online projects. And as soon as the wifey gets back into the workforce it'll be Game On even more… Crazy to think our family of 4 has been supported by my blogging activities all these years, whew… Hopefully we're past the hard parts!
(BTW, if you're currently in one of these hard parts, just remember – It's only a phase! It's hard as hell to keep that in mind when you're going through it, I know, but as long as you have a plan and are *working on that plan,* you'll be on to the next phase in no time. Keep hustling and doing your best!)
BROKERAGE (-$28.50): A little drop here, but nothing compared to what's below ;) This category here holds our only investment funds outside of our retirement plans – something I started dipping my toes into earlier this year. Can't tell if I like it all too much (I'm a fanboy for those tax benefits!) but it's probably good to diversify. I have our Motif Investing stocks here, as well as all our Acorns money (which are invested in ETFs).
IRA: ROTH(s) (-$5,616.30): A much bigger drop here, but it is what it is. Hoping to have enough leftover by the end of the year to max it out again as we have been for the past 5 or so years. A friend of mine once said that if you could max out your IRA and 401k every year you'll be just fine. And I agree! That's $23,500 dropped which will grow like a mother over the years… Easier to say than to do, but still very much true.
IRA: SEP (-$21,577.48): Wammo! Haven't seen a drop like that since Kanye West's presidential announcement! Which, sure, was only 3 days ago, but still – ACK! Looks like we're still up since April of last year though when we went the lazy one-fund route:
I've literally invested $400,000 in VTSAX, one of Vanguard's total index funds. Thank goodness for those dividends!
AUTOS WORTH (kbb) (-$369.00): Nothing too out of the ordinary going on here… though we did have a scare with my Caddy – yet again – on its battery draining… either something wonky is going on or I suck at turning off lights/the radio each drive. Which very much could be the case, womp womp.
Either way, here are the Kelly Blue Book values of our two cars:
Plain Jane Toyota: $4,289.00
Frankencaddy: $1,000.00 (KBB shows $1,420… but when your car looks like this, well…)
HOME VALUE (Realtor) ($0.00): Still set at $300,000 which our realtor appraised it at a handful of months ago… I don't like following Zillow or others just 'cuz they're always off for me, but they may be better in your area so def. worth a shot if you're looking for a way to assess. Really all you want to do is have a general idea of what your house is worth, whether you include it in your net worth or not (some don't believe they should be included since primary residences aren't income-generating assets).
MORTGAGES (-$708.12): $700 more chipped away! Our rounding-to-the-nearest-$100th trick continues to pay dividends :) One of the best habits to get into!
Here's the break down of them:
We can't refinance, but believe me – we want to. Or better yet – offload the thing ;)
Here's the journey of our money over the past year:
Down down down in a burning ring of fire! Should make for a fun graph once things are on the up and up again though :) You need the bumps to appreciate the wins, right?
And here's how our little nuggets are doing… (nothing new added):

And that's August! A little action to make sure we're awake, haha…
How did you do last month? You lose more than $20 Grand like me? I hope so. Means you have a lot more money than I ;)
Remember that it's not a race though. It's fun to look at other people's money and hopefully be inspired by it (like *ahem*, checking out this list of 180 bloggers' net worths!), but at the end of the day the only thing that matters is your OWN situation and whether you're happy with it. If you are, keep on going strong. If not, time for some changes!
(Though do know that some things are within your control, like savings, expenses, etc, while others are not – like when the market crashes/rises. This is exactly why I call August a huge WIN in our household. The stuff we controlled are up (cash/mortgage pay off) and the stuff we don't are down (stock market). Tracking your net worth is much more than just a number in the end.)
By the way, you can see the past 7 years of my net worth here: J's Net Worth Tracker
Here's to a fresh new month!
(Visited 15 times, 1 visits today)
**********
PS:
If you're just getting started in your journey, here are a few good resources to help track your money. Doesn't matter which route you go, just that it ends up sticking!
If you're not a spreadsheet guy like me and prefer something more automated (which is fine, whatever gets you to take action!), you can try your hand with a free Personal Capital account instead.
Personal Capital is a cool tool that connects with your bank & investment accounts to give you an automated way to track your net worth. You'll get a crystal clear picture of how your spending and investments affect your financial goals (early retirement?), and it's super easy to use.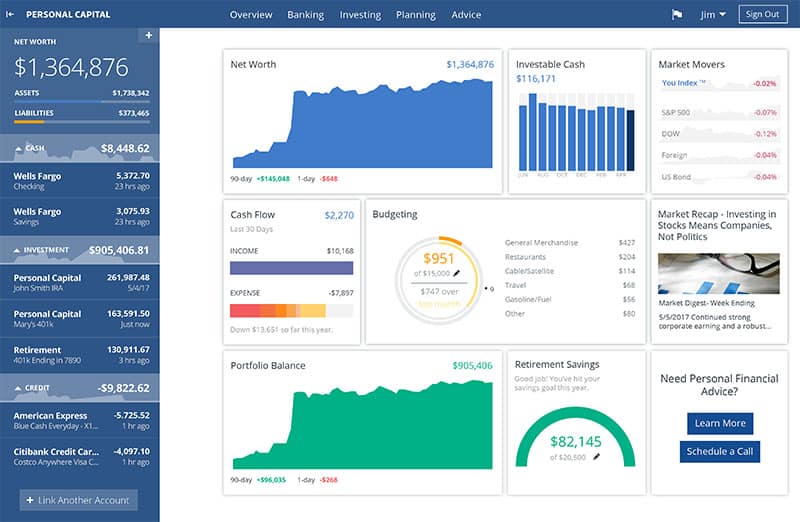 It only takes a couple minutes to set up and you can grab your free account here. They also do a lot of other cool stuff as well which my early retired friend Justin covers in our full review of Personal Capital - check it out here: Why I Use Personal Capital Almost Every Single Day.
(There's also Mint.com too btw which is also free and automated, but its more focused on day-to-day budgeting rather than long-term net worth building)
Get blog posts automatically emailed to you!