Poor people spend their money, and invest what's left.
Rich people invest their money, and spend what's left.

– Jim Rohn
Something tells me we have more rich people reading this today than poor people, am I right? Right? Right??? (In the voice of Ned Ryerson from Ground Hogs Day ;) "Watch out for that first step, it's a dooz-ey!")
A big week for us here in the Money household, friends. For the first time in 2 years we didn't pay a penny to daycare! Woo! My wife's exhausted as hell, but our baby nuggets sure had a great time at home playing with each other and doing all kinds of activities Supermom prepared. And it wasn't too hard working with them around either – though I did have to kill some spiders and play some games in between working :)
This will save us $500 every week for the next while, and will more than make up for the almost $17,000 we spent in daycare alone last year – eek. So life and wallets are good this week over here… And hopefully over in your hood too!
Here's how the rest of our money played out this week:
$13.76 more invested automatically w/ Acorns
$14.29 more saved automatically w/ Digit
$46.00 randomly saved on our electric bill this month? Not sure why that is, but I'm not complaining :) I'm sure it'll be higher now w/ the kids at home more I feel like?
$40.00 more towards the wife's graduation! When I asked her what this one was for, she simply said, "Oh, just another fee – who knows." Which is exactly how it's felt so far wrapping up this degree of hers… Add this to the $150 to walk and receive her diploma, and then the $200+ to RENT her graduation gown, and we're now hovering around the $400 range. What a racket!
But wait, there's more! There's also fees to officially "deposit" her dissertation and if she wants a nice hard copy of them. Mix that with some other fees my wife didn't feel like explaining to me (I don't blame her) and we now tack on an additional $105.39 making our grand total over $500 so far! And emphasis on that "so far." We still have a month or so until she walks down that aisle – hah.
Around the Financial Blogosphere this week…
It seems like there was an e-book party and I wasn't invited :( Two of my good friends came out with some pretty excellent (and cheap) reads, and then one of my favorite people in the world, Cait Flanders,  put out her bad ass budgeting program. Full of motivation and print outs and all! Because not everyone loves managing their $$ on the computer!
Here's a blub on each of them – hope it helps :)
"The Mindful Budgeting Program" by Cait Flanders ($17). This line from her announcement sums it up perfectly to me: "A budgeting app can do some math for you, but it can't ask how you're feeling about the numbers; that's why I created this program." I smiled the entire time checking this out because it's just so POSITIVE and ENCOURAGING. If you still haven't found a budgeting system that works, this could be worth a try :)
Here's what's included with it:
The story of Cait's relationship with money, so you know where she started and can see how it changed as she built these templates and check-ins into her routine
5 x weekly spending sheets with 3 questions to ask yourself at the end of each week
1 x monthly budget template
1 x monthly check-in sheet with 5 questions to ask yourself before you enter a new month
Bonus: 1 x blank monthly calendar template so you can keep track of any important financial dates + have space to write your goals for the month
Her (very detailed) suggestions on how to use each of the templates, and
The link to a closed Facebook group for people who are using the program (a safe space to talk about discoveries you've made and wins that need to be shared).
If it sounds interesting, you can pick it up here: The Mindful Budgeting Program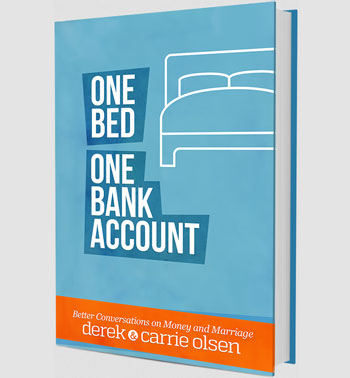 "One Bed, One Bank Account" by Derek & Carrie ($13). Not only a clever book name, but a clever guy/girl combo too :) I spent many a nights sleeping next to Derek last year at our financial blogger's conference (in TWO beds – hah!) and I can tell you he's the real deal. Super sincere, NICE, and just passionate at helping people (mainly couples) get their $$$ on track. He and his wife run the blog, DerekAndCarrie.com, as well as a great podcast on the same topic, and are currently driving across the country with their baby on a killer book tour. Living the dream on their own rules!
Here's more about the book: "Other books on finance obsess over adding and subtracting, but the most important asset has been overlooked:  How to have encouraging, worthwhile conversations about money.  One Bed, One Bank Account delivers hope to married and engaged couples by offering an enjoyable framework for improving financial communication."
You can learn more about it here: One Bed, One Bank Account
"The Dividend Mantra Way" by Jason Fieber ($4.99). Launched on Monday and currently the #1 Best Seller on Amazon right now in stock market investing – way to go Jason! Despite my dabbling in dividend investing earlier this year with Jason's help (I'm currently in 8th place in our little blogger competition), I'm still very much a Vanguard index guy, but I can appreciate the strategy involved here and know a lot of people who swear by dividend'ing (new word).
So if you're one of them, or one who WANTS to be one of them, you can pick up the book here for $4.99 on Amazon, or read more about it on his blog – which I highly recommend regardless. It all goes back to financial freedom in the end no matter how it is you get there.
Financial companies that came across my desk…
Stumbled upon a couple new pretty cool apps/services this week! Especially this first one – have any of you tried 'em out yet? A cool alternative to (or in conjunction with) Craigslist:
Offer Up
— This is a free app where you pretty much snap a picture of something you want to sell, add a title, price, and brief description, and then hit submit and your item goes up for sale in a cool picture gallery to everyone around you! It's Craigslist for the modern age, and a lot easier/quicker to use too – which is saying something :)
Big ups to Jason from DebtDeparture.com for giving me the heads up on these guys… Already submitted a few of the items I haven't been able to offload on CL yet, so we'll see how it goes. This will make my weekly selling mission even easier if enough people in my city use them! (That's the only downfall really – they're so new that the # of people using them, particularly in your area, is a ton less than on CL and the rest… But if they keep taking off it could prove really helpful!)
Fronto
— This is another free app (only for Android so far) which pays you/gives you points to redeem stuff every time you unlock your phone. Which is probably 10,000 times a day :) What do they get in return? They serve you up an ad, coupon, piece of content (like Buzzfeed), and other stuff hoping you'll play along/click/read/etc before you get into your phone. It's actually pretty genius because it integrates something you're already doing tons of times a day anyway, but on the flip side it's pushing even more ads and content in your face possibly causing nausea ;) So you'll either love it or hate it!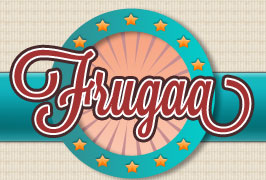 Frugaa — This one is for all you online coupon lovers… I couldn't tell how different it was from the others out there, so I just asked their marketing guy who had sent it to me and he responded as so:
Following are the features that makes Frugaa unique from other coupons sites:

Average savings calculator – one can find great deals & savings after choosing their budget
Frugaa Marketplace – we offer handpicked products at most competitive prices
Frugaa Rewards Program – one can collect points by engaging in various activities (like Tweet, visit & comment on Frugaa etc) on our site & win gift cards
You can go here if you wanna check them out yourself: Frugaa.com. The only thing I made sure they had were Go Daddy coupons since I'm a recovering domain name hoarder :) And sure enough they did, so it covered my short "must have" list – hah.
Some interesting reads I came across this week:
If you like these sorts of articles, you'll want to follow my other site, Rockstar Finance, where we share 3 new gems every day on $$$, biz, and entrepreneurship. People put out some good $hit!
And, lastly, George Carlin on "stuff" :) (NSFW)
See ya back on Monday for more $$$ talk!
——-
For the new readers to the site, every Friday I share the interesting things I come across weekly in money, business, and blogging. The stuff I don't want to dedicate an entire article to, but things I still think can be helpful. I blog about my own thoughts/ideas on $$$ the other days of the week :)
(Visited 20 times, 1 visits today)
Get blog posts automatically emailed to you!