Saw a press release release this morning and almost spit out my coffee:
"2/3 of Millennials Don't Want to Be Millionaires"
Come on! I call shenanigans… Have you ever met anyone who didn't want to be a millionaire? Millennial or not? Of course I had to open up the email and investigate further (way to go PR team!).
Here was the actual findings of the survey it was referencing:
Two thirds (67%) said they would rather have a steady job with a modest income than become a millionaire with a chance of going broke within a few years.
Umm… that's WAY different, haha… but still rather intriguing! This would mean that:
People prefer steady income vs wealth – which is the whole point of income!!
That there are such things as solid jobs and income… True to a degree, but very important to remember that anyone can be laid off at any time regardless!
THAT PEOPLE WOULD BLOW THROUGH A MILLION DOLLARS IN THREE YEARS??!
I'd most certainly fall into the 1/3 that would take my chances at the million :) It's not like you can't go out and get a job within those years. Even if it is crappy/shaky/temporary. You have a million dollars in the bank!!! And I'm pretty sure if you found a way to get it you're smart enough to keep it.
Surveys, hah.
It didn't stop there though. Check out these other nuggets they dropped! All from a Capital One survey of 1,400 millennials, btw, which is a group I'm pretty sure I'm not a part of (born in 1979?) even though I feel like I am. I mean, look at all the gifs in this post! :)
Anyways, here the other findings along with my opinions that no one asked for…
More than half (58%) of Millennials say they would rather post a photo of their paycheck on Instagram than share their Google search history on Facebook (42%).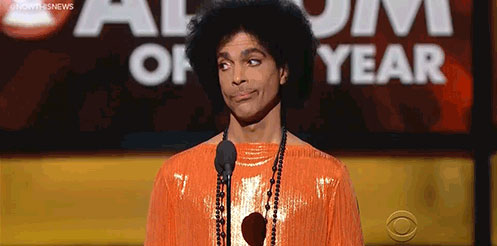 More than one in ten (13%) say being irresponsible with money is a deal breaker for them when it comes to romantic relationships, and even more (14%) say being a money moocher is a deal breaker.
Love trumps money for me, but it would still be a pain in the ass to deal with…
More than a quarter (27%) said that establishing a solid nest egg would give them the biggest feeling of accomplishment.
Agreed. Savings does wonders psychologically!!
When asked what they would do with a $100 cash holiday gift, 40% of Millennials said they would use the cash to increase their savings balance.
Nearly half (45%) of Millennials say they would use Facebook to access and manage their money – significantly more than any of the other leading social media platforms (Instagram, Twitter, and Snapchat).
NO. WAY. IN. HELL. Not only does Facebook depress me every time I'm there, but integrating all that with finances and your social network?? Who are you, financial bloggers? (oh wait)
When asked what would be the first thing they would do if they found an issue with one of their financial accounts at 2 a.m., 43% said they would want to talk to a human being NOW – a response that was significantly higher than the other options.
Haha… that would be nice :) Though I don't like the "need this right now" mentality happening to us as the internet explodes… Drones dropping off packages within 30 mins? Gag me.
Nearly a quarter (21%) say they would opt for a retina scan as a password option to access their financial accounts, and almost one in ten (8%) would choose a series of emojis or bitmojis.
Hahahahaha…. No to emojis, but yes to eye scans! That's gotta be harder to hack, yes? (And no more password remembering!)
When asked to choose their top two financial goals, Millennials made it clear that "Not living paycheck to paycheck" is one of the most important to achieve with 55% choosing that as a top goal. In fact, the top five answer pairings all included "Not living paycheck to paycheck." The top goal pairing, chosen by 17% of Millennials, included "Not living paycheck to paycheck" and "Managing debt (loans, credit cards, etc.)."
A great phase to get out of, no doubt. And one we all need to accomplish at some stage or another! Heck, I've been "paycheck to paycheck" myself a handful of months these last few years during self-employment, if you can believe that. But guess what? Having money stashed away helps keep you going! Remember that question about having a million dollars and less stable income???
Anyways, just a few fun things to think about on this beautiful December morning…
I hope Capital One isn't mad at me for this. While I'm not their #1 fan, I am a 3rd or 4th one as I do happen to use them for all my business needs actually (checking + savings (for taxes)). And I do owe them one for finally raising my phone depositing limit from $5,000/mo to $100,000 – though I'd be in much higher spirits if I had $100 Gs to deposit! :) Still, I'm waiting for USAA or Simple or any other killer financial institutions out there to hurry up and get into the biz checking game already… Their super fans would kill for that!
Oh well, back to dreaming about my millions again… like the millennial I am not.
(Visited 9 times, 1 visits today)
Get blog posts automatically emailed to you!