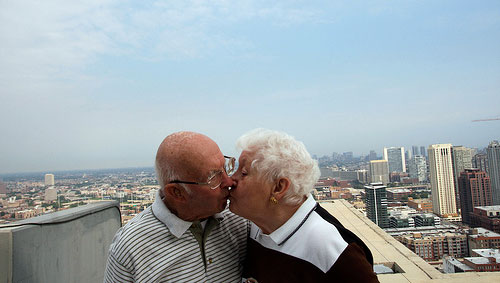 I don't really know how to start this post, other than to say I really miss my grandma. Even though she's been gone for a few months now, I'm constantly reminded of my grandparents w/ all the pictures I have up around the house. Specifically on the top of my drawers – one of the first places I look in the morning when I'm getting changed and putting on the bling ;) I'm a lot more at peace with it now, and incredibly happy she's with grandpa again!, but reality set in a second time when I actually saw that inheritance check come through the mail this weekend. The card was even in her handwriting REALLY stopping me in my tracks.
My grandparents were never rich, but they always wanted to "leave something" with us to help their grandchildren pursue any of our dreams we were constantly cooking up. They had lived a long and very fulfilling life – my grandma being a clothes designer on Madison Avenue back in the day, and my grandpa a member of the Italian Consulate – but the parts I remember most was the incredible love they shared for our family. I have never seen anyone CARE so much for someone as they did – their whole life was about family, and family only, and they always made sure we knew it.
It's funny. I remember being so embarrassed all the time by them growing up a kid – always hugging and loving on us every time they came around, and now no matter how much I want to see them, or just get a quick "I love you more" in our constant battles of affection, it's no longer possible. And no money in the world can bring them back. (Sorry for being so sad – it's all rushing in again :()
They were no strangers to the value of money either. If anyone taught me how far a dollar can stretch, it was them. I remember one day walking into a Goodwill – a place my grandfather had never known about, having been born and raised in Italy – and his eyes lit up like a little kid on Christmas! He was so impressed with me – that I had known the places to go to get the great bargains, and I literally had to stop him from bringing home ten or twelve 3 piece suits he really didn't need! Haha… he couldn't bare to leave such deals behind :) "Do you know how much these cost back in my day??"
But life is what it is, and at some point we all rise up and accept what's next for us. Whether you believe in heaven or not, it's comforting to know that we're all in this together. We're born the same way, and we all pass on the same way – whenever "it's time." What we DO on Earth though is the big difference. I'm constantly asking myself if I'm affecting people in a positive way, or if I'm being too negative and dragging others with me? If I'm hurting them, or leaving behind the values that my grandparents and THEIR grandparents taught to them? These are all questions I think about on days like this. What WE'RE going to leave behind when it's time for us to move on.
So while today's a sad day for us siblings, it's also an opportunity to do something great w/ the money we were blessed to be left with. A not so small $20,000 each (of which my sister plans on using for the purchase of her new home, and my brother to pay off debts and save for his own financial future). Being a dreamer myself, just like my grandma, I'm thinking of investing it back into my business and self-employed lifestyle in hopes of solidifying my future even more. But I'll be taking a little while before I make any definitive plans.
To me, this money is way different than any other $20,000 I have saved or invested into my financial game plan. This money represents 60+ years of hard work and tears over my grandparents' generation – something I can't even begin to fully comprehend. My grandfather always thought I'd grow up to become a banker one day, even before I knew myself I had a passion for money!, but the thing he didn't realize was that I'm way too connected emotionally to stuff than I am for the numbers themselves. This money is much more important to me than all the rest, and I want to make sure I use it wisely and make them proud whichever way I go.
I'll let you know what I decide to do, but for now it'll remain in one spot. The same spot where my beautiful grandparents are – my thoughts. If yours are still living, do me a favor and let them know you appreciate them?
————-
(Photo by – JOE MARINARO. Not my grandparents, but exactly how they were :))
(Visited 254 times, 1 visits today)
Get blog posts automatically emailed to you!