You know what's funny? Our political candidates.
You know what's funny in a GOOD way? Bill Murray :)
(20 mins before show time at The Kennedy Center)
I had a chance to watch him be honored at this year's annual Mark Twain Prize for American Humor sponsored by Capital One (thanks for the tix, guys!), and with all the guest comedians that showed up I hadn't laughed that hard in quite a while.
Jimmy Kimmel was there, along with Bill Hader, Aziz Ansari, David Letterman!!, and Miley Cyrus – who made both a surprise appearance and a surprise flub – forcing her to re-sing her entire act over again which was all kinds of confusing… (though admittedly, she actually had a decent voice!).
After the event, we even caught a glimpse of Mr. Groundhog's Day just feet away:
(Goes right for the food – hah!)
But my favorite part of the evening was when he gave his acceptance speech at the end. He made us laugh throughout, of course, but the focus was actually on how GOOD it is to just be alive and experiencing everything around us. He called it this "little trampoline" inside of us and he got pretty sentimental about it:
"There's this little trampoline that's inside of you that bounces. It's something that makes you care. It makes you care about other people. It makes you care about yourself. It comes to you, it lands in you, and then you bounce it back out to other people. It's always coming to you, and can just keep bouncing it out. Look at each other. Look at who we are. Look at how we are all together here right now. Alive. That's pretty good, right?"
And with the crowd surrounding us that night (I was the only one NOT wearing a tux) the amount of good fortune in the room was pretty evident. Even Aziz Ansari was quick to point out just how not diverse the room was at the event ;)
As fun as the evening was though, this post isn't about Bill Murray or Miley's singing or any of that glitz. It's about getting as much as we can out of life, and using *our finances* to help make it happen.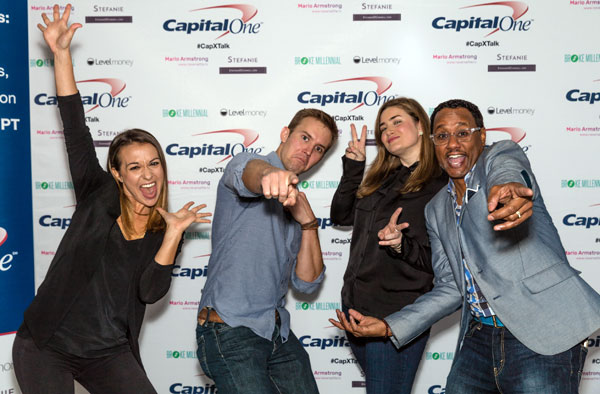 A few weeks earlier a different event held by Capital One occurred – #CapXTalk: Reimagining Finances – and they brought in a bunch of popular millennial bloggers to explore the roles that technology and money play in our day-to-day lives. And particularly, how we should be thinking about it all as companies connect to an ever-changing consumer.
You can see the recorded live stream of it here:
Reimagining Finances: Financial Realities That Inspire
New Ideas, Innovation and Education
There was some great lines in it – mostly coming from other financial bloggers that you know and read too! – and I thought it went perfectly with today's theme:
"We need to not only talk about numbers when it comes to money, but the things that make people happy." – Jake Fuentes
I love this one because it's such a great reminder of what *money* is for at the end of the day: to improve our quality of life. It's a very emotional thing, and the more we talk about what it can buy in terms of happiness, the better. It doesn't always have to be about "stuff" all the time!
(Btw, I had no idea who Jake Fuentes was until now, but I'm really REALLY digging his stuff… He was the founder and CEO of budgeting app, Level Money, if anyone remembers/uses them?)
"I wish I had known to take the risk and invest in myself sooner."
– Erin Lowry
I just got off a Skype session talking to a college class about blogging and building stuff online, and at the end of it the professor (who you may also know!) asked me to give one last piece of advice before I left. I rambled on about a bunch of stuff, but the main focus I kept coming back to was to *take risks now* and work on the stuff you dream about while you're young and don't have to answer to anyone.
Yeah it's not the greatest financial-wise starting out, but if you can a) get used to living on less and b) pour your heart into something you actually *care* about, then the odds go VERY MUCH into your favor that you'll end up finding the income streams as it grows. Entrepreneurship isn't for the faint of heart, but what better time to invest in yourself than right out of school??
(Btw – this can be applied to any of us. Especially those in between jobs, or going through big life changes, or really anyone simply in a rut and wants MORE out of life… Take a (calculated) risk or two and bet on yourself! Who else is worth more?)
"Your income is driven by YOU, not just your employer"
– Stefanie O'Connell
True on SO many levels, and something Stefanie herself exemplifies if any of you know her from her blog, The Broke and The Beautiful Life (or, I guess now rebranded to StefanieOConnell.com). I wish every last person starting out in the workforce – or anyone really – would stop and engrain this into their heads because it's so important! We don't have control over everything, but we have a lot more than we tend to want to acknowledge!
It's no coincidence that the most popular articles on this blog come from our Side Hustle Series. People want to take ownership of their lives, and setting up multiple income streams puts you right on the path of acquiring it! It doesn't matter how, or where, this income comes from so long as it's legal (hah), but the truth is it's all directed by US, and if we don't take control of it no one else will do so for us.
"If you have money to "waste," use it to better
your mental health." – Erin Lowry
I love this so much because it *gives you permission* to spend some of your money, which is something that most financial "experts" rarely promote. But not only that, to do so in a way that's more productive and aligned with your values.
Tim Ferriss of 4 Hour Workweek fame recently made waves with this "wasting money" mentality, but I enjoyed Erin's take on it more over at her blog, BrokeMillennial.com. If it sounds familiar, I also shared it on Rockstar Finance the other week.
But in a nutshell, if you're going to be spending your extra money anyways, why not put it towards better improving your quality of life? Not everything has to be saved or invested all the time – it's okay to re-invest in yourself too.
"Nobody's in charge of this world." – Jake Fuentes
This was my favorite clips of the entire event, and one which Bill Murray himself fiercely believes:
THERE ARE NO RULES!!!!
We make up our own futures and what we can – or can't – do with them, and it's made even easier by living in one of the freest countries of the world. We still have to FIGHT for what we want or else we'll never achieve anything – financially related or not – but the potential we all have is just off the charts.
You combine that with the little trampoline inside of us, and, well, life becomes pretty amazing – and fast :)

*****
PS: I also learned that Capital one will be launching Banking Cafés in the future!!! Can you imagine? Hanging out at a coffee shop that's ALSO a bank?? A nerd's dream, haha… So long as you actually like the bank :) (I use Capital One for all my biz accounts, btw, which is why I'm partnering with them on all this stuff. It's sponsored, but not as random as it looks!)
(Visited 6 times, 1 visits today)
Get blog posts automatically emailed to you!