It occurred to us late in the game here that we still didn't have a Halloween costume for Baby Money. Not that he was really going to participate all that much (or remember, for that matter), but it's still nice to get in the festive spirit for family and friends, and especially photos ;)
I will never get this beautiful image out of my mind from last year! Haha… The perfect blackmail photo for when he's older ;)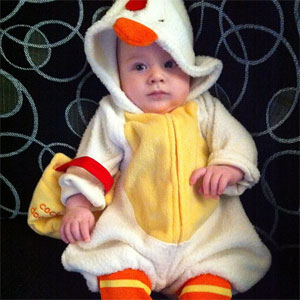 So as any good parents do, we rushed our little guy to Kohls yesterday to see what types of bargains – if any – there might be. And to our surprise we found two costume ideas on the semi-cheap!
That dinosaur looking getup above. $20 (On sale from $35 I wanna say). We both thought that was a decent price to pay for such an elaborate looking suit, but then the wife made the good point that he's only going to be wearing it ONCE. So why pay for such a small usage when you'll just have to donate it – or worse, find room for it in your closets! – soon after? That led us to keep looking and find the following:
Skeleton hoodie! $10! I was sold on this in a heart beat – we can go as Dad & Son skeletons since I have my own similar shirt! The wife, however, was not nearly as impressed ;) "I hate skeletons – I don't know why they're so trendy these days, ugh…"  "Yes, but honey – it's only half the cost! Annnnd he can then use it all winter long and be one of the cool kids on the block! Just like his daddy!" Wife: "Yeah yeah, fine… you know you're only cool in your head though, right?"
And just like that we had our next baby costume :) I can't tell you how excited I am to show him off all day and night tonight, haha… It glows in the dark too – If that's not cool, what is?? (Wait, what's that? glow-in-the-dark went out in the 80's? DAMN!)
So for any other slackers out there, try hitting up Kohls or Target or even TJ Maxx today on your lunch hour and see what types of goodies you can snag for your babies/kids. A lot of stuff is on sale right now since Halloween is now here and almost over, so for once it'll pay to procrastinate ;) And not much, for that matter too (bah dum-ching).
If buying stuff isn't your style – or you don't want to wear baby costumes (hah!) – try some of these other ideas I've nabbed from earlier posts and around the web this week. I've plucked out the most clever ones for you :)
Cheap Halloween Costumes for Adults:
Christmas Tree – My all-time favorite costume ever: Wear all green, wrap yourself in Christmas lights, and then plug yourself into the wall :) Done and done!
The Tanning Bed – Tape glow-sticks up and down your arms. Then go around the party, entrapping people in your embrace: Instant tanning bed.
Static Cling – Wear normal clothes and safety pin socks and lint to it! (Good one, @meimur)
Pinterest board! Dress in all white, then hang a cork board around you with pictures of cute houses, tattoos, book cases and anything else people like pinning all over the place tacked to it ;)
Random Hook-up – Drape a lot of random colored extension cords around you :)
Smarty Pants – Tape smarties candies to your pants – SMARTY PANTS!
Chick magnet – Tape a bunch of Barbie dolls to yourself. Or use pictures of hot girls!
Freddy Krueger/Wolverine – Just put silverware on your fingers!
Gold digger – Wear a shiny gold dress and bring a shovel.
Martini Glass – Saran wrap your body for the "stem," put on one of those big medical dog collars for the "glass" part, and then put green tights around your head for the olives ;)
You… With a Mustache – find one of those mustaches on a stick, and voila! (via Wisebread)
Cheap Halloween Costumes for Kids:
Kid Robot: All you need is boxes & sharpies :)

Stuffed Animal: You know those huge stuffed animals you win at a carnival or fair? Take out all the stuffing, poke holes in it, then let your kid wear the outer shell! Haha…
Athlete: Have a kid who plays a sport? Let them wear that uniform you paid a lot of money to own or rent/lease for the season ;)
Here are more last minute Halloween ideas from my blog: 40 Cheap & Last Minute Halloween Costumes. And then here are some more ideas off Pinterest too, for both kids and adults (though it also means you need to be really crafty too ;)): Clever Halloween Ideas
Anyone already know what they're going as this year? Which, should be like 99% of you since you're better planners than us? ;)
I'm pretty excited to finally be something *else* other than a rock star for once, haha… That's always my fall-back (lazy) idea, since it only requires some guyliner, nail polish, and maybe some fancy boots ;) Ooh, but maybe I can still find a way to rock those too? Do skeletons wear snake-skin boots? Could I be a *dead* cowboy who happens to don a mohawk too? YES!!! Haha… That's the ticket!
*Scurries away to go find them*
(Visited 51 times, 1 visits today)
Get blog posts automatically emailed to you!