The bad news that just keeps on coming, jeez…
Half of which is out of my control, and the other half I'm trying to KEEP in my control.  Though obviously not as well as I'd been wanting… I'm just glad I'm so freakin' positive or I'd be going on a major rampage right now! ;)
Lots of different variables came into play last month, but the majority of them fell into these three categories:
I didn't store enough aside for this last quarterly tax period
We're no longer getting our 2nd income of $1,300/mo
Our house went down in value by $15,000
Now we already talked about #3 there yesterday, and how that's pretty much out of my control so I'm not gonna dwell on that one anymore, but #1 is most CERTAINLY my fault and caught me off guard.  I don't know how many of you pay your taxes quarterly, but for those who don't know they aren't spread out evenly across the year like you'd think every 3 months. Instead, they're a bit funky and the first two of the year are due on April 17th and June 15th – two months apart. Now over the year it works out perfectly fine and other payments cover 4 months instead of 3, but the part where I went wrong this month was that I didn't account for the quicker tax payment in June forgetting that it wasn't in July (and thus, not setting aside the appropriate money – which I don't include in my net worth updates). So long story short, I had to front myself the $2,675.00 that was missing which pretty much accounts for the $2,500+ loss in cash you see up above. I've def. learned my lesson ;)
And then to top it all off, of course, we're now living on a one paycheck budget. No longer bringing in the $1,300 each month like we used to when the Mrs. was working for her school. I'm not sure how drastic or not this will change things in the very near future, but seeing these numbers definitely helps make it all more "real." And as a finance guy (or any guy, really?), it's never fun to start losing streams of income when you're working so hard to do the opposite
I just gotta keep reminding myself that it's all just a phase right now, and sooner or later we'll be back on track and ready to start seeing tons more growth again.  I've got faith!!
Here's How The Rest Played Out in More Detail:
CASH SAVINGS (-$2,580.48): Nothing much to say again other than *vomit*. And that I'm an idiot for messing up tax stuff this quarter :( I've also decided that I need to step back a bit and re-assess how we're managing all of this stuff again. So many new things have come into play since our last budget reorganization and goal/dream planning, that we gotta get back in there and make the appropriate changes – whatever that ends up being.  Look for some new posts on it all soon :)
EMERGENCY FUND ($0.00): My goal was to start upping this back to the $10,000 mark, but due to obvious reasons it didn't happen this month.  I'm 99% sure we'll be scrapping this department altogether though and just keeping one major savings account that houses ALL of our cash instead of having it divided all over creation.  It'll be another thing that we talk about in our future "get our $hit together" plan.  I think it'll streamline things a LOT.
PHYSICAL GOLD ($33.40): Of course this is the only area going up ;) I think I'm done trying to figure out gold for the time being, haha… and I'm still REALLY really wanting to pick up some of that old silver scrap too for the metals collection here, but that'll have to wait until we get this ship all fixed and straightened up. I can't wait!
IRA: SEP (-$912.56): A lot better than last month's $2,000 loss, but nothing to write home about just yet… it'll be back up again later on.
IRA: ROTH(s) (-$38.22): Same here, nothing new to report really.
IRA: TRADITIONAL(s) (-$51.26): Last month we lost $10,000 here, so I'm not gonna front about the $50 bucks ;)  And just like the others, it'll all go up eventually and make us all very happy campers… Stay tuned for our 1-year wrap up of our IRA Game though! I think I'm tired of having my main portfolio of investments there split into 3 like that… it's pretty obvious which account is crushing the others, so we'll be making a final decision on that here shortly.
IRA #1 (NOT Managed): $58,366.96 **Still the leader

IRA #2 (Managed, USAA funds): $56,501.78
IRA #3 (Managed, ALL funds): $56,800.22

AUTOS WORTH (kbb) ($807.00): Oh jeez… last month we lose $800, and this month we get it back?  Car stuff is silly… or maybe KBB is, but I still love 'em ;) And just like with our house's value, none of this stuff really matters until you go to SELL them.
Pimp Daddy Caddy: $2,115.00
Gas Ticklin' Toyota: $9,427.00
HOME VALUE (Realtor) (-$15,000.00): The biggest change since our house dropped $60k 3 years ago. To see my complete thoughts on this one, check out the post I did on it yesterday: I hate home ownership (it's true). The only positive thing here is that at least we now KNOW 100% what we're dealing with, which makes future planning a lot easier.
MORTGAGES (-$1,212.52): I took y'all's advice and cut myself some slack from the hardcore house payments I've been doing every month for almost a year now.  Instead of the $2,000 extra this round, I only paid off around $700 or $800 and took it easy… it was REALLY hard to do it, but with all the cash issues lately, and my stress levels going up higher than normal, it was definitely the right move for me… and now we'll try getting back on track again :)
And that about wraps it up… Not the prettiest of months I'm sad to say, but a huge reality check to stop us in our tracks and get a new game plan going on here. Just like everyone else, I can get stuck in MY head too and blissfully ignore the factual numbers being presented to me over time…  I knew things weren't going 100% as planned, but my goodness did I need to be shaken up! Just goes to show how important paying attention to all this stuff is, and that tracking it gives you the *proof* you need to see your financial reality!
Hope you guys did a lot better than I did last month :) Here's to a redempful July!


———————
PS: Thinking of creating a new site called BudgetsAreHard.com, who's with me?
(Visited 18 times, 1 visits today)
**********
PS:
If you're just getting started in your journey, here are a few good resources to help track your money. Doesn't matter which route you go, just that it ends up sticking!
If you're not a spreadsheet guy like me and prefer something more automated (which is fine, whatever gets you to take action!), you can try your hand with a free Personal Capital account instead.
Personal Capital is a cool tool that connects with your bank & investment accounts to give you an automated way to track your net worth. You'll get a crystal clear picture of how your spending and investments affect your financial goals (early retirement?), and it's super easy to use.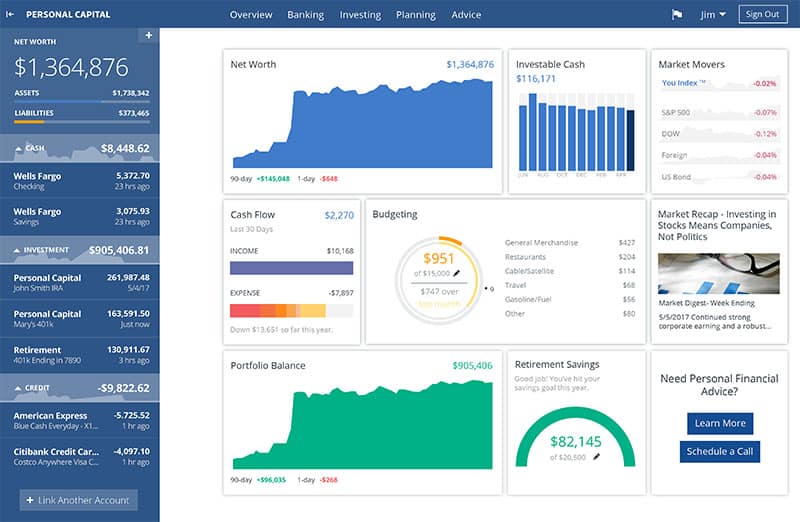 It only takes a couple minutes to set up and you can grab your free account here. They also do a lot of other cool stuff as well which my early retired friend Justin covers in our full review of Personal Capital - check it out here: Why I Use Personal Capital Almost Every Single Day.
(There's also Mint.com too btw which is also free and automated, but its more focused on day-to-day budgeting rather than long-term net worth building)
Get blog posts automatically emailed to you!