INSIDE: Ever wondered what it would be like to open a thrift store? I did, so I did a little research. Here, you'll learn what you need to get started, tips on where to get merchandise, and more.
The last few weeks I've been thinking a LOT about opening up my own antique/thrift store some time in the near future. I don't know what's been getting into me lately (I think this baby not coming out is driving me crazy!), but at this moment I'm totally and utterly OBSESSED with figuring out how it all works. Even though I'm 99.9% sure I wouldn't be good at it ;)
It all started the other week when we went to the beach. We drove by this awesomely old house for sale in this quaint little town, and on the property right next to it was a barn converted into some sort of antique shop.  I thought to myself, "How bad ass would THAT be? Own an old home in the countryside and then set up shop 10 feet away with your own store? That would be tight!" I even came up with a mental list of all the reasons why I should do it.
Pros to Owning Your Own Thrift Store
It would be FUN!
I'd get first dibs on all the best deals out there
I'd never know what kind of treasures I'd find in any day
I could sell all my own stuff SUPER easier and faster ;)
It's a fun adventure and a dream to cross off the list.
I'd get proficient in a totally new business.
I'd learn the ins and outs of selling stuff online, like on eBay (which I'd do concurrently from selling in the physical store)
I'd meet an entirely NEW set of people! (Buyers, auctioneers, collectors – an entire community)
I'd make a lot of money! Probably not as much as I'd want, but enough to make it worth it.
I didn't think about it too much following the trip, but every weekend that passed got me thinking again.  I'd been going to yard sales and flea markets like CRAZY lately, and every time I stepped into one of them the idea of owning my own shop would pop right back into memory again.  Especially this last Friday when I came across some killer deals at our local thrift store. I had no need to pick any of them up for myself (one being a 1948 old Singer sewing machine w/ table in perfect condition!), but I kept thinking that if I had my own shop I could totally scoop 'em up and then double – or even triple – the price to flip a profit! And it would be exhilarating finding all those bargains too!
The next morning I set out again to hit up my routine flea markets and yard sales I'd pass along the way, except this time I pretended I already had my own place :) I learned that if I did that sometimes, I can get a better sense of what it would be like "in the real world" if I were to ever really pursue the dream.  Kinda like how I did before blogging full-time: I'd wake up some work days and pretend all I had to do that day was blog and keep up with the business to gauge how I'd truly feel about it. If I got excited right off the bat, I'd know it was a dream worth fighting for!  And if I instinctively cringed, well, it probably meant that it wasn't the best of ideas.
Tips on Where to Get Your Merchandise
So I step into the community flea market where about 30 different people have their own square areas to hawk their goods, and the entire time I'm walking around thinking "What should I pick up for my store today?."  Right off the bat I was excited!! It sounds silly, but again – it works.  So much so that THIS time I actually say my dreams out loud! haha…

I come across this guy who was selling a few old baseball cards and antiques outside of his van, and we randomly start up a conversation. I had told him it had been years since I've collected these kinds of things myself, but I want to "get back into the game" now, and I was kinda sorta thinking of opening up my own shop in the future. Coincidentally enough, he was too! In fact, he'd been collecting stuff like crazy over the past year and a half, and was moving onto the next item on his list of finding that perfect real estate.  All at the ripe age of 52 :)
(If you've ever seen the movie Larry Crowne, this guy was exactly like the character Cedric the Entertainer played – feisty, boisterous, and had no problem selling you anything and everything he could possibly get his hands on!  He was literally selling his kid's artwork they had made 20 years when they were 5 :) Only this guy didn't set up shop on his front lawn all year long like in the movies.)

Anyways, we got along swimmingly the second we started chatting and I quickly picked his brain on how he got to this point (and what he actually *does* on a daily basis) to see if it's something I'd indeed enjoy doing. Right there in the sweltering 97 degree heat at 8:30 in the morning. This is what he shared with me:
He hits up all local auctions
He hits up as many yard sales, flea markets and thrift stores as he can (buying and selling)
He participates in all storage auctions around town (just like in Storage Wars!!)
He partners up with other dealers looking for certain items and then goes searching for them
He researches all values online, and then compares them to things up for sale on eBay to get a better idea on how much they're worth on the free market
And he tells everyone to come to him FIRST when they're looking to sell something – even if they think it's crap – because there's a good chance he could find a buyer for it.
So pretty much he shops all week to get enough inventory going, all the while grabbing the best deals before any others can get to them.  A lot of work requiring a lot of time. Regardless, this guy knew what he was doing and unknowingly became my official role model ;)  We exchanged names and info at the end of our convo, and I promised him I'd return the favor sometime down the road. I asked him for one last tip before we exchanged info and went our separate ways, and he quickly shot back: not starting sooner.  The answer you usually get when you know you're on the right track with something :)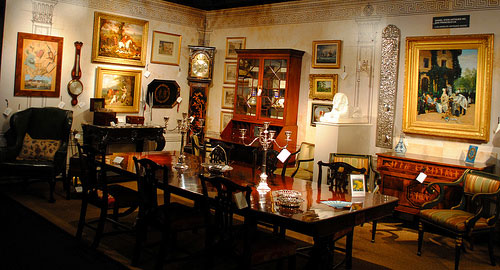 Open a Thrift Store: What You Need To Get Started
Now, I'm in a totally different place than this guy who's officially retired and running his business halfway to keep busy and halfway to strike it rich, BUT, it also doesn't seem that far fetched either. As long as you were committed to it and willing to put in the hours it would take to make it fully successful. Well, that and having some good business sense :)  But I'd like to think I'm somewhat above average in that department with my track record?
Either way, as soon as I got home from the flea market I jumped on the computer and started doing more research.  In particular, I Googled "how to start a thrift store" to see what that would result.  And BOY did it stop me in my tracks! Here were a few of the things that I hadn't really considered yet, even though they totally make sense:
You need a business plan
You need a license for the business, and probably insurance too
You need to find a location visible to both foot AND car traffic, which is also affordable!
You need adequate parking, as well as signage
You have to figure out how to market your store properly
And how to keep track of all that inventory
Along with systems for bookkeeping and accepting money
And of course, shelving and other display case stuff to showcase all your goodies
Reading all that pretty much sealed the deal for me. I don't know anything about owning retail shops, what the hell am I thinking?? Just because I can run things online doesn't mean it would necessarily transfer over into the "real world." And what about my hatred for owning property?  Or wanting to be more minimalist? Haha… It's amazing how things change the moment you start getting more serious and do a little research.
Alternatives to Starting a Shop From Scratch
I called up my mom shortly there after and asked her what SHE thought of this whole idea. After all, it's because of her that I love this kinda stuff!  We grew up yard saling and going to local auctions every single weekend. Plus, she actually has experience selling stuff in stores too – doing it on and off while we were in school to make some extra money.
She loved the idea as much as I did, but offered a little more insight:
If I was out looking for good deals and buying stuff all the time, who would run the store?
And what happens if I can't pay rent or the mortgage?
Have I ever thought of partnering up with anyone?
What about buying a store already in business?
What if I started out flipping things on eBay instead first?
Or putting things on consignment at an already established shop?
Or even renting out a booth at the stores that offer that kind of partnership?
All great things to consider for sure, and it pretty much cemented the fact that I should NOT be trying at all to start a store from scratch. Especially since I haven't dipped my toes outside of doing a little shopping here and there (or again, having ANY experience whatsoever managing a retail store!). My mom firmly agreed, and told me that if I poured my heart into it and really got a better understanding of it all, she'd consider partnering up with me in the future and running it together as a family store :)  That made me happy. Even if she's assuming I'd never make it to that point, haha…
So all of this to say I started thinking of opening up my own antiques/thrift store, but I still have a long way to go if I ever want to make it a reality. As awesome as it sounds, it's not something you can easily do overnight. So I'll continue learning and giving it more thought over the next few years as time passes, and in the meantime I'll keep doing what I know best: finding good deals for myself and dreaming up the next venture :) I already pretend I own my own shop anyways, so at least I've got the fun part down!
—————-
(Photo by newagecrap, and Deidre Woollard)
(Visited 219 times, 1 visits today)
Get blog posts automatically emailed to you!