Would you pick one up in the middle of a street?
How about in a pile of trash?
Would you pick one up off a bathroom toilet?
The other day I was bored at a coffee shop so I decided to find out :)
I went into the men's room, whipped out my load (of bills), and then strategically placed a beautiful George Washington in perfect view for the next lucky gentleman.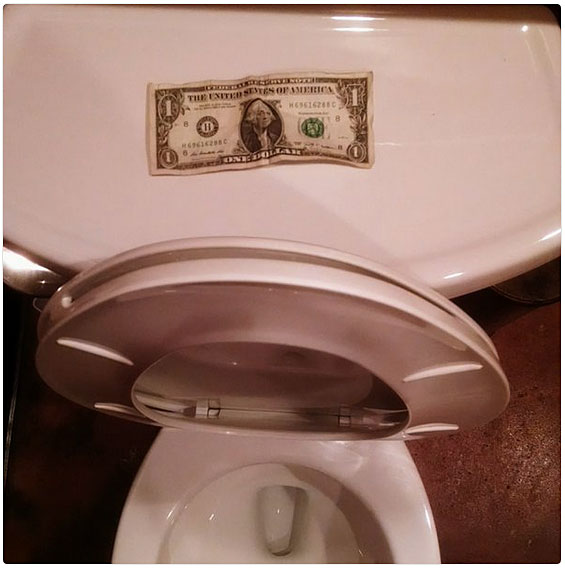 "How long would it take for someone to grab it?" I wondered.
"Would they think it was a prank?"
"Would they know it's real money?"
"Would anyone track it back to me and make a scene in front of the entire cafe?"
I had a lot of questions, but unfortunately only one answer: 48 minutes.
That's how long it took for it to disappear – give or take 20 minutes of looking away and trying not to draw too much attention to myself ;)
I wasn't able to pinpoint the new owner of this free dollar bill, but I'd like to think it gave him an extra bounce in his step and plenty of commentary to share on his Facebook page.
In fact, we had no small shortage of it either as I was live-tweeting and facebooking it myself:
"Are you going to stand on the toilet in the other stall and watch until someone takes it?"

"You should have soaked a 10 in some water and stuck it to the back of the toilet to make people think hard about it."

"Tell me the address – I'll pick it up!"

"Silver dollars in the urinal would be better."

"I wouldn't touch it… no telling what the sick person who put it there was thinking! ;)"
But the fact of the matter was that it was FREE money sitting there for the taking! And while we usually only find change on the ground – and pennies at that – we all know that this $hit adds up.
Just last week I tallied up my spare change and had a little over $105.00 saved up. This beating my previous records of $101.62 (back in 2008), $84.76 (2011), $76.48 (2010), and then a far cry behind that time I cashed in $901.54 (2013) when I kinda sorta cheated. And let's not forget the $22.67 I found simply by scooping up cast away money on the ground during our Challenge Everything mission either – including a $20 bill!
So is it worth taking a hot second to pick up FREE money littered around? You bet it is.  Is it worth getting a little dirty/germy in the process? Well, only you know the answer to that :)
Just know that it all adds up, and if anyone wants to prank me the next time you're around, you can bet I'll fall for it every single time… although I get quite paranoid in the process.
(I once found a ziploc bag stuffed with dollar bills in the middle of an empty parking lot, and could have sworn someone was gonna come after me for it! But I took the chance 'cuz there was like $85 in it!)
Happy Monday Money!

******
PS: The next experiment: slipping a $5.00 bill in dog poop.
(Visited 15 times, 1 visits today)
Get blog posts automatically emailed to you!