It's the grand finale of our week-long $$$ book giveaway!! AHHH!

Been a lot of work putting all this together, not gonna lie, but man does it feel good knowing they're all finally going into the world again and helping… And remember you can find most of these books fairly easily at your local library too!! So even if you haven't won any of them yet, hopefully they've given you some good ideas for future reading :)
(And I'll have to let you know when the real Money Library makes its debut down the line, but for now we're happy to just be able to test it a bit and see what happens when they go into circulation! It'll be cool to see how far and wide they travel as they're all passed forward!)
Before we get to today's grand finale though, a quick shout to the winner of yesterday's career & productivity books which we hope pushes her career forward: Lynn Telford! Congrats Lynn!! I'll be dropping all these books in the mail shortly for everyone!
Now to the main event!!! 12 new $$$ books to give out, separated in three different packages:
Another Pf Classics bundle
An "Adulting" package (aka for those in their 20s and 30s just starting out in their journeys)
And my personal favorite – all the books you need to start collecting coins :)
You can only win one of these today, so check them out and see which one excites you the most!
GO GO GO!
Book Bundle #1: PF Classics Round II!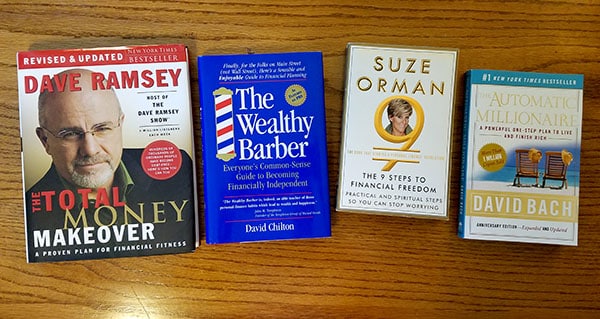 Round two of our "classics" giveaways, this time including a plethora of other popular $$$ gurus over the years… Of which you'll probably love or hate as there seems to be no middle grounds with these guys ;) Still solid content though!
********
The Total Money Makeover by Dave Ramsey — "The success stories speak for themselves in this book from money maestro Dave Ramsey. Instead of promising the normal dose of quick fixes, Ramsey offers a bold, no-nonsense approach to money matters, providing not only the how-to but also a grounded and uplifting hope for getting out of debt and achieving total financial health."
The Wealthy Barber by David Chilton — "In [one] of the biggest-selling financial-planning books ever, David Chilton simplifies the complex puzzles of personal finance and helps you achieve financial independence. With the help of his fictional barber, Roy, and a large dose of humor, Chilton shows you how to take control of your financial future–slowly, steadily, and with sure success. Chilton's plan (detailed in an entertaining story) is no get-rich-quick scheme, but it does make financial independence possible on nothing more than an average salary."
The 9 Steps to Financial Freedom by Suze Orman — "In nine simple steps, you'll learn all you need to know to be responsible with and respectful of the money you have and the money you don't have. Embrace Suze's groundbreaking philosophy—that you are worth more than your money—and understand the true meaning of wealth so you can live a life without regrets."
The Automatic Millionaire, by David Bach — "The Automatic Millionaire starts with the powerful story of an average American couple whose joint income never exceeds $55,000 a year, yet who somehow manage to own two homes debt-free, put two kids through college, and retire at 55 with more than $1 million in savings. Through their story you'll learn the surprising fact that you cannot get rich with a budget! You have to have a plan to pay yourself first that is totally automatic, a plan that will automatically secure your future and pay for your present."
Book Bundle #2: The Adulting Package 😁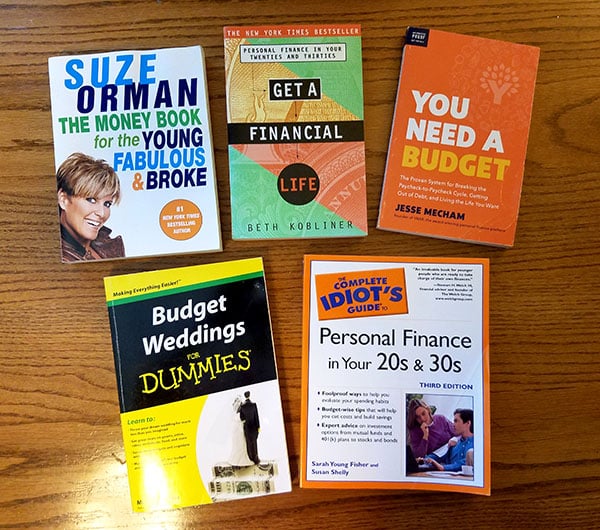 For all those in their 20s and 30s and starting this beautiful financial journey!! Or anyone else for that matter who needs to go back to the basics with this stuff… No shame in that! Most of these are pretty old, but I did slip a newer one into the mix – can you spot it? ;)
********
The Money Book for the Young, Fabulous & Broke by Suze Orman — "[This] book was written to address the specific financial reality that faces young people today and offers a set of real, not impossible solutions to the problems at hand and the problems ahead. Concisely, pragmatically, and without a whiff of condescension, Suze Orman tells her young, fabulous & broke readers precisely what actions to take and why."
Get a Financial Life by Beth Kobliner — "For two decades, Beth Kobliner's bestseller has been the financial bible for people in their twenties and thirties. With her down-to-earth style, she has taught them how to get out of debt, learn to save, and invest for their futures… From tackling taxes to boosting credit scores, Get a Financial Life can show those just starting out how to decrease their debt, avoid common money mistakes, and navigate the world of personal finance in today's ever-changing landscape."
You Need a Budget by Jesse Mecham — "Experience a life free of financial stress and transform your relationship to money with this indispensable guide—the first book based on You Need A Budget's proven method that has helped hundreds of thousands of people break the paycheck to paycheck cycle, get out of debt, and live the life they want to live… Jesse Mecham will fundamentally change the way you think about your money and what it can do for you. His proven method—four, simple rules—will transform money management from a paralyzing burden to a powerful tool, putting you in total control of your life:"
Budget Weddings For Dummies by Meg Schneider — "Inside you'll find tons of tips and advice for planning a budget-friendly celebration while still remaining true to your personality, values, and tastes. You'll see how to make and keep your wedding budget; select the most economical time to get married; scope out wedding locations that fit the bill; and incorporate everything from economical to green ideas that emphasize style and elegance. Plus, you get tips and pointers for negotiating with vendors and avoiding hidden expenses and add-ons."
The Complete Idiot's Guide To Personal Finance in Your 20s and 30s by Sarah Young Fisher and Susan Shelly  — "Idiot's Guides: Personal Finance in Your 20s and 30s, explains all the basic information you need to get started in life and plan for your future. You'll learn how to manage all aspects of your personal finances, as well as enhance your financial plan to yield better returns on your investments."
Book Bundle #3: Coin Collecting Starter Package!
Last but not least – the perfect books for anyone interested in starting a coin collecting hobby!! My personal favorite! The first and third books are great for wrapping your head around it all and getting some good background on the hobby, but that middle book – The "Red Book" – is the go-to one that you'll use a majority of your collecting days. Along with this one that I didn't have a spare copy of unfortunately – "Grading Coins By Photographs " – which you can pick up if you find you're addicted ;) It's a really fun hobby, and great for getting kids involved with too! You learn so much about history!
********
Coin Collecting For Dummies by Neil S. Berman and Ron Guth — "This hands-on guide escorts you through the world's oldest hobby, helping you decide which type of coins you want to collect, keep your collection in mint condition, buy and sell coins on the Internet, find interesting coin shows to attend, and assemble and diversify a great collection… You'll learn what coins can teach you about history and geography, develop organizational and observational skills, and learn to use analytical tools, all without event thinking about it. And you'll learn the basics about ancient coins, U.S. coins, world coins, and the wild-and-wooly stuff that really gets your numismatic juices flowing."
2018 Official Red Book of United States Coins by R. S. Yeoman and Kenneth Bressett — "The Official Red Book: A Guide Book of United States Coins is 72 years young and going strong. Collectors around the country love the book's grade-by-grade values, auction records, historical background, detailed specifications, high-resolution photographs, and accurate mintage data. How rare are your coins? How much are they worth? The Red Book tells you, covering everything from early colonial copper tokens to hefty Old West silver dollars and dazzling gold coins. You'll find 32,500 prices for more than 7,600 coins, tokens, medals, sets, and other collectibles. Articles on investing, grading coins, and detecting counterfeits will make you a savvy collector; and entertaining essays on the history of American coinage, shipwrecks and hoards, and the modern rare-coin market give you an inside look at "the hobby of kings.""
Whitman Insider Guide: Smart Coin Collecting by Q. David Bowers — "In The Whitman Insider Guide to Smart Coin Collecting, you will gain insight on the four steps to building a great collection, coin by coin. You will learn how to avoid counterfeits and other traps hidden in the marketplace. There are chapters on coin storage, cleaning, and more. Reading and absorbing this "little book with big value," you will begin your journey to joining the ranks of John Jay Pittman, Harry W. Bass, Louis Eliasberg, and other smart collectors-all of whose stories are told inside."
***Links and bios above are from Amazon, and point to the latest updated books – not necessarily the exact editions being given away today which you can see in the pics. Also – links are affiliate links.***
Want any of these packages? Make sure you're subscribed to our newsletter, and then answer the following question:
Which package do you want, and why? You can only pick one :)
Drop your answers below, and we'll announce the 3 winners in Monday's upcoming post to wrap up the whole week. Remember to get your entries in by 5pm EST *TODAY* though for them to count! As well as having a U.S. address so it doesn't cost more to ship them than they're worth :)
But above all – remember to PASS THESE FORWARD when you're done reading them so they continue to help your fellow $$$ lovers!
My Library dream may have been put on pause, but every little bit of sharing helps… And I thank you so very much for continuing to read my blog over the years and sharing all of your tips and experiences with me as well!
We really do have a great community here, and I'm so thankful to be included in it.
<< UPDATE: Giveaway now over! Winners will be announced Monday morning :) >>
(Visited 6 times, 1 visits today)
Get blog posts automatically emailed to you!