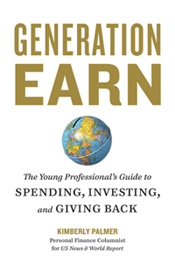 Hey guys! One of my new real-life friends (I can call her that now that we've had coffee together! haha…), Kimberly Palmer, of WTOP News & Alpha Consumer blog on U.S. News & World Report, just came out with an awesome new book.
It's called Generation Earn: The Young Professional's Guide to Spending, Investing, and Giving Back , and she was kind enough to send us 3 copies to give out today! Wooooo! Here's what Publisher's Weekly said about it:
"[Kim] gives a comprehensive overview of the basics of financial literacy, including defining financial goals, weighing a traditional job vs. entrepreneurship, saving for retirement, voluntary simplicity, the effect that marriage and children can have on your finances, and how to prioritize charitable giving even on a tight budget."
And here's a great snippet from her book – which shows exactly WHY tracking your money, even just once, is so important!  And why I bet people don't like to do it (cuz it's scary!!! Haha….) Check it:
Lessons From a Spending Diary
The first time I began keeping a spending diary, I was skeptical. I thought I already knew my weak spots– bottles of wine, taxis, and sushi.
I was wrong. The first day, I spent $136 on groceries and $60 on a new pillow. Monday through Thursday, I bought three cappuccinos, subway rides, and one lunch–pretty standard. But then, on Friday and Saturday, my husband and I spend $54 on a casual dinner and then $80 on a dinner out with friends. So we spent $134 in restaurants in one weekend without even thinking about it. Shortly after, we started eating out only one night a week, and I felt better about my weekday spending.
We also used the concept of a spending diary when we were trying to decide whether or not to buy a new flat-screen television, something my husband really wanted. At first, the splurge seemed overly indulgent to me; I didn't want to part with such a big chunk of money at once. After reviewing each of our spending patterns, we realized that my luxuries tend to be small, daily ones (such as those coffees and taxi rides). Similarly, I buy relatively inexpensive clothes on a somewhat regular basis.
But Sujay doesn't spend much during the workday, and he rarely buys new clothes, preferring to make rare but larger purchases of pricier items, such as a new suit or shoes. So, we ended up deciding that spending so much on something he really wanted was fair, since it was balanced out by my more frequent, smaller purchases. Besides, I was getting a new television, too.
Want your own copy of Generation Earn?
Tell us a time when YOU tried tracking your spending — either for a day or for a year! — and what you ended up finding out.  The first time I did this I realized I was spending a $hit load on alcohol!  Like, $300+ a month – it was crazy.  Now I've limited myself to just $299 ;) haha…. j/k. Sort of.
If you've never tracked it before, pull up your checking account or credit card bill right now and find something to share with us – that'll work too. (although I won't believe you that you've never tried to track it before, even if you've failed!).  Drop it in the comments, and I'll pick the THREE lucky winners this Sunday Night before the stroke of midnight. I think you guys will enjoy this one…
————-
PS: More info from Amazon: Generation Earn: The Young Professional's Guide to Spending, Investing, and Giving Back
———-
*GIVEAWAY OVER*
The 3 lucky winners are…. Chung L, Alex Beszterda and Briana @ GBR. Congrats guys!!!
(Visited 3 times, 1 visits today)
Get blog posts automatically emailed to you!