As much as I'd like to say my insane frugalness and expert investment wizardry pumped me up this round, the actual truth is a little less interesting ;)
Between logistical 401k nightmares, HELOC freezings, and lump sum tax credits, things should be nice and settled for the most part going forward.
Although if i continue on with all my personal challenges, look for additional $200+ savings each month! I just hope i can do it, it seriously takes some due diligence. Below is a quick summary of everything that occurred this last month to produce a most sexcellent month of net increase.
Cash Savings: All I can say is THANK HOTNESS for tax season! At the beginning of the month this category took a massive nosedive and was put in stage 4 alert w/ only $12.12!!! My cash was locked into our Heloc and when it froze i lost all access to it :( i cried a bit, but am now over it. haha…. So, 90% of this increase can be attributed to the gov't credits, $500 of it to the stash of cash in my safe @ home in case of super emergencies (hey, ya never know!), $250 of it from bonds my mom gave to me circa 1980! (i will share more later), and $10.10 from my dollar a day challenge.
Roth IRA: Nothing new here…still at the mercy of the markets. I'm not planning on funding this any more until my Emergency Fund is back up to par.
401k: This had, and will have, the biggest changes over the next month or so until all my deposits are 100% in my account. We've been having a few logistic problems w/ our account manager, so not all my contributions (nor matches) are actually accounted for as yet. Not to worry though (more a soothing message for myself, than for you :)) as this should clear up over the next few weeks. Fingers crossed!
Condo Investment: Steady as she goes (steady as she goes), steady as she goes. This will probably continue on for the next 2-3 months, and then my brother will start paying me back.
Home Equity: This money was actually already accounted for last month in "Cash Savings", but because of the whole Heloc debacle, it has been trapped in equity, and thus falls under this category now. I was considering taking this category out, but have decided not to. Mortgages and mortgage payments need to be accounted for, even if the value of the house fluctuates, so weather it goes up or down, the "equity" here will always be determined from the actual sales price of our home, minus mortgage amounts . So, we got $360,000 – $351, 072.08, and then divided by 2 until we are married.
Auto Worth (kbb): How on earth this went down over $1400, i have noooo idea. The only thing i could think of is if i calculated it wrong on their website last month? This def. sucks either way :(
Credit Cards: I was calculating this a bit wrong last go around. I really shaved off about $200, even though it looks much higher. All is good going forward now.
Auto Loan: Steadily going down. I forgot that about $1800 of it is for an extended warranty and tire/wheel protection. I mention that only because the portion of time i don't use (if i sell it) is fully refundable. So, although i'd lose a little if i sold right now, it's not ALL that bad.
(Visited 60 times, 1 visits today)
**********
PS:
If you're just getting started in your journey, here are a few good resources to help track your money. Doesn't matter which route you go, just that it ends up sticking!
If you're not a spreadsheet guy like me and prefer something more automated (which is fine, whatever gets you to take action!), you can try your hand with a free Personal Capital account instead.
Personal Capital is a cool tool that connects with your bank & investment accounts to give you an automated way to track your net worth. You'll get a crystal clear picture of how your spending and investments affect your financial goals (early retirement?), and it's super easy to use.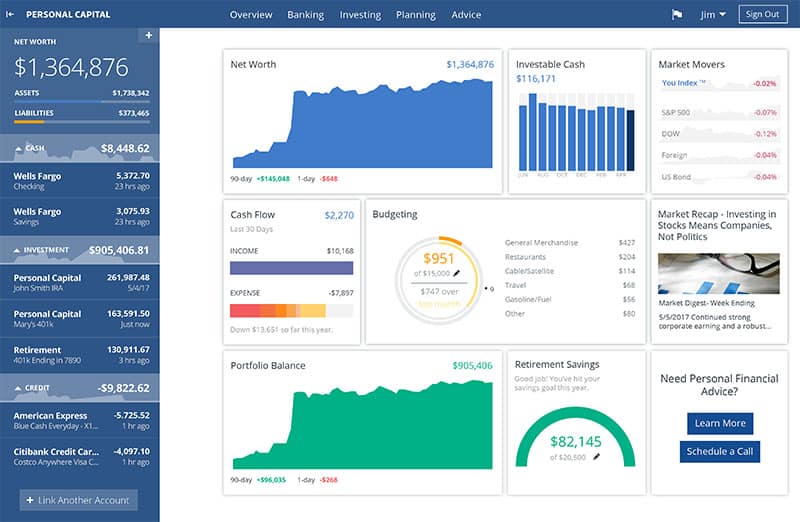 It only takes a couple minutes to set up and you can grab your free account here. They also do a lot of other cool stuff as well which my early retired friend Justin covers in our full review of Personal Capital - check it out here: Why I Use Personal Capital Almost Every Single Day.
(There's also Mint.com too btw which is also free and automated, but its more focused on day-to-day budgeting rather than long-term net worth building)
Get blog posts automatically emailed to you!