I've been saving up a bunch of stats that PR companies send me, and after seeing a whopper of one today I decided it was the day to unleash them :)
Check 'em out and see where you fall, and then we'll recap the takeaways at the end..
Ready. Set. Hide your coffee!
"The typical consumer will pay $279,002 over their lifetime in interest payments." (Credit.com)
I just about crapped my pants when I read this. That's a QUARTER OF A MILLION DOLLARS! Can you imagine? And that's after taxes! This of course varies with where you live (see below) and how much of a financial bad ass you are, but if you're a typical consumer you'd literally have to earn over $400,000 just to cover this… And then you still have to work off the *principal*.
In other words, Cash Rules Everything Around Me (C.R.E.A.M.!), get the money, dolla dolla bill y'all.
The state with the lowest lifetime cost of debt? Iowa @ $129,394. The highest? Washington D.C. @ $451,890 (Credit.com)
This is the part where most financial bloggers/"experts" will tell you if you want to save "all you have to do is move!" But I'm not most bloggers, and to that I always scream at the top of my lungs, "MONEY IS NOT THE MOST IMPORTANT THING IN THE WORLD!!!! Why would you leave all your friends, family, career, mountains, lakes, cities, subways, cows, hipsters, seas, deserts, or polar bears if you love where you live?? Saving money is great, but actually *enjoying* your life is better!"
Now if it's a temporary thing, or you don't enjoy where you're living right now? Well, then by all means it's fair game… But there are plenty of other ways to save/make more money than just moving across the country. And sometimes you might even find yourself moving somewhere that's even more expensive for opportunities! *Gasp*
"Nearly a third (32 percent) of respondents would rather have "excellent" credit than receive one million dollars." (CapitalOne.com)
This is the stat that almost killed my laptop this morning… The responses from my tweet says it all: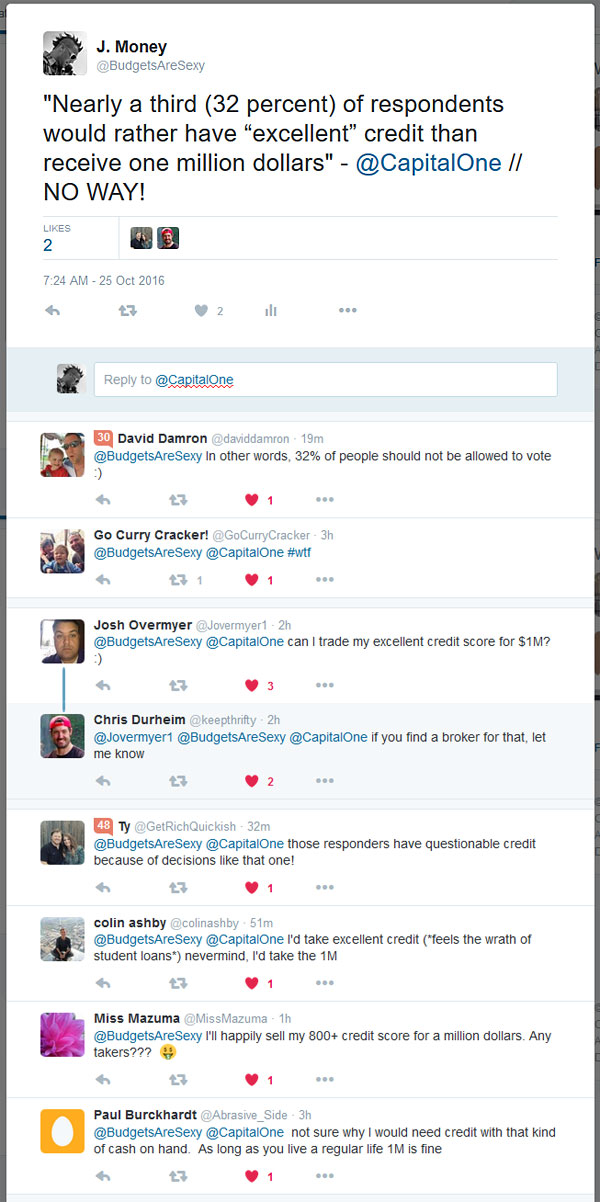 (Sign me up for selling my credit score too!!!)
"59 percent of Millennials have set aside an average of $9,100 in an emergency fund, more than older generations (Gen X-ers have $8,700, while Boomers have $7,100)." (Fidelity.com)
Yeah Millennials!! Finally some GOOD stuff to read about y'all! (I swear I don't get why millennials get such a bad rap??? I feel like every generation gets hated on until the next one comes around, and then all of a sudden everything is rosy again… Maybe cuz they eventually become in charge of things? ;))
I gotta say too – $9,100 is no chump change. If any of you have that banked away too you're doing great! And beats out my current savings stash, sigh…
"Less than half (45%) always check to see if a website is secure when shopping online." (Experian.com)
I'm including this in here because I never do this :( I don't shop that much online outside of Amazon anyways, but probably a good thing to be aware of! Here are 11 tips for safe shopping via PCMag.com, and #2 is particularly an easy and quick one we can all do:
Look for the Lock — Never ever, ever buy anything online using your credit card from a site that doesn't have SSL (secure sockets layer) encryption installed—at the very least. You'll know if the site has SSL because the URL for the site will start with HTTPS:// (instead of just HTTP://). An icon of a locked padlock will appear, typically in the status bar at the bottom of your web browser, or right next to the URL in the address bar.
Those with a bachelors degree make an average of $1,000,000 more than those with just a high school diploma. (BachelorsDegreeCenter.org)
That site doesn't scream reliability, but they state the data comes from the Dept. of Education and similar places, and since I've heard comparable stats over the years I feel it's def. worth sharing here. If only because going to college is starting to get an even worse wrap than millennials! BUT EDUCATION IS KILLER, y'all!!
I know it costs money and we're quick to shun anything debt-related here on $$$ blogs, but time and time again it's shown that those with higher educations perform much better in the long run than those without. Nothing's ever guaranteed, of course, and you still have to hustle your tails off to make things happen, but a degree is far from the worst thing in the world you can be spending your money on. And contrary to popular belief,  not all of us are so entrepreneurial that we can just go out and launch a billion dollar tech company after high school… (Or is graduating high school now frowned upon too?)
The takeaways today?
Cash is king
Live somewhere that makes you *happy* – not just for savings (unless you can be happy anywhere and/or you're currently miserable where you're at)
Good credit is awesome, but a million dollars is even MORE AWESOME! Don't forget the reason *why* we strive for good credit to begin with… (and  avoiding debt is more important than credit scores too)
Someone needs to make "Save Like a Millennial" bumper stickers! $9,000+ banked at that age (or any age, really) is a helluva start…
Look for the HTTPS in web sites when you're shopping online (and never give out your credit card info over email either – another sure sign something shady is going on)
Higher education is still REALLY good for you despite the costs. If you can't – or don't want to – afford college, at least harness the web to self-educate yourself on anything and everything. Particularly in the field you're looking to get into. I hear blogging doesn't require a degree :)
While stats are fun, the only thing that really matters in the end is what *you're* doing. If you're happy with how things are currently going, great job! You're on the right path! If not, it may be time to look inward and make some changes…
If there's anything I've learned over these 8 years of blogging, life never stands still. And neither do our finances either. Always gotta keep our pulse on them and roll with the changes!
(Visited 9 times, 1 visits today)
Get blog posts automatically emailed to you!