Another month, another net worth update! Y'all following along on your side too, right? Tracking your progress and making sure things are on the up and up?
If not, stop reading now and do one of the following:
Sign up to mint.com (free) and connect your accounts – they'll spit you out your net worth
Sign up to PersonalCapital.com (free) and connect your accounts – they'll also show you your net worth (especially good for those with investment accounts as they specialize in that avenue)
Go old school and download one of these (free) spreadsheets like yours truly uses (the first one)
Okay – now back to the juicy net worth stuff…
Though, it's not that juicy as we pretty much broke even in December :) On the positive side, however, we DID MAKE MORE CASH than in usual months! That felt good! It seems anytime our investments are down our cash goes up, and anytime our cash is down our investments are up. So weird… But since our cash has been fizzling a lot more so than not, it's a trade I'm very much okay with ;)
The other cool news is that our Vanguard fund (VTSAX) continues to pay dividends which I'm just getting around to learning about, as sad as that sounds. I get it all in concept, but it's much more exciting when you see it visually in your own account ;) And Vanguard makes it super easy to see this stuff of course since they're all about transparency:
That $4,328.52 number is what we were given since April when we moved all our money over. Of which $1,771.02 came in December, allowing us to snatch up another 34 shares for pretty much FREE! How's that for cool?? Of course not all funds/stocks give shareholders dividends, but fortunately for us index'ers that's not the case ;)
This dividend stuff is my new favorite thing to read up upon after seeing bloggers like Jason from Dividend Mantra and others base their entire portfolio off of them. With the intent of living off only the dividends when it comes time to retire early which I just find all kinds of fascinating. I don't know if I'm totally down for having dividend stocks *only*, but I do need to get on the ball with investing in more taxable brokerage accounts as currently all my money is tied up into retirement accounts. And I definitely don't want to hit OLD MAN status by the time I for real retire.
I asked Dividend Manta for a couple of tips for a future article and competition I'm about to join with some other bloggers, so look for that to come out here soon… You can never stop learning, right?
Here's how December went down…
CASH SAVINGS (+$522.70): On the up and up, baby! And I owe it mostly to our weekly Craigslist habit and challenging all those accounts in the latter part of the year. Being able to SEE all the money saved and being earned over time does wonders for your motivation – I'm loving it. And will be sharing the latest account balance with y'all soon – I got rid of a lot more stuff!
529 College Savings: Scroll to the kids' net worths below…
IRA: ROTH(s) (-$367.12): Nothing new added here this month, though once we finalize tax stuff we'll be considering maxing this out like all years past…
IRA: SEP (-$1,283.46): Same with this one too. We'll probably be able to dump $10,000-$12,000 into this account which I have set aside to do just that once we find out the exacts (SEPs are tied to business profit).
AUTOS WORTH (kbb) (-$85.00): Nothing new going on over here as well. Just the cars slightly declining as they always should, with the exception of my Caddy frozen at $1,000 which is what I think it would sell for once it's time (It's too old to be tracked by Kelly Blue Book, haha…).
Here are their values:
HOME VALUE (Realtor) ($0.00): Same $300,000 as it's been for a good chunk of the year. We leave it alone for a while until I ping my realtor to ask for an update. I just try to leave him alone as it doesn't really matter much until the day it's time to sell it ;)
MORTGAGES (-$677.05): Operation "round up debt payments" is still in full effect! We chip away almost $700 every month which will eventually knock it down sooner than later if we indeed hold onto the place forever (which of course we're not). Things have been going okay in landlording so far, but I already know I'm not cut out for it – too stressful.
Here's what's left on our two mortgages:
How we ended the year!
We fully expect to hit half a million sometime in 2015 :) If we don't, I'm shutting down this blog… And you can quote me on that!
Here's how our boys fared this month as well:
And that wraps up 2014! An increase of about $40 Gs when all was said and done… not $100k+ like previous years, but hell – who am I to complain? I did a $hitty job of earning money compared to them! And all goes back to the fact we go through different phases in our lives… Ups, downs, and all arounds. As long as we're aware of *when* we're in them though, and actively trying to better ourselves, we'll be just fine in the end ;)
As always, you can find all of my net worth updates over the years here, and the big honkin' Blogger Net Worth Tracker here. People are hustling a lot more than me out there – and it shows!
How did you do this month/year?
(Visited 24 times, 1 visits today)
**********
PS:
If you're just getting started in your journey, here are a few good resources to help track your money. Doesn't matter which route you go, just that it ends up sticking!
If you're not a spreadsheet guy like me and prefer something more automated (which is fine, whatever gets you to take action!), you can try your hand with a free Personal Capital account instead.
Personal Capital is a cool tool that connects with your bank & investment accounts to give you an automated way to track your net worth. You'll get a crystal clear picture of how your spending and investments affect your financial goals (early retirement?), and it's super easy to use.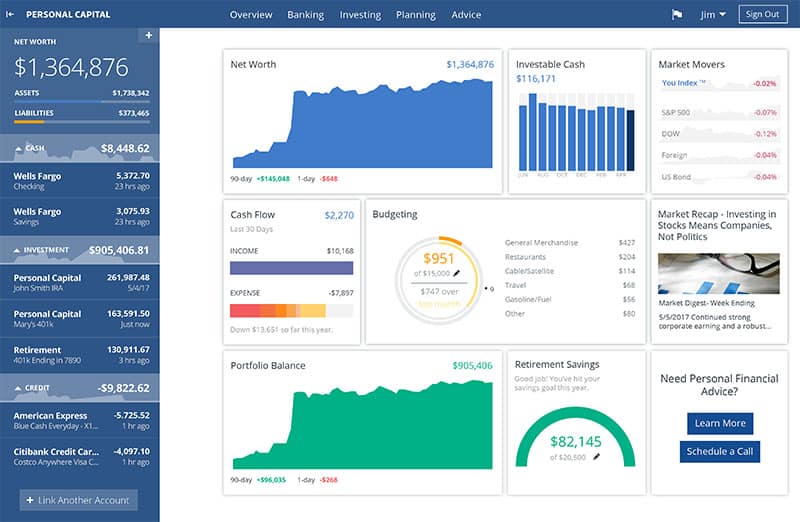 It only takes a couple minutes to set up and you can grab your free account here. They also do a lot of other cool stuff as well which my early retired friend Justin covers in our full review of Personal Capital - check it out here: Why I Use Personal Capital Almost Every Single Day.
(There's also Mint.com too btw which is also free and automated, but its more focused on day-to-day budgeting rather than long-term net worth building)
Get blog posts automatically emailed to you!