Happppppppy New Year, everyone! Can you believe it's already JANUARY??? Of 2016??? Wow. I remember when we were going into 2000 and everyone was freaking out about technology exploding all over the place – hah. Good thing the internet is still here :)
Well, we didn't reach our glorious goal of becoming a half-millionaire this year, but we did end up roughly $20k higher than we were at this time last year, so it's hard to complain all too much. Still, to make myself feel better I went back further through the 8 years of tracking this stuff to see how even farther we've come. A big perk to being a numbers nerd :)
Check it out:
In the 8 years since paying attention to this stuff, we've grown our net worth from $50,000 to almost $500,000 – an increase of around $450,000. Not too shabby at all. And a MUCH more exciting story than a $20,000 bump!
So while we missed the mark of crossing into the $500k's, as well as hitting our $50,000 yearly growth average for the second time in a row, at least we're on the up and up and can try harder in the new year. I won't make excuses for why we didn't hit it, but needless to say we have some work to do.
(Okay, hell, yes I will :) In the past few years our household went down to 1 income, we converted our house to a rental property which sucked up a bunch of cash, I re-focused my business on stuff I'm passionate about vs stuff just for money, and we *ahem* had kids. All stuff we consciously decided to do, but still financially-wise stung.)
So for 2016 it's all about hitting $500k, and hopefully by the end of it around $550k. But I've long since given up money as the #1 priority in my life, so if we get there we get there and if we don't we don't. True happiness, I'm finding, is in enjoying your daily lifestyle more so than the # of zeros in your account. Though of course I'm still gonna chase that ultimate freedom ;)
Here's how the entire year panned out from start to finish:
Hopefully you're tracking yours too so you can easily review as well! This is seriously one of the best perks to tracking your net worth consistently – getting the snapshots of your money frozen in time. It's a powerful thing to be able to look back and see how far you've come. I really hope you try it out if you aren't already (tools to help you do this are down at the end of this post if you need some).
Here's how the month of December broke down:
(PS: To all new readers here, I share our entire finances at the end of every month in hopes it makes talking about money easier for people. It's not about showing off or patting myself on the back – there was a time I had barely $50 to my name! – but more so showing what happens when you actually care enough to make some changes in your life. And hopefully this inspires you to do the same!)
CASH SAVINGS (+$3,146.02): This is a temporary bump due to a better than expected month of business, but a great sight to see no less and helps recoup some of the $$ we've poured into our house to get it ready to sell. And more on that here in a bit (though, spoiler alert, it's never fun paying for an empty house!).
DIGIT SAVINGS (+$392.59): In other savings news, Digit continues to not disappoint either. I haven't lifted a finger since signing up last January, and our account is now well over the $2,500 mark!
CHALLENGE EVERYTHING (+$302.64): Another solid month here too, bringing our total (easy) savings to $1,200 after just four months. I haven't listed a thing on Craigslist lately, but we continue to catch extra money coming in like this year's USAA dividend check they send out to members, and a little Christmas cash too. We just keep stashing it away in hopes of maxing out another ROTH Ira this year like we did last year when finishing up the first round of this challenge.
ACORNS (BROKERAGE) (+$9.25): A nice little increase here too. All money being invested from rounding up our daily transactions via Acorns. If you're looking for an easy – and non scary – way to start investing, this could be a possible route.
MOTIF (BROKERAGE) (-$10.03): This will be the last time you see these guys here as I just cashed out our holdings and will be forwarding over the money into our Vanguard account shortly. This comes after a 12 month test of seeing if it helps me get excited about dividend investing (it didn't), as well as playing in a friendly blogger competition of picking the best stocks for a year :) Hint: I lost. You can see the full review of Motif I wrote as they are a clever way to invest, but it just reinforces my strategy of keeping things simple and being "all in" with index funds. Plus, the game of investing is all for the long haul anyways, not short, so the whole competition was pretty silly from the start.
IRA: ROTH(s) (-$1,766.27): Nothing too snazzy going on in this department. Just the markets doing what they do, while it waits for us to invest again… We'll probably max this out in one fell swoop come March or early April after taxes get sorted through.
IRA: SEP (-$7,239.64): Same with this guy. As soon as we wrap up the tax year and see how much we can invest (it's tied to company profits for the year) we'll go in and fill 'er back up again. Here's a snapshot in the meantime of how our funds have performed since moving to Vanguard over a year ago:
AUTOS WORTH (kbb) (-$8.00): Nothing too exciting going on here. Just the cars doing what they're supposed to be doing and losing value as the months progress… I did get a little scared when my Caddy didn't start up again the other week, but it seems it just needs some extra TLC during the colder days and then purrs just fine. Every month we still have her is another month without car payments! :)
Here's how their values break down:
HOME VALUE (Realtor) ($0.00): Okay, well I don't want to jinx anything here, but fingers crossed talks on selling our house continue to go well and we have some good news to report soon!! Until then, I continue to keep my mouth shut and will take all the positive vibes you can pass over, paleeease. This is the biggest move we've made in a while and we're incredibly hopeful! We'll leave the value of our house @$300,000 until anything's official, but as we all know the only true value of property is the amount someone will pay you for it ;) All the calculators and home sites can only give you an estimate.
MORTGAGES (-$716.45): In the meantime, we just keep paying off our mortgages as if nothing's going on to avoid any ugly surprises down the road… Always better to be safe than sorry with these things as nothing's locked in until it's locked in. Here's what's left on our two mortgages:
1st Mortgage: $262,180.76 (30 year conventional @ 5.5%)
2nd Mortgage: $25,283.98 (HELOC @ variable 2.8%)
And here's what our entire journey looks like so far! 96 months of tracking!
Pretty cool to watch…
Here's the journey of our two little boys too :) (We actually deposited $100 more into each of their 529 accounts this month, but sadly the markets were quick to eat them up)
And that's 2015! How'd you guys do?? What are your financial goals for the new year?
Again, none of this matters except to ourselves (most people don't spill their numbers to the world), but I find the more people talk about this stuff the more we can learn ourselves. So I sincerely hope this helps start some discussions :) And you don't have to track your worth every single month either if it's too scary/annoying for you – try quarterly or bi-yearly or even just once a year. As long as you have a good understanding of where you sit at any point in time you'll be on the right track.
You can also check out our list of 180+ other bloggers who share their net worth. Maybe they'll inspire you/give you some good ideas to work off?
To a prosperous 2016!!!
(Visited 25 times, 1 visits today)
**********
PS:
If you're just getting started in your journey, here are a few good resources to help track your money. Doesn't matter which route you go, just that it ends up sticking!
If you're not a spreadsheet guy like me and prefer something more automated (which is fine, whatever gets you to take action!), you can try your hand with a free Personal Capital account instead.
Personal Capital is a cool tool that connects with your bank & investment accounts to give you an automated way to track your net worth. You'll get a crystal clear picture of how your spending and investments affect your financial goals (early retirement?), and it's super easy to use.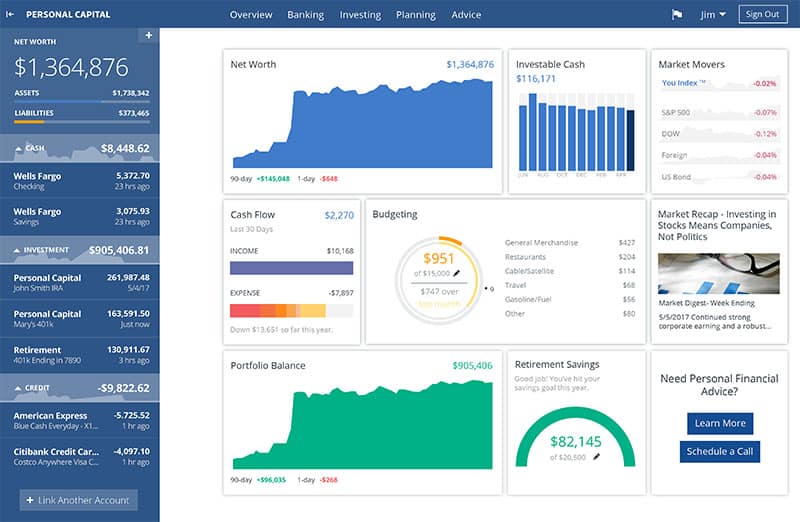 It only takes a couple minutes to set up and you can grab your free account here. They also do a lot of other cool stuff as well which my early retired friend Justin covers in our full review of Personal Capital - check it out here: Why I Use Personal Capital Almost Every Single Day.
(There's also Mint.com too btw which is also free and automated, but its more focused on day-to-day budgeting rather than long-term net worth building)
Get blog posts automatically emailed to you!