Good morning my fiscal friends! How art thee and thine's money this week? Art thou happy and glee? My friend Lil' Kim certainly is ;)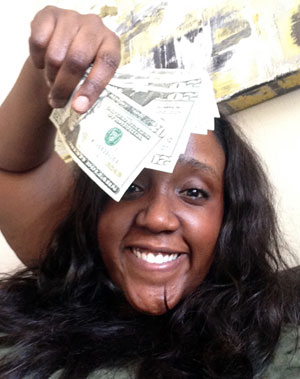 You might remember her as my very 1st money coaching client and she's still working hard to reach FIGMY$HIT status. Lately she's taken a renewed interest in starting her own photography/art business up again so I've been giving her some homework assignments there. Mainly, "find a way to earn $100 this month with it!" And as that picture shows, mission completed :) (Go Kim!)
Anywho, was feeling like a proud papa so had to share… The hardest part with side hustles is getting your first client, so if you start with that out of the gate you'll not only learn real fast if what you're offering is good (the "real" world is a lot different than the textbook world!), but you'll get in the habit of asking for money. After all, as they say on Shark Tank, a business that doesn't make money isn't a business – it's a hobby. So be sure to ask for what you're/your product is worth!
Other Money
Wins

This Week:
We turned in our two weeks notice to daycare!!! As soon as Mrs. BudgetsAreSexy is done defending her dissertation she'll be defending our boys from getting into trouble all day long at the $ household ;) And we're both excited and terrified at the same time, haha…
I maxed out my SEP IRA to the tune of $11,000 and change. You might have seen this in our latest net worth update, but we shot it straight into VTSAX with Vanguard which gave me a high stronger than Bob Marley on 4:20. (Was 4:20 a "thing" back in his day?)
No Spend Month II is complete! 40 days of no spending on anything outside needed expenses to survive – minus a few slip ups (mainly tip jar related). I wish I could say it was as enlightening as the first time we took this on 7 years ago, but the sad fact is I didn't learn a thing. No epiphanies this time around, but at least it reaffirms that my spending habits are aligned with how I want them to be. Which of course is the point to it all :) (For those who joined me in this, how did your journey go??)
I saved $237.96 more with Digit. I guess they forecasted my daycare savings? ;)
Stuff That
BLEW

in Money This Week:
Capital One is kicking me out of my business account. They didn't say why (other than "restructuring" or something lame like that), but I'm pretty sure it's because I don't pay them jack to use their accounts :) So now I've been downgraded to a different business account and if I deposit anything more than $5,000/mo they're going to charge me $1.00 each additional $1,000. What the freak is that about?? Needless to say I'm on the hunt for a new business account… (which USAA doesn't offer, arghh). What do you hustlers use?
My wife has to spend $200+ for a graduation gown she doesn't even get to keep. "I don't even spend $200 on a dress that I DO get to keep – what the f*ck?" was her exact response. Followed by "Do you think they'll notice if I just show up in normal clothes?" Haha… Go for it mama!
Some asshat stole my credit card info and tried buying something halfway across the country. Which USAA caught in a matter of seconds and shut it down – along with my credit card – and promptly re-issued us a new one. This was the 3rd time in a year it's happened to us (they say they've seen an incredible upswing in hacks lately), but luckily the annoyance levels have been diminished since I've already made a list of all the places my credit card is attached to. So within minutes of receiving the new card all I had to do was log in to a few places and update the accounts. IF YOU HAVEN'T DONE THIS YOURSELF I HIGHLY ADVISE DOING SO! Saves you a butt ton of time and stress in the future.
This Week Around Blog Land…
Our early retired friend Go Curry Cracker's story went viral! He had a great feature in Forbes which then got picked up by Yahoo Finance and then shot across the front page of a half dozen other media sites back to back to back. They're all a little slow since we  featured his kick-ass "I quit to travel the world forever" story here first on this blog (uh thank you), but super proud of him for all the coverage and fully taking advantage of this opportunity to grow his blog over night. He literally got more hits in 24 hours than I have in an entire month – hah! And I won't be bashful and omit that he's a blog coaching client of mine either ;) *tips hat*
[UPDATE: Jeremy tells me he's at the hospital right now awaiting the birth of their first baby :) Send him good thoughts and prayers – it's miracle time!!]
Fellow blogger, and former Early Retirement chaser, Johnny Moneyseed launched a new coffee shop. Epic Bean Fair Trade & Organic Coffee – a brick and mortar store which also offers subscription services to anyone who would like fresh coffee delivered right to their door. We'll be featuring his journey on this blog here shortly, specifically because he dropped his race to early retirement to jump right into the coffee world!, but in the meantime check out his new shop: EpicBean.com. Congrats bud!
Speaking of coffee, if you want to see how 32 of us entrepreneurs drink ours, check out this article from another blogger who's getting into the coffee space online: RoastyCoffee.com/coffee-entrepreneurs. You might remember Matt as the former half of the Listen Money Matters crew.
Life Comma Etc launched a new eBook on helping people get paid to freelance write. It's called "Five Figure Writer" and shows the email template and tips Sarah used to earn $59,000 her first year freelancing. You can pick it up for a cheap $19 bones. (Congrats Sarah!)
Financial Companies That Came Across My Desk:
As we did last week, I thought it would be helpful to feature some of the services and products that I came across in the $$ world this week. I haven't poked around these guys in depth (so please be sure to do so yourself) but I wanted to highlight 'em here vs keeping them hidden in my brain ;) Any I start using and fall in love with myself will get its own dedicated review in the future…
Achieve Lending — These guys might be worth looking into if you're looking to condense/refinance or get new student loans (or any other *private* loans it looks like) They bill themselves as the "first ever search engine for student loans," and a good blogging friend of mine started working for them which leads me to believe their legit :) You plug in what type of loan/refinancing you're looking to get, along with the amounts and some other info, and then it pops out a list of options that match up. If you try it out let us know how it goes!
CreateaMonthlyBudget.com — This is a pretty cool idea: "Work out your monthly budget using this free tool to download a useful spreadsheet. See how much you are spending and how much you can afford to save throughout the year." Spits out a nifty pie chart at the end of it too.
Cinch Financial —  These guys have been all over the place lately. In a nutshell they show you only "the best products" for what you're looking for (credit cards, insurance, mortgages) and state they're unbiased, but the part that really caught my eye was their billsnap feature: "Take a photo or upload an image of your mortgage, credit card, insurance, or other big bill. Our experts will tell you if you can pay less, and exactly how." Not sure how that works with privacy stuff, but quite an interesting concept!
A Giveaway You'd Actually Want to Enter:
Lady Antebellum (the country group) and Quicken Loans are teaming up to pay the mortgages for 7 lucky people for an entire year as part of Lady's Wheels Up 2015 Tour.
"All you have to do is impress a panel of judges with your creativity, clarity and reasons for deserving a mortgage break. The mortgage prize is worth a minimum $12,000 to a maximum of $24,000 (principal and interest only)"
Want to give it a shot? You can enter here: ladyantebellum.com/7for7
Awesome New Music I'm Listening to…
This guy recently wrote a piece for Priceonomics on how much his musical duo makes busking (ie street performing), and I followed the rabbit hole down through his personal blog where he shares how much he made his first year blogging and onto his musical act: The Dirty Little Blondes. It'll make you sick how cute and awesome these two are (bf/gf duo) but my damn is their music good.
Here's my favorite of their songs so far:
I also happened across this video of the prettier of the two which apparently went viral last year netting more views than any of their songs combined – hah! Not surprising though considering the title: "
Bikini fail feat cute puppy
" ;)
And that's what went down in my hood this week… How about you? Anything juicy in your money or biz? Do you use any of the companies I featured above?
Hope y'all have a great weekend… Don't forget: Freedom > Money > Stuff!
——
PS: Let me know if any of you guys come across any cool $$$ companies too and I'll consider featuring them here (as well as any of you bloggers doing big things!)
PPS: Here's last week's recap if interested: Money, Business and Overall Bad-Assery
(Visited 11 times, 1 visits today)
Get blog posts automatically emailed to you!